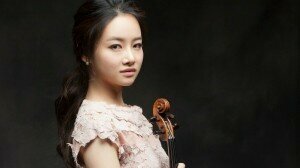 Currently based in New York, Korean violinist Bomsori Kim plays with Pallavi Mahidhara in Hong Kong this month, with a programme of Ysaÿe, Sibelius, Debussy and Kreisler.

Bomsori started learning the piano when she was 4 years old, quickly progressing to the violin at the age of 5.

'My parents are great music lovers. They always listened to classical music from morning to night. That was my kind of environment. We attended a lot of concerts – I remember going to see a recital by Kyung Wha Chung when I was around 7, and I think I cried. The sound that she created with her violin was really overwhelming for me.'

Bomsori's rise to prominence began when she took the plunge into international competitions in 2010, entering both the Sendai and Sibelius competitions in the same year, and receiving the audience prize in the semi-final of the Sendai competition in Japan.

'I didn't expect to get a prize because it was my first time in a competition. I prepared really really hard. The Sendai competition was really special because only concerti are required – no sonatas, no solo works.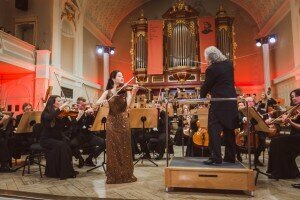 'A concerto is really different. With chamber music, we are able to rehearse beforehand. We can't always rehearse with an orchestra. I played the Beethoven concerto for the final of the Sendai competition and that was my first experience of playing it.

'It was very fresh – we cannot really expect anything before we've had those experiences with those pieces. I never expected to get into the final, I was so happy. I was nervous performing it for the first time, but I was also really excited, and the orchestra and conductor were so supportive. And of course, the piece is so magical.'

Having competed in many events over the years, including scooping a win at the 2013 ARD International Music Competition, has Bomsori learned to enjoy the experience of competitions?

'I don't think anybody 'likes' competitions, because they're stressful! At the same time, they're new experiences, and it's a really good chance to meet audiences everywhere, in countries you've never been to before.'

These new experiences bring new challenges – and the nerves never go away.

'I get nervous before every performance! The most nervous moment is just before I go onstage – I take my music with me even if I play from memory. Right before I go out, I focus on the beginning of the piece, because it helps me to get into it right away. I also do mental training. If it's a piece I haven't done before, I record the rehearsal, check bits afterwards, and imagine how I act on stage.'

Bomsori Kim plays Mozart Violin Sonata in E minor K.304
Mental preparation often gets neglected in musicians' training, but fortunately for Bomsori, mental training formed a large part of her musical education right from high school.

'Everybody gets nervous. Nobody doesn't get nervous. You have to be really confident. You also have to be really ready – that's what gives you the confidence. It's really important to believe in yourself.'

Bomsori passes on these messages of self-confidence and preparation whenever she gives a masterclass. 'A lot of students don't know what they play, they don't know about the music itself.'

'Sometimes they don't pay attention to the composer, and don't read the music correctly in terms of the character or pay attention to the small marks on the page. I find it's extremely important to pay attention to this. The composer isn't alive, and we have to respect all their small marks!'

Outside of her performing and teaching, Bomsori makes time to do yoga wherever she goes.

'Yoga is kind of a meditation. I do it almost every day, even during tours. It really helps me relax. We have to do stretches anyway because violin playing is very tiring, and after a lot of practice you have to be careful with your body, so yoga helps me to keep my body healthy and relaxed, and also helps my mental health.

'After meditation I can really focus on what I want to focus on. The breathing also helps you on stage. Good breathing gives you stability.'

Between concerts, Bomsori listens to music from upcoming projects, but also has a keen interest in chamber music.

'With chamber music, the choice is huge. I also listen to solo piano music quite a lot, especially the Beethoven sonatas and concerti. My favourites are 3 and 5 – 5 is really special.'

Find tickets for Bomsori's concert here.

Bruch Violin Concerto No.1 with the Korean Symphony Orchestra