Born on 20 January 1924 in Houilles, on the north-western outskirts of Paris, Yvonne Loriod was a dedicated champion of the piano works of Pierre Boulez, André Jolivet, Jean Barraqué and Arnold Schoenberg, and she played the world premieres of most of the piano work by her eventual husband Olivier Messiaen. A pianist of extraordinary musical abilities, her recordings demonstrate "remarkable virtuosity, especially in terms of elucidating the structures and combining clarity, speed, and rhythmic precision with an acute sensitivity to timbre."
Yvonne's Early Music Education
A child prodigy, Loriod started initial piano lessons at the age of six with her father Gaston, who apparently was a very good improviser at the piano. Formal lessons commenced at the age of 11 with her godmother Madame Sivade, who had been Lazare-Lévy's assistant. Sivade prepared her for entry to the Paris Conservatoire, where she first studied piano with Lazare-Lévy and harmony with André Bloch. Loriod had memorized all of the
Beethoven piano sonatas
and
Mozart
piano concertos by the age of 12. And by age 14 she had added the entire
Bach
Well-Tempered Clavier
and the complete works by
Chopin
and
Schumann
to her repertoire.
Robert Schumann: 8 Novelletten, Op. 21 (Yvonne Loriod, piano)

Yvonne's Encounter With Messiaen
The Nazis deported both her teachers during the early months of the Occupation, and Loriod resumed her studies under Marcel Ciampi, Darius Milhaud, and Oliver Messiaen, who had returned from prison camp in May 1941. Messiaen quickly recognized her extraordinary musical abilities, and in the early months of 1943 wrote his two-piano work Visions de l'Amen. Taking Loriod's astonishing technical strengths into consideration, he composed the first piano part specifically for her, "incorporating rhythmic difficulties, chord clusters, and everything related to velocity, charm, and sound quality." Meanwhile, Messiaen reserved for himself "the principle melodic material, the thematic elements, everything which demands emotion and power." Loriod won seven first prizes at the conservatoire, and she extended her apprenticeship with Milhaud until 1948. Her compositions include Pièce sur la souffrance for orchestra, Mélopées africaines for Ondes Martenot—composed specifically for her sister Jeanne Loriod—piano and flute (1945), and Grains de cendre, for soprano and chamber orchestra (1946). However, by 1948 she had decided to become a pianist rather than a composer and embarked on her successful international career.
Olivier Messiaen: Visions de l'Amen (Yvonne Loriod, piano; Olivier Messiaen, piano)

Her Wide-ranging Repertoire: From Mozart to Messiaen
Loriod loved to perform Mozart, and within the span of five weeks in 1964 performed the complete cycle of Mozart piano concertos in Paris. However, her reputation was made in contemporary music, "much of which was almost or never played by others—one suspects as much for technical as for aesthetic reasons." After 1943, Messiaen's entire oeuvre for piano was written specifically for Loriod. He suggested that he allowed himself the "greatest eccentricities in his scores because he knew that she would master them effortlessly." She premiered the solo cycle Vingt Regards sur l'Enfant-Jésus, at the Salle Gaveau on 26 March 1945, and the impossible Turangalîla Symphony in 1948. Messiaen explained later in life, "I'm married to a great pianist and I always imagine her in the midst of the orchestra." As such, it is hardly surprising that after Turangalîla, nine out of twelve orchestral works include a part for piano. Other premiere performances included Boulez's Second Piano Sonata (1950) and Structures II (1961), Barraqué's Piano Sonata (1957), and Jolivet's Second Piano Sonata (1959).
Wolfgang Amadeus Mozart: Piano Sonata No. 11 in A Major, K. 331 (Yvonne Loriod, piano)

Yvonne Loriod as a Pedagogue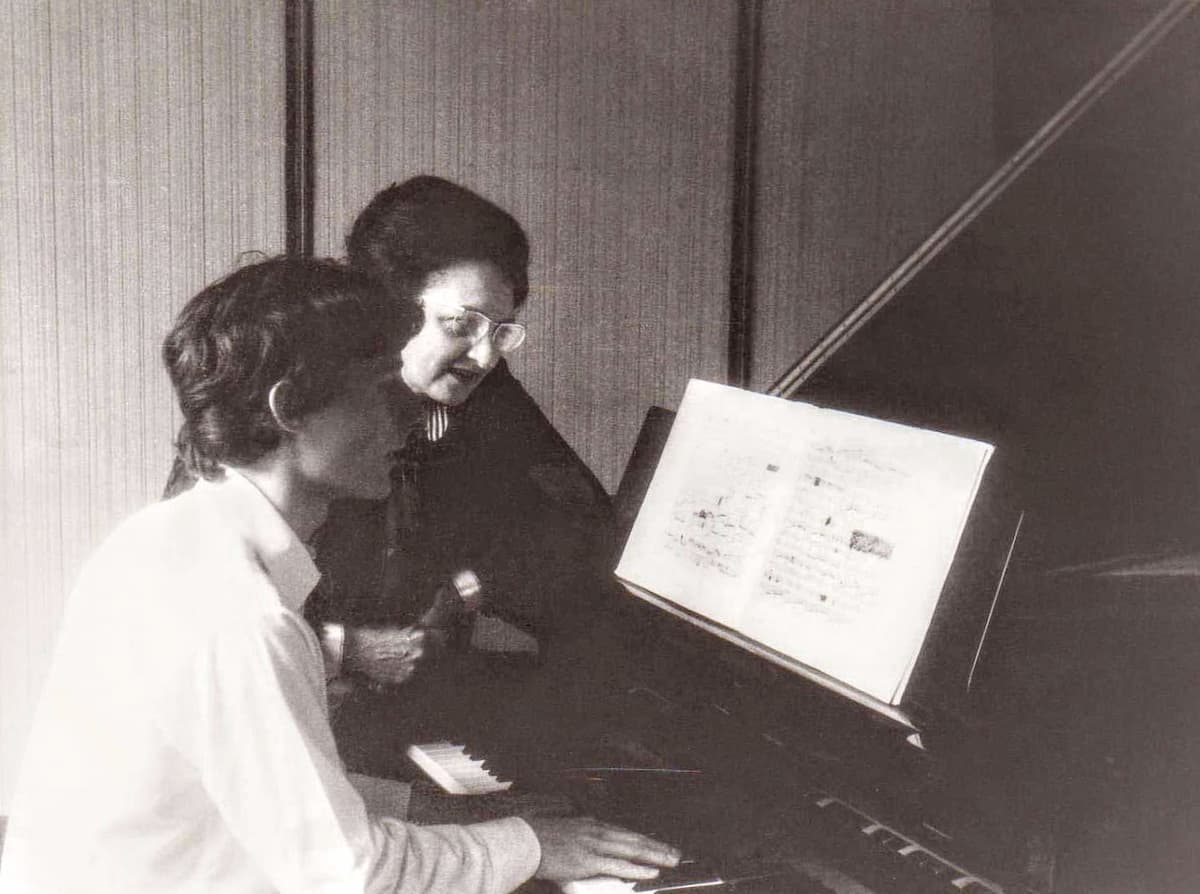 All too often, Loriod's role as a pedagogue is accorded secondary importance. Pierre Réach, winner of the Messiaen Competition in 1971, wrote, "Madame Loriod has an extraordinary intellect, refined technique, and a respect for the text and the style of every work… She brought a modern vision to music of the eighteenth and nineteenth centuries, finding the modern things in those works and thereby destroying the barriers between generations… She didn't take time to play much at our lessons, although she demonstrated passages and talked a lot about different concepts. She expressed her ideas very logically and simply, and she communicated warmth and friendliness at lessons, and she was a truly dedicated teacher." And the American pianist Nicholas Angelich, winner of the 1994 Gina Bachauer Competition and Loriod's student for a number of years added, " Madame Loriod has a pragmatic, down-to-earth approach as a teacher, and her positive, encouraging attitude benefited me very much… I did a wide variety of repertoire with her, and her comments were always expressed in simple, clear, straightforward terms. She had a demystifying approach to teaching; she gave me confidence, but also instilled in me the need to have a clear concept of the piece and the correct sound."
For more of the best in classical music, sign up to our E-Newsletter
Yvonne Loriod Plays Messiaen's Regard de l'Esprit de joie