Pianist Kirill Gerstein was the youngest student ever to enter the Berklee College of Music in Boston at the age of 14. Several decades later, he is considered one of the most distinguished classical artists of his generation, engaging in a "serious, intelligent and virtuosic music-making that keeps classical music alive." Gerstein is a real phenomenon, sporting ferocious technique and discerning intelligence, and surprisingly as it may be, a serious grounding in playing jazz.
Kirill Gerstein Plays Gershwin's "I've got Rhythm," (arr. Earl Wild)
First Musical Experience
Gerstein was born on 23 October 1979 in Voronezh, Russia. Growing up in a Russian-Jewish family, his father was a mathematician and his mother was a music teacher. Musically precocious, Gerstein started taking piano lessons at the music school in his hometown at the age of three. However, as he explained in an interview, "As a child, I didn't have good instrumental and musical training to begin with, so my interests in the piano remained what might be called normal, and not more."
During his early years, the piano really wasn't the focus of his growing-up activities, and it took a bit longer to understand that he might be able to become a pianist. He enjoyed reading books and wandering around the house and outside and thought about things in general. His field of vision wasn't impacted by the piano, and "he didn't spend all his childhood practicing scales, or 27 permutations simultaneously."
Franz Liszt: 12 Études d'exécution transcendante, S139/R2b (Kirill Gerstein, piano)

Interest in Jazz
Gerstein had wide-reaching interests, and he was fascinated by his father's extensive collection of jazz records. In fact, he taught himself to play jazz by imitation, and at the age of 10 he was sent to a different teacher, "and all of a sudden, new vistas opened up for me." According to Gerstein, "he was lucky that musicians and teachers around me supported a view that stylistic divisions are exaggerated."
Developing both as a classical and jazz musician, Gerstein met the legendary jazz vibraphonist Gary Burton in St. Petersburg at the age of 12. Burton was highly impressed by the young Gerstein's talent for improvisation, and he arranged for him to study jazz at Berklee. Gerstein studied jazz piano in tandem with classical piano studies, and after three years he decided to focus on classical music.
Kirill Gerstein Plays Schumann's Carnaval, Op. 9
Transferring to the Manhattan School of Music at the age of 16, Gerstein decided on his main professional concentration. "Roaming the enormous library of compositions by the great composers," he explained, "has been my choice. Jazz though remains one of the languages I grew up speaking."
Study With Dmitri Bashkirov
After piano studies in Boston and New York, Gerstein went to Madrid to study with Dmitri Bashkirov, a student of Goldenweiser, one of the founders of the Russian School. He also studied with the Hungarian guru of many pianists Ferenc Rados in Budapest, who had taught Schiff and Kocsis. Gerstein was certainly shaped by a number of different influences, and the ability to "hear anybody, anytime, anywhere online, has made things more cosmopolitan and less regional."
J.S. Bach: Partita No. 4 in D Major, BWV 828 (Kirill Gerstein, piano)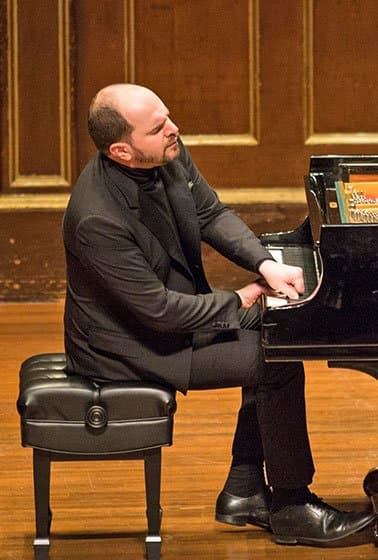 The idea of illuminating the porous stylistic borders in music represents a continuous attraction for Gerstein. Although he doesn't play jazz concerts at present, he certainly welcomes some mixtures and crossovers. "However," as he explained in an interview," experience has taught me that great jazz pianists usually play classical music only competently, and this holds the other way around too. I've never seen anybody who manages to perform both at the highest level."
Gerstein simply became aware that he couldn't play both styles at the level he wanted. He still plays jazz in his spare time and as a hobby, but to perform professionally, it would "require an incredible amount of practice and involvement, and my time is so very absorbed by the classical repertoire." For Gerstein, playing jazz is like speaking another language, which potentially has a highly enriching effect on a person. "It certainly informs how I hear music, and how I play whatever style of music."
For more of the best in classical music, sign up for our E-Newsletter
Kirill Gerstein Plays Tchaikovsky's Piano Concerto No. 2, "Andante non troppo"