In two different ballets, Pyotr Il'yich Tchaikovsky added in a set of national ballets. In The Nutcracker (1892), part of Clara's entertainments in the Land of Sweets at the Palace were a set of national dances depicting where sweets came from: Spain (chocolate), Arabia (coffee), China (tea), Russia (candy canes). The earlier Swan Lake (1876) had a set of national dances in Act III, danced by the eligible maidens at Prince Siegfried's ball: a Hungarian Czardas, a Spanish dance, a Neapolitan dance, and a Polish mazurka.
Through the 19th century, until around 1890, serious composers rarely wrote ballets. They were generally written by composers who wrote almost nothing else other than ballets and operas, such as Léo Delibes (known for Coppélia and Sylvia) and Adolphe Adam (known for Giselle and Le corsair). As most operas had ballets included in them the dual specialization wasn't unusual. For Tchaikovsky, however, better known as a symphonic composer, ballet was a new field.
As he worked with the choreographer, Julius Reisinger, he developed his way of working which was to create separate themes (leitmotifs) for each character. As Reisinger received his work, he set certain pieces aside as "undanceable." Sometimes Reisinger would substitute pieces by other composers for Tchaikovsky's works but stopped this after Tchaikovsky protested. Tchaikovsky started the work in spring 1875 and completed it in April 1876 and the work received its premiere in March 1877 at the Bolshoi in Moscow. It didn't receive its St. Petersburg première until January 1895 at the Mariinsky Theatre.
To return to our dances. For Russians, cosmopolitan as they may be, these dances of foreign lands were all part of the exoticism that composers imbued their work. The dancers might wear exotic clothes, but certainly would hold exotic poses, and, for a Spanish dance, fans had to be involved for flicking or gesturing or hiding the face. In his music, Tchaikovsky has a fast melody for the showing-off parts and then a slightly slower melody. In the orchestra, the use of tambourines also signaled the exotic south.
Tchaikovsky: Swan Lake – Spanish Dance

In this 1958 recording, the Sinfonia of London is led by John Hollingsworth (1916-1963). Beyond his work as assistant conductor to Sir Malcolm Sargent for The Proms, he made his name in the 1950s and 1960s as conductor for British film, many for Hammer Films, known for their sci fi and horror film. The Sinfonia of London was a session orchestra, founded in 1955, that specialized in film soundtracks, including that for Hitchcock's Vertigo (1958).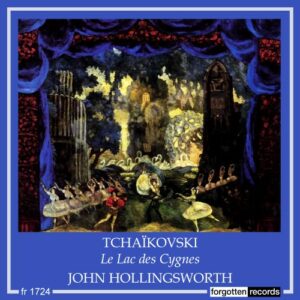 Performed by
John Hollingsworth
Sinfonia of London

Recorded in 1958

Official Website