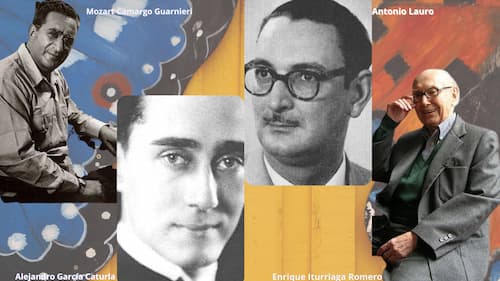 Latin American music is one of the exciting topics among musicians these days. However, a lot of Latin American composers remain undiscovered. We cannot truly explore such diverse styles of Latin American music without knowing more composers. This article discusses composers from Brazil, Cuba, Peru, and Venezuela, and recognizes their contributions to music in the 20th and the 21st century.
Antonio Lauro (1917-1986)
Known as one of the foremost composers for guitar repertoire in the 20th century, Venezuelan composer Antonio Lauro lived a prolific life as a musician and a democrat. He was born in an Italian household. His father was a barber and an amateur guitarist and singer. Lauro received formal piano, violin, and composition training when he was nine at the Academia de Música y Declamación. His teachers included distinguished composer Vicente Emilio Sojo (1887-1974). He did not start taking up the guitar until he turned fifteen. He was impressed and inspired by a Paraguayan maestro Agustín Barrios, who performed there in 1932. Lauro stopped his piano and violin studies and focused on learning the guitar at the National Conservatory with Raúl Borges (1888-1967). As a composer, his input included works for choral, solo piano, orchestral, as well as solo guitar and guitar ensembles which are standard repertoire today.
Antonio Lauro: Three Venezuelan Waltzes
Lauro was a patriotic democrat. He was imprisoned in 1951-1952 during the dictatorship of General Marcos Pérez Jiménez. He wrote Suite Venezolana during his imprisonment. The suite consists of Registro (Preludio), Danza negra, Canción, and Vals. The first movement, Registro, refers to some improvisation that a musician might do to warm up or to explore an unfamiliar instrument.
Antonio Lauro: Suite Venezolana
Lauro returned to the stage as soon as he was released in 1952. He played in Trio Raúl Borges, a guitar trio that he founded earlier. He remained active in performing, composing, and teaching. He was appointed as a guitar professor at several schools during his lifetime and was named president of the Venezuela Symphony Orchestra.
Enrique Iturriaga Romero (1918-2019)
Composer and pedagogue Enrique Iturriaga Romero was one of the most significant Peruvian composers of the 20th century. Born in Lima, Iturriaga grew up in a small port city called Huacho, where he did not have much opportunity to take music lessons or attend music performances. His early exposure to music was popular music and music from the family's Victrola gramophone. He began formal music training at fourteen years old. Prior to that, he self-taught playing the music. He did not know how to read music and he played everything only by ear! When he auditioned for his first piano teacher, Lily Rosay, at Sas-Rosay Academy of Music, he played Liszt's Hungarian Rhapsody No. 2. Since he learned it by ear, he played the piece in c minor instead of the original C-sharp minor. He studied composition with Andrés Sas and Rodolfo Holzmann, who came from Europe and were influential in revitalizing Peruvian art music.
Enrique Iturriaga: Tres Canciones para Coro y Orquesta
Iturriaga was a leading Peruvian composer who led the trend of 'modernizing' traditional art music. Through studying with Sas and Holzmann, Iturriaga was introduced to different European composition trends. He explored the fusion between these musical techniques and the traditional Peruvian musical elements in his music. In 1950, he received a government scholarship to study with Arthur Honegger in Paris. One of the representative works was his Suite para orquesta. Dedicated to Holzmann, the five movements incorporate popular tunes and rhythms found in Peruvian popular songs with extended tonalities and textures. This work was awarded the "Juan José Landaeta" in the II Latin American Music Festival in which the jury included Aaron Copland, Carlos Chávez, Alberto Ginastera, Juan Bautista Plaza and Domingo Santa Cruz.
Enrique Iturriaga: Suite para orquesta
Another significant work, Homenaje a Stravinsky (1971), earned him the second Dunker Lavalle Award, in which he was first awarded as early as 1947.
Enrique Iturriaga: Homenaje a Stravinsky
Alejandro García Caturla (1906-1940)
Alejandro García Caturla: 3 Danzas cubanas (New World Symphony; Michael Tilson Thomas, cond.)


Alejandro Caturla was a significant figure of Cuban music history in the first half of the 20th century. A student of Pedro Sanjuán in Havanna and Nadia Boulanger in France, Caturala absorbed compositional techniques from the West and musical elements in Cuban music. Perhaps influenced and inspired by Ernesto Lecuona, Caturla also became one of the leading figures of Afro-cubanismo, a nationalist trend for art and music of mixing elements of African, European, and indigenous cultures. He incorporated Afro-Cuban rhythms, dances, and songs with European instruments and their compositional techniques and impressionist styles in his piece. The First Cuban Suite was composed in 1932. Written for eight winds and piano, First Cuban Suite was premiered in Havana in 1934. The work has adapted rhythms from typical Cuban dances. Other features such as the use of pentatonic scales, dense texture through playing polyrhythms among players are also found in this work:
Alejandro García Caturla: First Cuban Suite
While he was very active in the music life in Cuba, Caturla was also a lawyer and a judge. At age thirty-four, he was murdered by a criminal whom Caturla was about to sentence to prison. Caturla was left many works unfinished, including an opera, a ballet, and many others.
Alejandro García Caturla: Berceuse campesina (Luiz de Moura Castro, piano)

Mozart Camargo Guarnieri (1907-1993)
Guarnieri was considered to be the most important Brazilian composer after Heitor Villa-Lobos. His music absorbed the nationalistic trend rooted by Antônio Francisco Braga and Villa-Lobos and further developed this trend with other musical elements and aesthetics. He studied at the Conservatório Dramático e Musical de São Paulo where his teachers included Ernani Braga (Antônio Francisco Braga's pupil), Antonio de Sá Pereira, and Lamberto Baldi. One of his earliest compositions, Dança brasileira, was a piano solo work composed in 1928. Guarnieri presented this work to Mário de Andrade, a music critic, a musician, and a lifelong mentor of Guarnieri. Impressed by the music, Andrade complimented it in an article entitled "Mozart Guarnieri," published in a newspaper Diário Nacional. This work was later orchestrated, and Guarnieri conducted the piece at the Eastman School of Music with the University of Rochester Orchestra in 1942.
Camargo Guarnieri: Dansa brasileira (Clelia Iruzun, piano)

Camargo Guarnieri: Dansa brasileira (Orchestral version)
The success of the piano version of Dança brasileira led Guarnieri to many opportunities. In 1938, he received a fellowship to study with Charles Koechlin and François Ruhlmann in Paris. He composed his first Violin Concerto, which earned him the first international award in 1942. He wrote over 700 compositions ranging from solo work to symphonic work and operas. Many of his works were recognized and performed by well-known musicians such as Aaron Copland, Leonard Bernstein, Leopold Stokowski, Arthur Rubinstein, and orchestras, including Chicago Symphony Orchestra, the Boston Symphony Orchestra, and the New York Philharmonic.
Camargo Guarnieri: Violin Concerto No. 1
He was the fourth child of a musical family. He and his three brothers were all named after great composers (Rossini, Bellini, and Verdi). Guarnieri avoids the association with W.A. Mozart, and he only signed the initial of his first name. In 1993, he died of throat cancer. Shortly before his death, he was awarded the Gabriela Mistral Prize by the Organization of American States as the greatest contemporary composer of the Americas.
For more of the best in classical music, sign up to our E-Newsletter