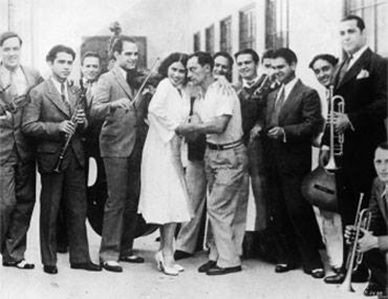 The above picture was taken backstage after a performance at Hollywood Bowl in 1931. Ernesto Lecuona, far left, played George Gershwin's Rhapsody in Blue at the concert. Known as "The Cuban Gershwin," Lecuona brought popular music onto the prestigious concert stage. In addition to that, Lecuona devoted himself to expand the popularity of Cuban music throughout the world.
Early Success
Born and raised in Cuba, he was recognized as a child prodigy. He received piano lessons from his sister, Ernestina Lecuona, whom Ernesto Lecuona later claimed as the most influential teacher in his life. Recognized as a gifted pianist as early as three years old, he also started composing at an early age; his first published composition, Cuba y América, was written in 1908 at twelve years of age. Its popularity eventually reached the United States where it was published.
Soon after he gave his first public appearance outside Cuba at Aeolian Hall in New York, he began traveling abroad and giving performances for over ten years in different countries. During his first visit to Spain, he made successful performances with violinist Maria de la Torre. He programmed his compositions during these performances, including Malagueña and Andalucia, two of his most famous piano pieces.
"The Cuban Gershwin"
By the time he returned to Cuba in 1926, Lecuona's reputation as both pianist and composer was established internationally. In 1928, he first met George Gershwin in Paris. Later the same year, he brought Rhapsody in Blue to Cuba and premiered with the Havana Symphony Orchestra. It was a successful performance even praised by the Los Angeles Times. Gershwin himself also complimented Lecuona as one of his best interpreters after listening to the performance at Hollywood Bowl in 1931. Perhaps inspired by Rhapsody in Blue, Lecuona composed Rapsodia Negra for piano and orchestra in 1937.
Ambassador of Cuban Music
While Ernesto Lecuona's reputation as a performer grew, his own compositions and collaborations showed his Cuban nationality. In 1937, Ernesto Lecuona was named "Embajador de la Música Cubana", Ambassador of the Cuban Music, by the Education Department in Cuba. As an ambassador, Lecuona's compositions frequently showed the Cuban influence of Spanish and Afro-Cuban musical styles. One of his popular compositions, Siboney, named after a Cuban town, showed his love of the country through the lyrics. The song, with traditional Afro-Cuban rhythms, became popular and was translated into English and used in various movies, including a Hong Kong movie, 2046, by director Wong Kar-Wai.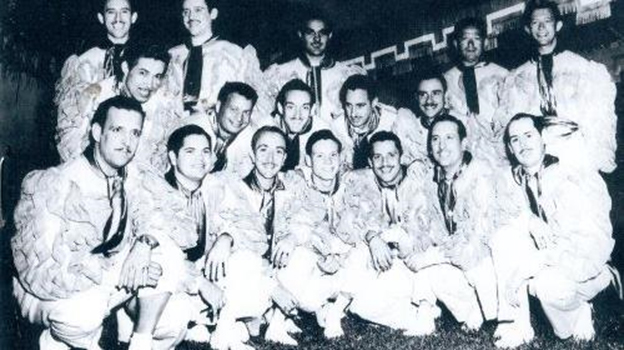 The Lecuona Boys
Lecuona's musical diplomacy was aided by The Lecuona Boys, a Cuban band, who brought the music of Cuba around the world until they retired in 1975. In addition to The Lecuona Boys, Lecuona was also a cofounder of the Havana Symphony Orchestra.
Ernestina Lecuona and other collaborators
Ernesto Lecuona toured and performed throughout his life. When his sister, Ernestina Lecuona, resumed her career in 1928, Ernesto assisted and toured with her, performing together widely. Her first international appearance was a performance at the Pan American Union Concert in 1929, where she performed Ernesto's music.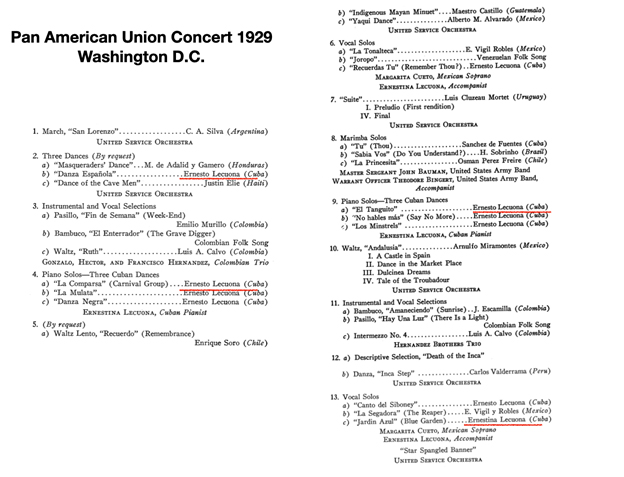 In a subsequent Pan American Union concert in 1936, Ernestina Lecuona was the only female soloist and female composer in the program. The performance was broadcasted nationally and attended by the First Lady of the United States.
The Lecuona siblings often collaborated with pianist Bola de Nieve and singer Esther Borja. This group of four toured frequently to various countries including Argentina, Mexico, and the United States. Esther Borja (1913-2013), discovered by Ernestina Lecuona, was known as the best interpreter of Ernesto's songs.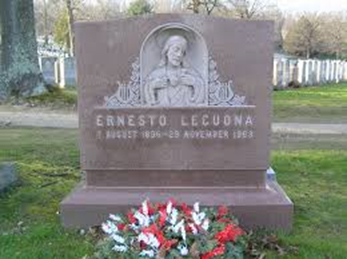 Being an ambassador of Cuban music, his musical styles contributed to the aesthetic of Cuban music in the 20th century. He composed more than 600 pieces, including film scores, songs, piano music, orchestral and ensemble music. His love for his country did not stop even when he lived in the United States later in his life. When he passed away, his body was buried in New York but he expressed his wish of sending his remains back to his homeland in his will.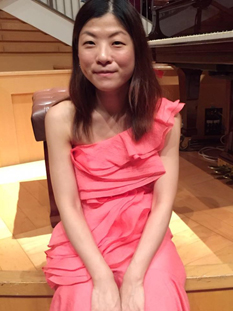 Born in Hong Kong, Fanny is currently pursuing a doctorate degree of Piano performance and pedagogy at the University of Kansas under the instruction of Dr. Scott McBride Smith. She received her master degrees in Piano Performance and Musicology from the University of Missouri- Kansas City (UMKC). Fanny lives in Kansas City where she maintains a busy performance and teaching schedule. As a musicologist, she has presented her papers at the conferences of the College Music Society (2019), Britain and the World (2019), and the Midwest Music Research Collective (2018).