Adolf von Henselt (1814-1889) was one of a number of exceptional pianists who all were born in the second decade of 19th century: Chopin (1810-1849), Robert Schumann (1810-1856), Clara Schumann (1819-1896), Sigismond Thalberg (1812-1871), Franz Liszt (1811-1886).
A classical child prodigy, Henselt started to learn the violin at age 3 and started on the piano age 5. He made his concert debut with a concerto of Mozart, a rondo of Kalkbrenner, and his own fantasy of a theme from Weber's Der Freischütz. His teacher, Josephe von Flad persuaded King Ludwig I of Bavaria that he should support the 21-year-old student to work with Johann Nepomuk Hummel (Mozart's former student) in Weimar for a few months in 1832. He then went on to Vienna where he started his concert career and studied with Simon Sechter, who was later to be Anton Bruckner's teacher.
In 1836, he planned and made an extensive concert tour through the principal German cities, finally settling at Breslau where he got married. In 1838 he migrated to St. Petersburg, where he had been before on successful tours. There he was appointed court pianist and inspector of musical studies at the Imperial Institute of Female Education. This is where he picked up his 'von,' when he was ennobled. He spent his summer holidays in Germany, with occasional visits to England, first in 1852, when he gave concerts, and then again in 1867, when he didn't concertize. He remained in St Petersburg until his death in 1889, during a stay in Germany.
Liszt admired Henselt's cantabile playing and always urged Henselt's students to try to find out the secret of 'his hands.' From his lessons with Hummel, he achieved Hummel's smoothness and from Liszt he took the gift of sonority, using extended chords and techniques. He took two years off performing in order to perfect his unique way of 'widely spaced chords without recourse to the sustaining pedal.' This was the kind of stretching that wrecked Robert Schumann's hand. Even Liszt regarded some of Henselt's playing as having aspects that bordered on the reckless.
As the primary court composer, he was the major influence on the Russian school of pianism, which had begun with the residency of the Irish pianist John Field, who was there as a representative for Clementi Pianos.
Despite this brilliant beginning, Henselt, probably due to extreme stage fright, removed himself from the concert stage at age 33; he had stopped composing three years earlier. To take up his time, he became more active teaching in the imperial household and travelled through Russia in his role of Inspector General of music schools and teaching academies. He and Anton Rubinstein established a truly Russian school of piano playing, which was to see its culmination in the player/composer Sergei Rachmaninoff.
Henselt's set of 10 etudes collected as op. 13, includes a lovely rocking barcarolle, entitled La Gondola.
Adolf von Henselt: 10 Pieces, Op. 13: No. 2. Etude, "La Gondola" (Sergio Gallo, piano)

Pianist Sergio Gallo uses his interest in the Romantic period to extend his repertoire out of Europe into South America, championing music by composers from Brazil. Funding from the Henry Cowell Incentive Funds resulted in his recording of 20th-century piano music from the Americas, which received high critical praise.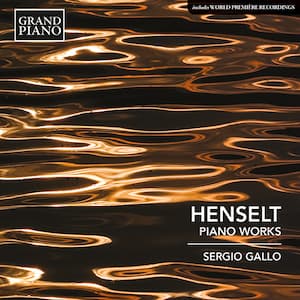 Adolf von Henselt: 10 Pieces, Op. 13: No. 2. Etude, "La Gondola"

Performed by
Sergio Gallo

Official Website
For more of the best in classical music, sign up to our E-Newsletter