The (Almost) Forgotten Piano Wizard!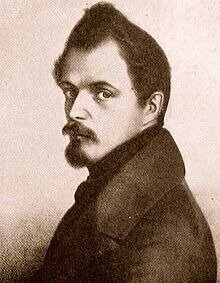 Between 1809 and 1814 six remarkable composers were born; Mendelssohn, Chopin, Schumann, Liszt, Thalberg and Adolf von Henselt (1814-89).
Surely you have heard of the first five, but what about Henselt? Make no mistake, during his lifetime Henselt was easily considered on par as a performer and composer with his five illustrious colleagues. Henselt began his musical studies at age 3, talking violin and piano lessons. His aptitude and progress were astonishing, and before long he received a royal stipend from King Ludwig 1st of Bavaria to study with the famous Johann Nepomuk Hummel in Weimar. Henselt first appeared before the public in Munich in 1829, performing the Mozart C-minor concerto, a Rondo by Kalkbrenner and an extended Phantasy with Variations on Themes from Weber's Freischütz. His reputation as a piano virtuoso spread like wildfire, leading to an extended Munich concert series in 1832. However, Henselt was also eager to become a better composer. Immediately after his Munich appearance, he traveled to Vienna to study composition under the prolific Simon Sechter, teacher of Franz Schubert, and eventually Henry Vieuxtemps and Anton Bruckner.
Henselt's studied with Sechter for two years. As he was searching for his personal compositional voice, he was also looking to develop his own brand of keyboard technique. Henselt sequestered himself for two years only to emerge with a style of playing that combined Franz Liszt's sonority with Hummel's impeccable sense of legato. Apparently it involved the gradual stretching of his hand so that he could easily reach the interval of a tenth. This allowed Henselt to make use of extended chords, and more importantly, gave him complete control of his cantabile playing without use of the sustaining pedal. His great rivals on the concert stage, including Schumann and Thalberg could not believe their ears! And Franz Liszt, clearly challenged in his superiority on the keyboard remarked, "I could have had velvet paws like that if I had wanted to."
By 1836, long periods of isolation and countless hours of practicing had taken their toll. Henselt started to develop serious health problems, and he had a nervous breakdown. He went to the famous spa in the town of Carlsbad — already frequented by Goethe, Beethoven and Chopin — to recuperate. According to some anecdotes, he is supposed to have met Chopin on site, but that meeting has never been confirmed. However, Henselt did revisit Weimar and Hummel during 1836, and fell passionately in love with Rosalie Vogel, the wife of a physician to the court. In addition, he met the Grand Duchess Maria-Pavlovna, daughter of the Tsar, and herself a Hummel student. She invited Henselt to St. Petersburg, and his 1838 concerts created an utter sensation. He was immediately engaged as a teacher to the royal household, and eventually as the inspector general of music schools, teaching academies, and Imperial Institutes for young ladies in St. Petersburg, Moscow, Kiev and throughout Russia.
The administrative duties of his Russian appointments created an enormous amount of work. In addition, Henselt edited the works of numerous composers for use in didactic instruction, and he became chief editor of the music journal "Novelist." As a result, Henselt ceased all compositional activities by age 30, and citing chronic stage fright that bordered on paranoia, almost completely withdrew from concert appearances by age 33. Henselt's small but potent compositional output exerted enormous influence on subsequent generations of Russian piano composers. His 24 Etudes, Op. 2 and 5, and the Piano Concerto Op. 16 encapsulate the essence of his musical imagination and technical prowess. Sergei Rachmaninoff considered Henselt one of his most important influences, and Mily Balakirev, known as a pivotal figure in promoting Russian musical nationalism, wrote: "I will be terribly sad when Henselt is no more. With him will go the last representative of that noble Pleiades to which belong Chopin, Schumann and Liszt." Towards the end of his life, Henselt was elevated to nobility and he died at Bad Warmbrunn, currently located in Poland, on 10 October 1889. Tellingly, his gravestone speaks of a "divinely gifted artist and composer."
For more of the best in classical music, sign up to our E-Newsletter
Adolf von Henselt: Piano Concerto in F minor, Op. 16 (Michael Ponti, piano; Philharmonia Hungarica; Othmar Mága, cond.)