French pianist Louise (Dumont) Farrenc (1804-1875) was a piano student of Cécile Soria, who had studied with Clementi, and of Johann Nepomuk Hummel, who had been a student of Mozart, and Ignaz Moscheles, who had been a student of Salieri, thus benefiting from an enormous heritage of compositional knowledge.
In 1819, at age 15, Louise Dumont took private composition lessons with Anton Reicha at the Paris Conservatoire. At that time, composition classes at the Conservatoire were only available to men. After her marriage to flautist Aristide Farrenc in 1821, they toured France giving concerts and then founded Éditions Farrenc, which became one of the best known publishing companies in early 19th-century Paris. One of the publishing house's most famous productions was 23 volumes of keyboard music for piano and harpsichord entitled Le Trésor des pianists, which covered early music performance style. One of her early works, a set of 30 etudes in all the major and minor keys, was adopted by the Conservatoire in 1845 as required study for all piano classes.
Eventually, she started her compositions lessons again and resumed her performing career, touring as a virtuoso concert pianist. In 1842, she was appointed to the Conservatoire as professor of piano, a position she held for the next 31 years. She was the only woman musician at the Conservatoire in the 19th century to hold a permanent position of professor.
She wrote two concert overtures, both in 1834, and they are very dramatic works. The narrative she was imagining is unknown, but it's not difficult for the listener to create a dramatic storyline to fit the music – there're mountains, and valleys, heroic gestures, and expansive landscapes (or so I hear!). Farrenc creates a world through the contrast of different instrumental groups and playing with their textural contrasts.
Louise Ferrenc: Overture No. 1 in E Minor, Op. 23 (Solistes Européens, Luxembourg; Christoph König, cond.)

Her work caught the attention of Berlioz, who admired her orchestrations, and Schumann, who admired her piano music. Her writing, with its balance of power and lyricism can call to mind both Beethoven and Mendelssohn. Farrenc never wrote opera, but this overture gives us an idea of what she could have done with a good story line.
Her two overtures from 1834 and three symphonies from the 1840s were never published, although all the works received at least one Paris performance and performances in Copenhagen, Brussels and Geneva. Her chamber music fared better, with her two piano trios entering the repertoire of the day. It is only in the 20th century, with the revival of interest in women composers, that her work is finally entering the repertoire.
Conductor Christoph König is Principal Conductor and Music Director of the orchestra of the Solistes Européens, Luxembourg.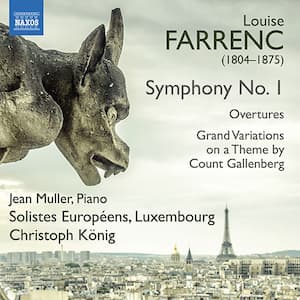 Louise Ferrenc: Overture No. 1 in E Minor, Op. 23

Performed by
Christoph König
Solistes Européens, Luxembourg

Official Website
For more of the best in classical music, sign up to our E-Newsletter