You've probably heard the cello on numerous occasions either because you love its deep baritone sounds or because the cello is used whenever someone dies in a movie. The cello—its vibrant sounds so close to the human voice—is the perfect instrument to portray a melancholy or heartfelt or gripping mood.
What if I told you the cello is the best icebreaker too?
Wilhelm Kaiser: Lindemann Mambo for Six Cellos
We cellists never get used to the endless quips, (Don't'cha wish you played the flute?) and the original jibes (that's bigger than you are!)
Traveling with a cello is never without issues. When you're a member of an orchestra and you go on tour, large trunks—coffins we call them—house two cellos in their cases. Loading them into the trunk before the stage managers wheel the trunks onto trucks, or locating the trunks in the maze of the venue backstage to retrieve your cello in time for the rehearsal or concert can be challenging.
If you travel as a soloist you must buy a seat on the airplane to ensure its not broken into pieces in baggage. But going through security can cause extreme anxiety. The last time I traveled with my cello the security agent pulled the cello from my arms claiming it wouldn't fit in the x-ray machine and wielding it above his head he disappeared, taking it to examine at some inaccessible cubicle. "Waaaiiittt!" I cried, "it's way older and more valuable than the average home." My distress went unanswered.
Struggling to squeeze into a toilet stall at airports with a cello is a constant source of mirth to those who observe you. "I bet it really had to go?"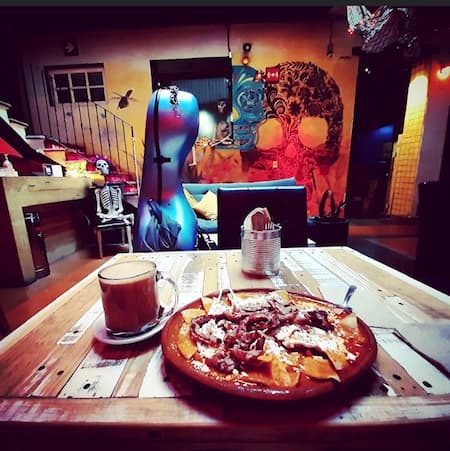 Eating is always a problem whether we are going to or from a performance or rehearsal by car or train, cab or bus. Even when we walk to a gig. Dinner, lunch, brunch, afternoon tea the cello has the best seat at the table in the restaurant.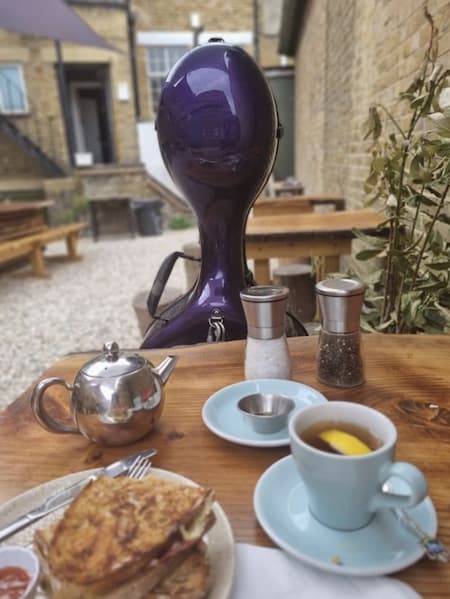 I'll often position the cello facing the table. Invariably someone will quip, "How's the conversation going? I'll sometimes respond. "Fine. It doesn't say much, or eat much."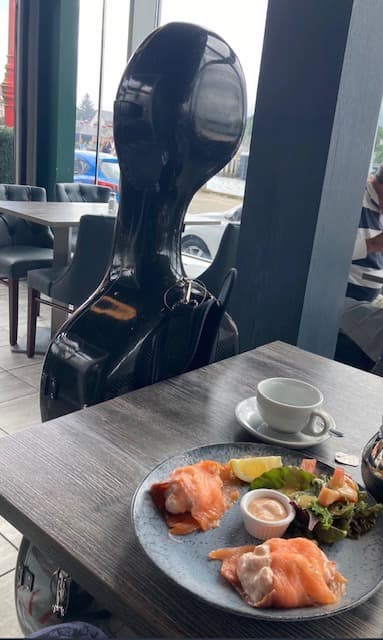 When the cello is turned to face away from the table the comments range from, "What! The cello doesn't like the food?" "Was it something you said?" "It's obviously offended."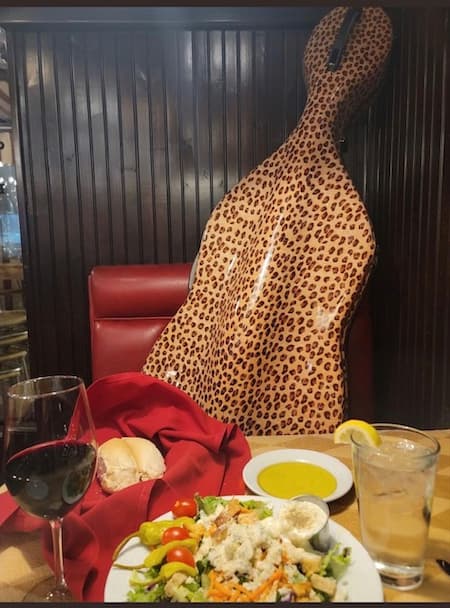 Some cellists name their instruments. Perhaps they go out together behind our backs: a cello twosome as it were?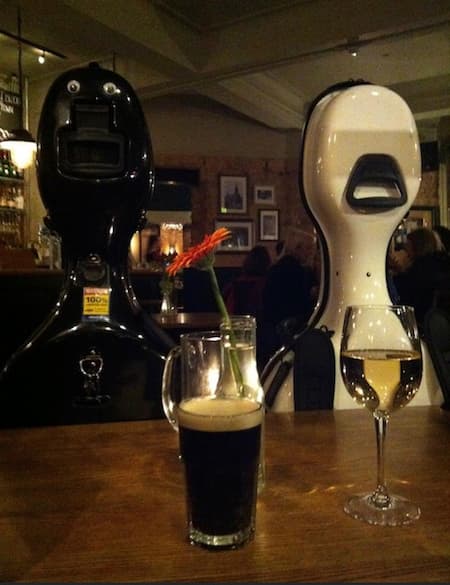 Even in an intimate setting when the cello can be placed in a way that it isn't crammed against the table in the room, perhaps even lying on its side so the cellist doesn't worry it might topple over, someone will say, "When are you going to play us a tune?"
Francis Poulenc: Cello Sonata, FP 143 – I. Allegro: Tempo di Marcia (Matt Haimovitz, cello; Mari Kodama, piano)


You would be amazed how creative we can be when we maneuver a cello and passengers into a small car. And no, if you see the neck of the cello out the open window it's not to experience the breeze. Some cellists might hitch their instrument onto a motorbike or bicycle. In fact, I know of a few cellists who have set off on long routes with their cellos, playing in small towns along the way and bringing music to the people.
Matt Haimovitz has toured for three decades, traveling by bus and bicycle taking Bach, Britten, Poulenc, and contemporary works such as the solo piece Beyond the Order of Things by Missy Mazzoli and Jennifer Jolley's Compulsive Bloom to nightclubs, taverns, restaurants, and bars. As recently reported by the BBC, Kenneth Wilson, a former vicar, began his 5-week trip in May 2022 riding and playing along the 2,000-mile route from Carlisle to Rome.
Missy Mazzoli: Beyond the Order of Things (after Josquin des Prez's Praeter rerum seriem) (Matt Haimovitz, cello)

Jennifer Jolley: Compulsive Bloom (Matt Haimovitz, cello)

As a cellist, staying in town also has its issues. What do we do when we have to stop for groceries on the way home from a concert? Our cellos are our best friends, and lifelong companions. They are also fragile. Made by hand, some date from the eighteenth or ninetieth century. A cellist will never leave their best friend in the car not even to run into the corner store for a quart of milk. Recently, a colleague took her cello into Costco and put it in the cart. Someone roared, "Why didn't you get a six-pack?"
All this said, after a concert when we bring the cello in to a reception or gathering, it's a terrific icebreaker. Before we can even get a drink, the questions start,
"When do you rehearse?" (Anytime; all the time.)
"How long have you been playing?" (All my life.)
"What is your day job?" (This IS my day job and night job and all- the-time job.)
"How heavy is it? Can I try?" (NO!)
And my favorite
"Do you get turned on when you play?" (no comment…)
The queries may even get into diplomatically sensitive territory:
"Do you like the conductor?" (depends on the person and the repertoire.)
"Why do you play so much contemporary music?" (All music was once modern. If we don't support living composers there may not be great masterworks in 100 years.)
"Who's your favorite cellist?" (Any number of great players can fit the bill from hither and yon and depends on what they are playing:
Starker, Yo Yo Ma, Rostropovich, Piatigorsky, Jacqueline du Pré, Steven Isserlis, Gautier Capuçon, Pierre Fournier and one of my classmates Gary Hoffman.)
Johannes Brahms: Cello Sonata No. 2 in F Major, Op. 99 – I. Allegro vivace (Gary Hoffman, cello; Claire Désert, piano)

When hungry pangs strike and I'm ready to get to the food table, I'll resort to rapid retorts:
No it's not my boyfriend.
No it's not a dead body.
No I can't get it under my chin.
No I'm not playing a tune. I just played a symphony.
No it's not a guitar.
No I don't brandish the endpin if I'm angry at a colleague.
You see our problem I'm sure.
Sometimes we retaliate with our own cello gags.
Up a creek without a paddle? My teacher János Starker reacts!
For more of the best in classical music, sign up to our E-Newsletter