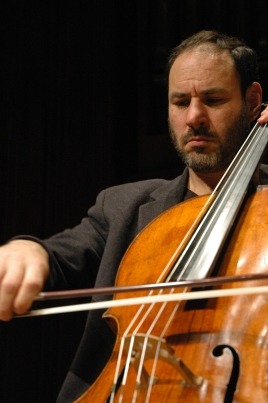 Gary, I'll never forget hearing you for the first time. We were both in Janos Starker's class in the 1970's and your sound blew me away. I must say I wondered if I would be up to snuff with such illustrious students and I was terrified of Starker.

GH: Thanks for your kind words. Maybe I played better back then!

JH: Oh I certainly doubt it. You've had a wonderful career so far as the first North American to win the Rostropovich International Competition in Paris in 1986 as a frequent soloist with the world's most noted orchestras, and you've performed for major recital and chamber music series throughout the world, as well as for prestigious festivals such as Marlboro, Aspen, Verbier, Mostly Mozart, and the Schleswig-Holstein festivals. Your recordings for the BMG (RCA), Sony, EMI and Le Chant du Monde labels are fabulous.

How did you feel when you were chosen to be a student of the great pedagogue Starker?

GH: I started studying with Mr. Starker before I arrived at Indiana University. He was willing to see me ever so often, flying up from Florida. I understood then that he was going out of his way for me and I was more than grateful and frankly a bit surprised!

JH: That's impressive. He surely thought you were very gifted. What were the most valuable lessons you learned from him?

GH: The greatest lesson I learned was self-sufficiency— the ability to recognize, analyze and solve one's own problems.

JH: What especially appeals to you about the cello as an instrument?

GH: The soul of the cello is what has always drawn me to it as a vehicle for expression. It is said that the sound of the cello is the closest thing to the human voice.

JH: What other teachers have influenced you?

GH: My first teacher, Karl Fruh, taught me a beautiful, singing, and natural approach to the cello. It was a great basis for a healthy physical and musical relationship with the instrument.


JH: Have you ever performed in Hong Kong before or elsewhere in Asia?

GH: Yes. I played with Hong Kong Philharmonic as well as in Japan, Taiwan, Korea and elsewhere in China.

JH: I know you are performing with your brother Toby in Hong Kong who is both a violist and conductor. He too has had a luminous international career as Artistic Director of Bargemusic in New York, a member of the Boston Chamber Music Society and a guest violist with the Tokyo String Quartet. Have you performed with some of the other artists that are appearing at The Hong Kong Festival?

GH: Yes, many of them, Cho Liang Lin- we call him Jimmy, Jackie (Jon Kimura) Parker and Vadim Repin.

JH: It's wonderful that you will be reunited with some of your favorite chamber music partners. What works are you particularly looking forward to performing?

GH: I'm looking forward to the Brahms Op.60 piano quartet and I also love performing the Kodaly Duo. The chamber music that I particularly enjoy playing are works by Fauré, the Schumann Trios, anything Brahms and of course the Beethoven Trios.

JH: The Mendelssohn Octet is one of my personal favorites and the Shostakovich Piano Trio No.2 with Jon Kimura Parker and Vadim Repin will be a performance not to be missed!

Over your career what has been the most stimulating or memorable experience for you?

GH: I love seeing a student's progress and it is humbling when one realizes that one can make a difference in someone's life.

JH: We all have stories to tell about traveling with the cello. Can you relate any funny or difficult experiences that you've had?

GH: There are way too many… but here's one of my favorites to tell. Once I got on a plane with my brother Toby — he was carrying his viola. I made him go first. The officials balked at letting him on the airplane with the viola. Toby blurted out, "Don't worry! It folds up!" and before they had a chance to register his response, he was on the plane!

JH: What audiences have stood out to you when you've performed around the world?

GH: The audiences that don't have a preconception and are there to receive and react honestly and sincerely that is quite special. It could be on any stage anywhere— one never knows in advance what can happen during a concert.

JH: Mr. Starker's fondest wish for his students was for us to "spread the word" about music and music learning. How do you think you are at spreading the word?

GH: I think that depends how people or at least individuals receive what I'm expressing. I know it's an important goal. I feel the best way to achieve reaching people with music is to be honest, open and sincere and not try to influence what people think, but leave it to them to take what they choose. We can only say and should only say what we truly feel and believe. The rest is up to those who choose to be part of it.

I'd only like to say Janet that though I know this was not the easiest life to choose, it was and still is a choice. Whereas there is much that is part of the milieu that I wish were different, like in every profession, thank God there is the music and the opportunity to express oneself through it in a way that can take place only through music. It is a rare privilege and I always am aware of that.

Gary Hoffman will be performing at the HK International Chamber Music Festival.
Chopin
Cello Sonata in G Minor, Op. 65
Gary Hoffman, cello
Jean-Philippe Collard, piano

M. Bruch : Kol Nidrei