Raphaël Pichon, who literally grew up in the shadow of the Palace of Versailles, has had dual careers as a countertenor, and later as the founder and director of the historically oriented choir "Pygmalion." With a decided gift for drawing up innovative and illuminating concepts, Pichon aims to generate an immersive and all-encompassing musical experience.
Raphaël Pichon/Ensemble Pygmalion Perform Bach's St. John Passion, "Chorale,"
In the Beginning
Raphaël Pichon was born in Paris on 17 October 1984, and he quickly discovered his musical calling. In fact, as a child he sang in the famous youth choir, the Maîtrise des Petits Chanteurs de Versailles. He also started taking violin lessons, but as he explained in an interview, "As a child, working on the violin alone in my room, put me off; I only rediscovered pleasure in making music by discovering the joy of building a sound together in a choir."
The Maîtrise des Petits Chanteurs de Versailles is a famed choir school devoted to sacred music and liturgical practise. It offers an educational experience that is based on three basic principles. Musical education imparted through an in-depth practice of polyphonic singing; development of the personality through the demands and the rich experience of communal life, and enlargement of the spiritual dimension through constant exposure to the beauties of the artistic heritage of the Christian faith.
Jean-Philippe Rameau: Dardanus (excerpts) (Ensemble Pygmalion; Raphaël Pichon, cond.)

Paris Conservatory
According to Pichon, style-conscious music was a common practice during his days in the boys' choir. "If you sang Bach or Schütz or Handel, then it was self-evident that you did it with instruments of that era, and that you used other instruments when you sang Mendelssohn, Schubert or Brahms." For Pichon, the ideas of historical performance practice arose during a spirit of revolt that reacted against unquestioned traditions. "We have the responsibility to understand that we have to continue the work," he explains, "that we have to reinvent things because if we only revolve around ourselves, we will become a tradition like the ones they wanted to break in the sixties."
Pichon joined the Convervatoire de Paris to study voice and conducting. As a countertenor he performed under some of the leading early music conductors of the early 21st century, both French and foreign, including Jordi Savall, Jean Tubéry, and Ton Koopman. While studying, Pichon founded his own sound ensemble "Pygmalion" in 2006. For Pichon, it was a mixture of constant curiosity and independent thinking that led him to combine a choir with a period instrument orchestra. The identity of "Pygmalion" was established by performances of works by Bach, Rameau, and Mozart, and by a dramaturgical approach to performances.
Pichon/Ensemble Pygmalion Perform Mozart: L'Oca del Cairo, (excerpt)
Influences and Role Models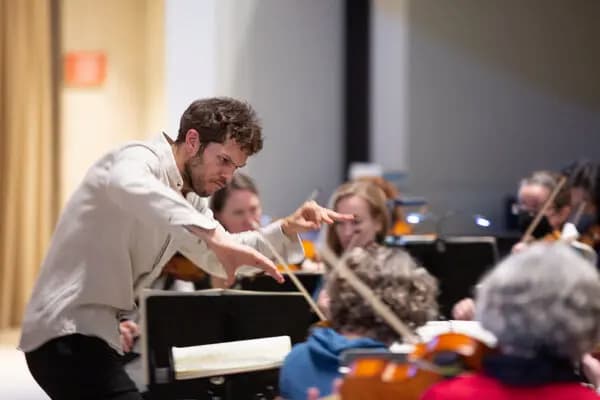 When Pichon was asked about his role models, he strongly declared "I don't have a guru." However, in an interview he did mention a long list of personalities that are important to him in his artistic endeavours. He admires Claudio Abbado "because of the soul that he breathes into every repertoire and the ability to listen," and he respects William Christie for his "demands he makes on the music and his performers."
For Pichon, Nikolaus Harnoncourt combines music with the philosophy and the humanism of our day, and he admires Philippe Herreweghe for "the purity and transparency of sound." Gustavo Dudamel's energy remains a constant source of inspiration, as does Gardiner, van Nevel "and many small special ensembles that engage in fundamental research." The biggest musical influence, however, appears to have been Johann Sebastian Bach, whose St. John Passion became a key musical experience for the ten-year-old boy.
Pichon/Ensemble Pygmalion Perform Bach's Missa Brevis BWV 235, "Kyrie"
Switched on Bach
Pichon has been called the "best Bach conductor on the contemporary scene." Over several concerts, Pichon and the Pygmalion Ensemble have been exploring Bach, his inspiration, and his musical environment titled "Routes to Bach." For Pichon, this project "aims to celebrate Bach's music and show the context in which this ingenious composer worked. But it's not about presenting the artistic richness of the Bach dynasty but rather to see that within the framework of the period – the mixed influences of Italian and German music history, and Bach's teachers and role models."
Bach had a strong sense of tradition, and he spent his whole life ensuring that his works were passed down to the next generation. For Pichon, Bach represents a unique balance between intellect and heart. "On the one hand, the music is intellectually extremely complex, but on the other hand, it also has something very direct and moving. Even those who have never encountered this music before can quickly establish an intimate relationship with it and be deeply moved by it. That is what's so extraordinary: the music speaks to us as a friend. There is nothing simple about it, but it still has something intimate and familiar. That is the mark of his genius."
For more of the best in classical music, sign up for our E-Newsletter
Pichon/Ensemble Pygmalion Perform Bach's Motets, BWV 225-230