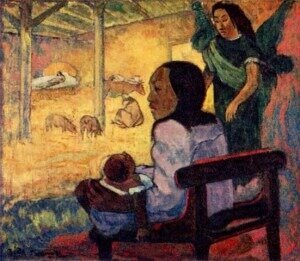 Sometimes it is easy to hate Johann Sebastian Bach! Not because of his abrasive and authoritative personality and certainly not because of his glorious compositions, but for the way that our familiarity with his works gets in the way of hearing somebody else's works. Take for example Bach's Passions and the Christmas Oratorio. Our experience with these works makes us highly likely to hear settings by other composers primarily in comparison with them. With our ears acutely familiar with Bach's compositions, we are likely to be disappointed by settings predating Bach's, because the approach and choice of musical are so very different. Heinrich Schütz (1585-1672) is considered the most important German composer before J. S. Bach, and he wrote his Historia der Geburt Jesu Christi (Historia of the Birth of Jesus Christ) for a performance in Dresden in 1660.

The structure of both Schütz's and Bach's musical Christmas stories is determined by the Gospel text. In Bach's setting it is the Evangelist, accompanied by basso continuo, who sings the words of the Bible. For Schütz, however, the speakers are an angel, a group of angels, shepherds, wise men, high priests, and Herod, and their words are the high points of the musical setting. Schütz compiled his text from more than one gospel, although he relied on long episodes from the gospel of Luke and Matthew. Schütz divides the gospel text into narrative passages—those words that tell the Christmas story—and sections of direct speech, in which we hear the voice of individual characters. Schütz traveled extensively throughout his lifetime, and he composed his Christmas story at age 75. His most innovative technique was the use of an operatic recitative style for the words of the Gospel that tried to communicate directly to the emotions of the congregation.


The outer movements are set as a simple four-voices chorale and move in perfect homophony. These text passages alternate with purely instrumental sections. For the singing of the gospel text, Schütz instructs the performer to "not sing according to a regular pulse but according to the measure of the words." This type of musical freedom was generally reserved for the Italian musical theater, and entirely new in German-speaking countries. The composer titles passages of direct speech, in which we experience the emotions and feelings of individual characters, "Intermedia." The musical style and the instrumentation are directly related to the identity of the speaker. The angel's words of reassurance in Intermedium 1, invokes the cradlesongs traditionally associated with the Christmas story. Intermedium 2 is inspired by the text of praise sung by the host of angels, while shepherds introduce a characteristic pastoral with two recorders in Intermedium 3. The three wise men are matched in a 3-part vocal texture in Intermedium 4, and the high priests are sung by four bass voices accompanied by trombones in Intermedium 5. Two high trumpets accompany Herod, who makes his appearance in Intermedium 6, and the angels reappear in both Intermedia 7 and 8.
Schütz was fundamentally important in bringing the new Italian operatic style to Germany. Particularly so, because J. S. Bach never ventured beyond North-German borders. Content to live and work in his native community, Bach enjoyed a self-imposed isolation. He patiently waited until a particular repertory or musical style, originating in different European regions, became available at his place of work. Without Schütz's decisive influence, the music of J. S. Bach would sound definitively different. There is really no reason to hate J. S. Bach; we simply need to hear Schütz's music with different ears in order to fully appreciate it.
Heinrich Schütz: Weihnachtshistorie