The Belgian conductor and chorus director Philippe Herreweghe, born on 2 May 1947, is frequently credited with restoring the freshness and purity of Baroque choral music. As a critic wrote, "Herreweghe crafts intimate performances that try to impress with lean focus rather than with forced grandeur." Always drawing on a sense of musical architecture, Herreweghe "draws light, crisp, agile playing from his instrumental forces and shapes wonderfully affirmative singing." Herreweghe is primarily known for his pioneering interpretations of the sacred music of Johann Sebastian Bach, to which he brought an unmistakable personality of consolation and concentration. He was born in Ghent into a musical family as the first of three children to Edward Raymond Frans and Elza Maria Augusta Herreweghe. His musical talents were apparent early on and he received his first piano lessons from his mother. During his schooling at the University of Ghent, he combined studies in medical science and psychiatry with a musical education at the Ghent Conservatory. His primary teacher in piano and organ was Marcel Gazelle, the long-time accompanist of Yehudi Menuhin. In addition, he also trained as a chorister and assistant choirmaster in a Jesuit school.
J.S. Bach: St. John Passion, BWV 245 (Maximilian Schmitt, tenor; Krešimir Stražanac, bass; Dorothee Mields, soprano; Damien Guillon, counter-tenor; Robin Tritschler, tenor; Peter Kooij, bass; Philipp Kaven, bass; Stephan Gahler, tenor; Magdalena Podkoscielna, soprano; Collegium Vocale Gent; Collegium Vocale Gent Orchestra; Philippe Herreweghe, cond.)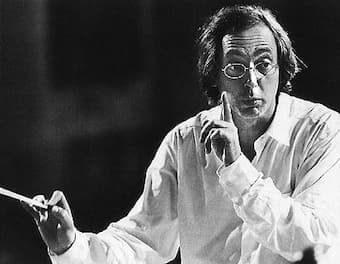 Together with a group of fellow students at the University of Ghent, Herreweghe founded the "Collegium Vocale Ghent" in 1970. It was the first vocal ensemble, including dedicated instrumental support, to implement ideas about baroque performance practice. From the very beginning, the group was dedicated to historically informed performances that relied on a text-oriented and rhetorical approach that produced a characteristic transparent sound. That particular sound was the result of performing music with a small ensemble in which the singers take both the chorus and solo parts. Initially focusing on German Baroque music, the vocal works of J. S. Bach quickly became the group's specialty. The musical innovations introduced by Herreweghe soon attracted the attention of Nikolaus Harnoncourt and Gustav Leonhardt, pioneers in the field of historic performing practice, and he was asked to participate in their gigantic project of recording the complete cantatas of J. S. Bach. Over time, the Collegium Vocale has looked towards Romantic, modern and contemporary oratorio repertoires, and under Herreweghe's direction, they have made well over 80 recordings with the Harmonia Mundi and Virgin Classics labels.
Philippe Herreweghe Conducts Bach's "Saget, saget mir geschwinde" / Oratorio, BWV 249
Herreweghe's energetic, authentic and rhetorical approach to baroque music was soon drawing praise, and in 1977 he founded the ensemble La Chapelle Royale in Paris, with whom he performed music of the French Golden Age, including works by Campra, Lully, Charpentier, Delalande, Dumont, and Gille. Herreweghe took the name of the ensemble from the "Chapelle royale" of the French kings. The ensemble was, during the 1980s, together with "Les Arts Florissants," one of the pillars of the musical revolution known in France and Belgium under the name of "Baroqueux." Herreweghe continued to further diversify his interests as he founded the Ensemble Vocal Européen, a grouping consisting of between five and twelve singers to perform Renaissance polyphony. This was followed by the founding of the Orchestre des Champs-Elysées, a period-instrument ensemble specializing in late Classical and Romantic music, in 1991. And in 1998 he became musical director of the Flanders Philharmonic Orchestra, with whom he has performed much late-Romantic repertory, including the symphonies of Bruckner, a particular passion.
Jean-Baptiste Lully: Miserere (La Chapelle Royale Choir; La Chapelle Royale; Philippe Herreweghe, cond.)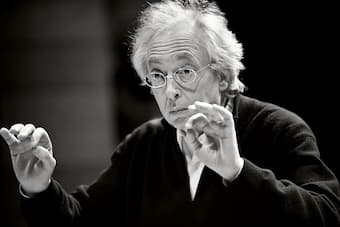 Over the years, Philippe Herreweghe has built up an extensive discography of more than 120 recordings. With art, according to Herreweghe, "you can focus on profound and essential questions… When conducting a Bach cantata, the most important element is the text, but modern audiences very often don't understand the text. At least in Belgium and in France, people don't have these religious cultures anymore… Bach's cantatas talk about very precise points of Lutheran beliefs. And when people know what the music is about, this forms a very strong communication between the music and the listener…One cannot divorce the beauty of the music from the meaning of the text." On the occasion of his 70th birthday, Herreweghe explained, "20 per cent of my professional life, which is also my life generally because I work all the time is polyphony and Baroque music. But 80 per cent is later music, ranging from Mozart and Beethoven to Schumann, Stravinsky, Bruckner, and even Kurt Weill." However, Herreweghe is adamant that he will never record Bach with modern orchestras, preferring to use period instruments when playing music before Beethoven.
For more of the best in classical music, sign up to our E-Newsletter
Philippe Herreweghe Conducts Mozart's Requiem K 626