Russian pianist Alexei Volodin, born on 17 July 1977 in St Petersburg, is highly lauded for his sensitive touch and the technical brilliance of his playing. A highly virtuoso and deeply philosophical musician, Volodin has no time for superficial effects. "His pianism stands apart for its precision and the subtle nature of his performances of works from various ages and in different styles."
Volodin started taking piano lessons at the age of nine, and he remembers, "I used to hear music everywhere, recordings, concerts, television, and then music just took over. I soon realized that I love it more than anything else." One year later he moved to Moscow and studied first with I. Chaklina and later with T. Zelikman at the Gnessin Music School. He recalls, "All my teachers who I studied with, all of them, have immensely influenced me. I tried to learn as much as I could."
Alexei Volodin Performs Schubert's Four Impromptus, Op. 142
Considered one of the best music schools in Russia, the famed Gnessin School of Music was founded with the aim of "turning particularly talented children into a future music elite." As we might well imagine, among its graduates are winners of the most prestigious international competition, and Volodin became a student of Tatiana Zelikman.
Widely considered "one of the best Russian teachers, who really gives her students a great foundation," Zelikman came from the long line of German/Russian pianism taught by Heinrich Neuhaus. Her studies with Theodor Gutman, a distinguished Neuhaus student, trained several generations of supremely gifted musicians. A very demanding and highly critical teacher, Zelikman "instilled a dedicated and relentless work ethic into her students, one that required a continuous striving towards progress." According to Volodin, "Zelikman demanded a relentless search for meaning and emotional atmosphere in every piece."
Frédéric Chopin: Piano Sonata No. 3 in B Minor, Op. 58 (Alexei Volodin, piano)

The most important thing for Volodin "is to bring a piece of music to life under my hands and to reach listeners' hearts, to touch and to thrill them. Not to ruin the music, above all." Volodin continued his piano studies at the Moscow Conservatoire with Eliso Virsaladze, and he modestly confesses that his teachers "are people to whom I owe everything. Beyond professional skills of piano playing, which one cannot acquire alone, they taught me to love music; they unfolded this endless magical world in front of me. A bad teacher can easily kill the love of music forever just by routine and boredom." He sometimes muses about what his teachers would make of his playing today. "I haven't played for my teachers for a long time now," he explains, "but I often wonder what they would say of this or that performance of mine." In 2001, he continued his studies at the International Piano Academy Lake Como and gained global recognition following his victory at the International Géza Anda Competition in Zurich in 2003.
Alexei Volodin Performs Prokofiev's Piano Sonata No. 7, "Precipitato"
Volodin is famous for possessing an extraordinarily diverse repertoire, ranging from
Beethoven and Brahms through Tchaikovsky, Rachmaninoff, Prokofiev, and Scriabin to Gershwin, Schedrin, and Medtner. In fact, he sees himself as a universal pianist, "performing music from Baroque to Schnittke. I play solo with orchestras, as well as in recitals. I love chamber music, but it is not always easy to find partners."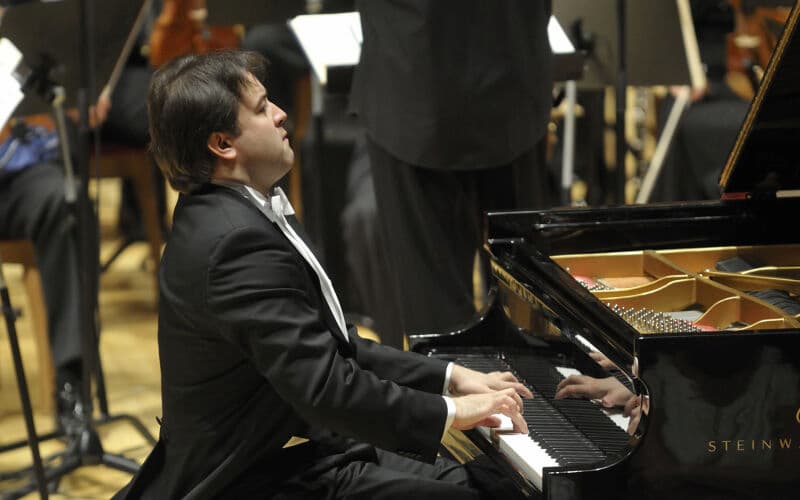 Volodin performs roughly 80 concerts a year, appearing at the world's most prestigious venues and with many highly acclaimed orchestras and conductors. He also appears at the most prestigious festivals throughout the world, but he is adamant that his career is still a work in progress. "I was, and I am," he explains, "trying to learn from the great musicians by listening to them. I think everyone should do that; that's also the best school."
For more of the best in classical music, sign up for our E-Newsletter
Alexei Volodin Performs Rachmaninoff's Piano Concerto No. 2 in C minor, Op. 18