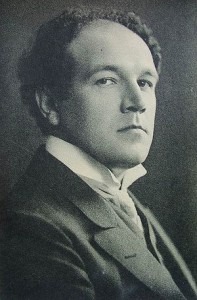 The immediate outcome of the 1917 Russian revolution, in part the result of heavy military setbacks during WWI, was the utter dismantling of Tsarist autocracy. Not only was the Emperor forced to abdicate; his entire family was summarily executed. Vladimir Lenin took control of the Bolshevik party and the government, but was soon opposed by an anti-Bolshevik faction resulting in a brutal civil war that lasted for several years. These years of uncertainty and civil unrest were particularly unpleasant for artists and musicians, with entire generations departing for exile abroad. Among them was the Muscovite Nikolai Karlovich Medtner (1880-1951), an accomplished pianist and composer, and close personal friend of Sergei Rachmaninoff.

Piano Concerto No. 2 in C minor, Op. 50
4 Fairy Tales, Op. 34
Medtner started his piano lessons at age five, and graduated from the Moscow Conservatory at age twenty. He also fell in love with the highly respected violinist Anna Mikhaylovna Bratenskaya, who was married to his older brother Emil. At the outbreak of WWI Emil was studying in Germany, and not surprisingly, was promptly arrested. With Emil out of the way, Nikolai and Anna got married in 1918. In 1921, the happy couple followed Rachmaninoff into exile, and after a series of recitals in Canada and the US — all arranged by Rachmaninoff — the Medtner's settled near Paris. Although he was highly regarded by his contemporaries, Medtner's conservative musical taste — in his compositions he modeled himself after Schumann and Brahms — prevented him from gaining a foothold in the Parisian musical scene. Never lost for words, Medtner aired his misgivings about modern trends in composition in a book provocatively titled "The muse and fashion." While the Russian community in France was predictably hostile to Medtner, English critics and audiences were particularly receptive to his music, and the Royal Academy of Music made him an honorary member in 1928. Eventually, Medtner was persuaded to leave Paris and together with Anna settled in London in 1936. Increasing health problems forced Medtner to give up public performance in 1944, but the establishment of the Medtner Society — founded in London by His Highness Jayachamarajendra Wadiyar Bahadur, honorary Fellow at Trinity College of Music and the first president of the Philharmonia Concert Society — brought Medtner into the recording studio. Before his death in 1951, he managed to record his three Piano Concertos, some piano sonatas, chamber music and accompanied Elisabeth Schwarzkopf in several of his Lieder. Despite being in failing health, these recordings "bear eloquent testimony to his outstanding keyboard technique and are invaluable for their authoritative interpretations." Medtner almost exclusively composed for the piano. Characteristically, rich and dark harmonies in the lower part of the keyboard are frequently adorned by melodic and harmonic inflections borrowed from Russian folk music. However, what truly distinguishes Medtner's music is "a strong vein of classicism apparent in its tightly controlled structures and its contrapuntal textures." Together with his fourteen piano sonatas, three violin sonatas and the piano quintet, his three piano concerti display an astonishing degree of thematic integration and unity. Tellingly, the First Piano Concerto, Op. 33 is cast in a single-movement structure, whereas the Piano Concerto No. 2 in C-minor, Op. 50 — dedicated to Rachmaninoff, who in turn dedicated his Fourth Piano Concerto to Medtner — is single-mindedly concerned with thematic integrity and sense of purpose. Much of Medtner's most original music is found in his 38 "Skazi," generally known as "Fairy Tales." These delightful miniatures for solo piano appear throughout his creative career and are central to his compositional oeuvre. And just in case you were wondering, Emil did not hold a grudge against Nikolai for marrying "his" wife, and the two brothers are buried side by side.