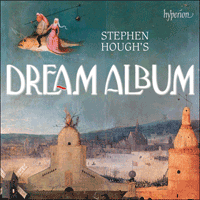 A few years ago, I heard Stephen Hough in concert in a programme of "serious" music: the premiere of his 'Trinity' Piano Sonata III alongside Cèsar Franck's mighty Prelude, Chorale & Fugue, plus works by Liszt and Schubert. And the encore? Eric Coates' By the Sleepy Lagoon, which many will recognise as the theme tune from the BBC's long running Desert Island Discs programme. Played with as much care and expression as the main programme, it was a delightfully witty and nostalgic close to the evening. This charming miniature appears on Stephen Hough's latest release 'Stephen Hough's Dream Album' and is given a lilting Chopinesque delicacy by Hough.

Dreaming – Isn't this what we do when we listen to any kind of music? We suspend the reality of our ordinary lives, we long for spells to be cast, for phantoms to be grasped, to enter a state of ecstasy. (Stephen Hough).

Most of us go to concerts and listen to music to be taken to another place, and this album succeeds in this objective in spades, offering a varied selection of flights of fancy, erotic reveries, melancholy ponderings, and fleeting visions. All the works on the disc are transcriptions, by Hough himself and others (if you, like me, own Hough's 'Tributes and Transcriptions' collection of piano music, you will be delighted to hear his mischievous Radetzky Waltz, the witty Niccolo's Waltz with its nod to Paganini, Osmanthus Romp and Reverie, and Lullaby played by the composer/performer himself). Here, Hough the concert pianist is cast also as transcriber, interpreter and re-creator, and his own transcriptions are a testament to his musical insight, skill, and whimsy.

What makes this album so charming is Hough's skilled programming, mixing high art with pieces, which in the hands of certain others, could sound schmaltzy and sentimental. Thus powerful performances of works Liszt and Dohnányi sit happily alongside Hough's cheery Matilda's Waltz (a reference to his father's heritage and scored as a rumba) or amusing transcriptions of dances from Don Quixote. Hough avoids kitsch and brings to every piece his characteristic clarity, musical intelligence, wit, elegant phrasing, tasteful pedalling and an intoxicating kaleidoscope of expressive colours and moods to create an album which delights and surprises at every turn. It's also deeply personal (two pieces were written for Hough's partner), ending with "the piece I want to be the final piece I play in concert – the last encore of my last concert which I first heard on my first LP". Nostalgic and bittersweet, redolent of "at homes" in Edwardian drawing rooms or pre-war cocktail hour, the music evokes a dreamy golden age tinged with poignancy. Hough's magical soundworld brings an intense intimacy and elegance to every piece. Listen to it as an entire recital album or dip in and out of it: you will be utterly charmed and transported.


Stephen Hough's Dream Album is available on CD or as a download from Hyperion