The Development of Piano Writing on Nocturnes Since John Field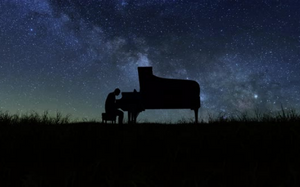 The term "Nocturne" or "Notturno" (Italian) was first applied in the eighteenth century to pieces written for string ensemble to be performed at an evening party and then put aside. At this time, it was not necessarily a piece evocative of night-time but simply music to be played in the evening. In the early nineteenth century the name Nocturne became specifically associated with a single-movement work for solo piano and the Irish composer John Field is credited with "inventing" the Nocturne in the form we commonly understand it now: a cantabile ("singing") melody over an arpeggiated or guitar-like bass, free in form and rather languid in character. Field composed his first Nocturne in 1812. Gentle and nostalgic, full of reverie and tenderness, the form enabled him to explore the piano's myriad nuances and colours. He had created a pianistic form based on charm and delicacy, with elegant textures and rich sonorities.
It was Frédéric Chopin who took the genre to new heights of structure, expression and beauty. He took Field's template and embroidered his own unique musical personality upon it, creating piano miniatures in which the melodic lines are amplified with "fioriture" – decorations draped across the melody like gossamer, fleeting and improvisatory in nature. In addition, the right hand's mellifluous cantabile becomes almost elusive with the help of beautiful legato and the subtle use of the piano's pedals. The Nocturnes remain amongst the most popular and well-loved of his entire oeuvre, and are prized by pianists everywhere as the apogee of writing for the piano.
Chopin's Nocturnes are generally scored in ternary (ABA) form, with a more dramatic or contrasting middle section before the return of the opening material. All but one of the Nocturnes is a variation of Lento, Larghetto or Andante (generally slow or moderately slow in tempo), the Allegretto of No. 3 being the odd one out in this respect.
"Their closer kinship of sorrow than those of Field renders them more strongly marked; their poetry is more sombre and fascinating; they ravish us more, but are less reposeful…"
Franz Liszt on Chopin's Nocturnes
"His music is some of the most beautiful ever written. The nature of his genius defies classification."
Claude Debussy
It is a mark of Chopin's genius in this miniature form that the nocturne soon became an established genre of piano repertoire, and composers continue to write piano nocturnes to this day. Notable successors include Schumann's Nachtstϋcke ('Night Pieces'), a quartet of disturbing character pieces in which "One sees more eyes and owls than stars" (Franz Liszt) and which reflect the dark passionate heart of Romanticism rather than its intimate lyricism. Liszt himself took up the form in his Liebestraum ('dreams of love'). Based on poems by Ludwig Uhland and Ferdinand Freiligrath, each describes a different type of love: exalted, erotic and mature.
Gabriel Fauré: Nocturne No. 4 in E-Flat Major, Op. 36 (Sally Pinkas, piano)

For the sensitive, romantically-inclined Gabriel Fauré, the nocturne was a form very close to his heart, and his piano nocturnes portray a sublimated musical introspection, enchanted by the solitude of night-time. His thirteen pieces in the genre vary in form and content but definitely take their cue from Chopin. Fauré's compatriot Francis Poulenc also wrote a series of eight nocturnes, which roughly span a decade (1929-1938), but unlike Chopin's or Fauré's, Poulenc's nocturnes are not romantic tone-poems but characterful evocations of night-scenes and sound-images of public and private activities. No. 2, for example, depicts the charm and innocence of a girls' dancing party, while in No. 4 night-time bells chime across the empty town.
Benjamin Britten: Night Piece (Notturno) (Stephen Hough, piano)

This depiction of nocturnal activities was taken up by composers such as Bartók and Britten who both used the nocturne form to imitate of the twittering of birds and scurrying and croaking of other nocturnal creatures. Here the tranquillity and meditative quietude of Chopin's nocturnal soundworld is exchanged for one which is rather more unsettling and suspenseful.
The American composer Samuel Barber wrote a Nocturne subtitled 'Homage to John Field', based on the old ideas of Field and Chopin, complete with fioriture, but written in an evolving lyrical style appropriate for its time.
Samuel Barber: Nocturne (Homage to John Field), Op. 33 (Israela Margalit, piano)

Contemporary composers of the nocturne include Peter Sculthorpe (1929-2014), whose Night Pieces are truly "miniature miniatures", fleeting works of beguiling yet evocative simplicity. British composer Richard Causton's 'Night Piece' for solo piano is a short encore work based on the clarinet solo from the slow movement of Mozart's Clarinet Concerto. Premiered in 2014, it harks back to Bartók and Britten in its spare scoring and thoughtful sonorities which explore the timbre and resonance of the piano rather than its melodic capabilities, and like all piano nocturnes before it, it is a brief yet expressive work.
For more of the best in classical music, sign up to our E-Newsletter
Peter Sculthorpe: Night Pieces