Samuel Osmond Barber, born in West Chester, Pennsylvania, on 9 March 1910, went on to become one of the most celebrated, honored and most frequently performed American composer of the 20th century. A critic writes, "Probably no other American composer has ever enjoyed such early, such persistent and such long-lasting acclaim." Son of Marguerite McLeod (née Beatty) and Samuel Le Roy Barber, he was born into a comfortable, educated, social, and distinguished American family.
"His father was a physician, and his mother a pianist of English-Scottish-Irish descent whose family had lived in the United States since the time of the American Revolutionary War." There was great musical talent in the family as his maternal aunt, Louise Homer, was a leading contralto at the Metropolitan Opera. And his uncle Sidney Homer was a composer of American art songs. Samuel showed great interest and aptitude for music, and he started piano lessons with William Hatton Green at the age of six. He composed his first work, a brief solo piano piece entitled Sadness at the age of seven.
Samuel Barber: Dover Beach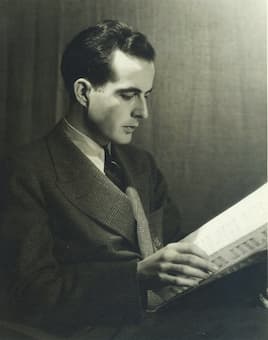 When Barber was ten, he composed the operetta The Rose Tree to a libretto by the family's Irish cook. His musical studies were greatly encouraged by his aunt and uncle, and Sidney Homer mentored his nephew for more than 25 years, "profoundly influencing Barber's aesthetic principals." He became an organist at a local church at the age of 12, and two years later entered the youth artist program at the Curtis Institute of Music in Philadelphia. Once he had graduated from high school, Barber entered the adult program at Curtis and developed his talents as a triple prodigy in voice, piano, and composition. He studied piano with George Frederick Boyle and Isabelle Vengerova, composition with Rosario Scalero, conducting with Fritz Reiner, and voice with Emilio de Gogorza. At the Institute in 1928, he met fellow Curtis schoolmate Gian Carlo Menotti, "an encounter which led to a lifelong personal and professional relationship." Mary Curtis Bok, the found of the Curtis Institute took special interest in Barber, providing financial support and actively promoted his career.
Samuel Barber: Overture to "The School for Scandal"
Early works from Barber's student days still hold a place in the repertoire today, including Dover Beach—a setting of a Matthew Arnold poem for voice and string quartet. Barber himself sang the world premiere, a performance that was hailed as having "singular charm and beauty, and intelligently sung by a naturally beautiful voice." First-hand experience as a singer and an intuitive empathy with the voice would find expression in the large legacy of songs that occupy some two-thirds of his output." Barber received early recognition as a composer by winning two important Bearns awards, for a now lost violin sonata of 1928 and for the overture to The School for Scandal of 1931, his first published large-scale orchestral work. Barber received a number of scholarships, which allowed him to travel and spent extended periods of study in Europe. His first orchestral work receiving international attention was his Symphony in One Movement, completed during his studies in Rome. It premiered in Rome in 1936, and was soon programed in New York City and Cleveland. "The work was the first symphonic composition created by an American to appear at the Salzburg Festival, where it was performed in 1937."
Samuel Barber: Symphony in One Movement, Op. 9
Barbers music caught the attention of Arturo Toscanini, who conducted the premieres of two Barber works. The Essay for Orchestra, which was eventually retitled First Essay for Orchestra, and the Adagio of Strings, an arrangement of the second movement of the String Quartet, which became on of the best-known works of the 20th century. Unlike many of his contemporaries, Barber did not respond to experimental trends in music. "Instead," as one scholar writes, "he continued to write expressive lyrical music, using conventional formal models and the tonal language of the 19th century." Through his decade-long apprenticeship with composition teacher Rosaria Scalero, a student of Eusebius Mandyczewski, Barber preserved a strong connection to the 19th-century tradition. His mentor Sidney Homer, "held up the European masters of the 19th century as role models… and Barber's new significance since the arrive of the 'new romanticism' is testimony to the vitality and enduring viability of his extended tonal language and melodic invention."
For more of the best in classical music, sign up to our E-Newsletter
Samuel Barber: Adagio for Strings, Op. 11