Canadian pianist Marc-André Hamelin can play anything just about better than anyone else on the current international piano circuit. Or so it would appear from his fascinating recitals whose diverse and ambitious programmes range from Alkan to Ives, Liszt to Weissenberg – and much more.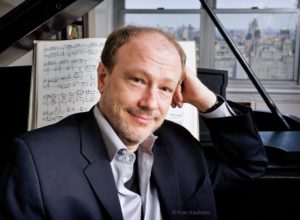 Hamelin has been much lauded for his exceptional technique, a word which is often mistaken for "piano mechanics". It is not the ability to perfectly execute thousands of scales and other 'technical exercises' with amazing dexterity, but rather an aggregate of many skills which enable the pianist to play a million different passages, and to adjust finger and arm weight and touch accordingly to achieve particular effects and sounds, as well as learning to 'speak' the language of music through one's playing. Another crucial aspect of technique is control – something Marc-André Hamelin has in spades.
His manner at the piano is modest, almost devoid of gesture. He has remarkable economy of movement, yet plays with an enviable ease and fluidity which gives him extraordinary stamina and the ability to create long-spun narrative flow and momentum even in the most complex and seemingly disparate works. His restraint may suggest emotional detachment, but he captures the spirit of the music perfectly, whatever he is playing. There are no distractions, no unnecessary gestures or false sentiment, and certainly no surface artifice, and his extreme stillness allows the music to speak for itself. For Hamelin, it is all about hearing the music rather than seeing the performer. His understated virtuosity never draws attention to itself.
"I do not go on stage to exhibit myself. For me, it's all about sharing. I consider the public a friend……So, any outing on stage for me is an occasion for celebration, an extolment of the miracle of human creativity."
– Marc- André Hamelin (interview with The Cross-Eyed Pianist)
Born in Montreal in 1961, Hamelin has been performing and recording since his 20s, with over 50 discs to his name now. He plays the "big names" of the canon, but is also well known for his championing of lesser-known composers and rarities of the piano repertoire, especially of the nineteenth and early twentieth centuries, including Alkan, Reger, Ornstein, Godowsky, Catoire and Feinberg. His unusual programme juxtapositions, combined with insightful musicianship, all underpinned by formidable technique, create some of the most compelling and exciting musical experiences.
Alkan: 12 Etudes dans les tons mineurs, Op. 39: Concerto – No. 10. Allegro alla barbaresca
Hamelin is also a composer and his Etudes, created in the same spirit of those by Chopin, Liszt and Godowsky, represent some of the most challenging new additions to the pianist's repertoire. For him, composing offers crucial insights into the enormity of the composer's craft and brings him, as performer, closer to the creator of the work.
While supreme pianistic prowess and super-fleet fingers might be a pre-requisite for much of the repertoire Hamelin chooses to play, his silky, sinuous melodic lines, subtly nuanced dynamic shadings, and myriad varieties of touch, which bring the music so vibrantly to life in his hands.