"Every day of my life that I am allowed to play Mozart, Beethoven, Schubert and the music of our own time too……this, to me, is a gift from somewhere. If heaven existed, it's heaven." – Mitsuko Uchida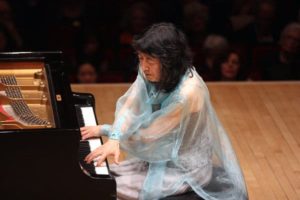 Slightly built and elegant, butterfly-like in her trademark diaphanous pleated silk gowns by Issey Miyake, pianist Mitsuko Uchida can shrink a large concert venue like London's Royal Festival Hall into a space as intimate as Schubert's salon. She is undoubtedly a performer, but not in the sense of projecting personality and big sound to the back row of the concert hall. Performances by Uchida are often introspective, intimate affairs: through the limpid, intense quality of her sound, her subtly graded dynamics and careful voicing, she draws the audience into her world and the distinctive soundworlds of Mozart, Beethoven, Schubert, Schoenberg and Berg – the composers to whom she feels the greatest affinity. Her playing has a dreamlike, inward quality, yet there is precision, acute intelligence and close attention to detail in her interpretations – the hallmark of a musician who has spent a lifetime with this music. She focuses on inner details and textures as much as melodies, and she finds interest and beauty in the interior architecture and secondary voices, the alto and tenor lines. She rarely plays loudly, her fortes and fortissimos more "psychological dynamics", yet there is always an intensity to her sound.
Schubert: 3 Klavierstücke, D. 946 – No. 1 in E-Flat Minor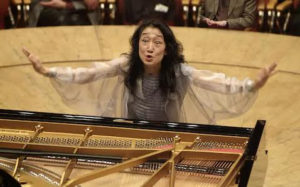 Mitsuko Uchida was born in the seaside town of Atami in 1948 but left Japan when she was 12, for Austria, where her father was Japan's ambassador. She studied at the Vienna Academy of Music with Richard Hauser and later Wilhelm Kempff and Stefan Askenase. She also studied with Maria Curcio, a favourite pupil of Artur Schnabel, and gave her first recital at the age of 14 at the Musikverein, Vienna. By the time of the Leeds Piano Competition in 1975, where she won second prize, she was resident in London and has made the city her home ever since.
Mozart: Rondo in A Minor, K. 511
Now 71, she still performs widely with leading international orchestras and in the most renowned concert halls. Her recording of Mozart's complete Piano Sonatas (Decca) has received wide acclaim, while her recordings of Schubert's music combine full-bloodedness with drama, sensitivity and a profound spirituality, which emphasize the beauty in Schubert over lyricism, structure, and poetic passion. She also has a miraculous control of rubato and silence, so important in the dramatic narrative of Schubert's music.