He looks like he should still be at school, yet he plays with the commanding presence, exceptional technical facility and deep commitment a professional artist thrice his years would envy. He's floppy haired, slightly built, yet he can bring power and richness to the boldest fortissimo passages, while his pianissimos are delicate whispers. He creates a furore wherever he plays, his concerts sell out in hours, his fans are many and wildly enthusiastic. Welcome to the world of Daniil Trifonov.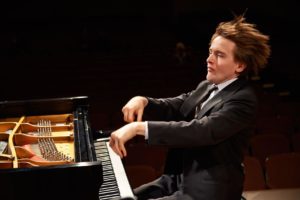 Not yet 30 (he was born in 1991), Daniil Trifonov is already well-established as one of the world's greatest pianists, his reputation founded on astonishing, often jaw-dropping performances of Rachmaninoff, Liszt and Chopin which meld fearsomely impressive technique with a gilded, lustrous sound. Watch him perform and at times he seems almost possessed, demonically rising from the keyboard and plunging back into it with tremendous power and physical agility. He has stamina in spades, tempered by tenderness and sensitivity which allow him to shape and shade the music, creating unexpected nuances and colours, the beauty of his sound such that one forgets the piano has hammers. He has the fearless, gleaming virtuosity of Argerich or Kissin – audacious, bravura playing that combines intelligence with dexterity, all wrapped up in an extraordinary effortlessness and refinement which makes his colleagues and senior musicians pause and marvel.
Superlatives quickly become redundant when attempting to describe the pianistic feats of this young artist, winner in 2011 of both the Tchaikovsky and Rubenstein Competitions. Signed to Deutsche Grammophon since 2013, he already has an impressive array of recordings under his belt, and is in high demand all around the world.
Chopin: Piano Concerto No. 1 in E Minor, Op. 11 (arr. M. Pletnev for piano and orchestra) – II. Romanza: Larghetto
Hailing from Nizhny Novgorod in Russia, he has been playing the piano and composing since he was five years old. He made his orchestral debut at eight, an occasion memorable for the loss of one of his milk teeth during the performance! While studying at Moscow's Gnessin School of Music, he listened to historic recordings of the great pianists from an earlier era, seeking inspiration and learning from recordings of Rachmaninoff, Cortot, Horowitz, Friedman and others from the golden age of piano playing. It's no surprise that amongst his inspirations today are Martha Argerich, Grigory Sokolov and Radu Lupu. He seems to embody so many of their musical qualities, while also carving a very distinctive artistic identity and career of his own.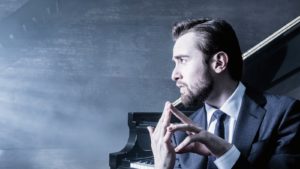 The vertiginous virtuosity of Liszt and Rachmaninoff suits this young artist and when paired with an orchestra in, for example, Rachmaninoff's Third Piano Concerto, he dazzles and beguiles with his unaffected brilliance and vibrant tonal palette. But he's no "faster-louder" virtuoso, traits which too often seem to be the less-than-unique selling points of today's young lions and lionesses of the keyboard; his virtuosity is more subtle, veiled by his deft lightness of touch, his ability to guide the listener in the narrative of the music (he is the first pianist I've heard who made Liszt's Transcendental Études sound not only, well, transcendental, but also brought meaning and storytelling to this suite of fiendishly complex pieces).
"Technique should always be at the service of the music of the composer, not just for the sake of affect."
– Daniil Trifonov
Of course he's right – and when you see and hear him play, you understand exactly what he means. Brilliance elides with sensuousness, fleet-fingered arpeggios and visceral, blistering octaves give way to ethereally whispered phrases and poetic poignancy; his is playing which thrills, surprises and delights.
He has yet to explore the wider and wilder shores of the pianist's repertoire, but he's still young and there's plenty of time – and when he does it's sure to be exciting and unexpected.