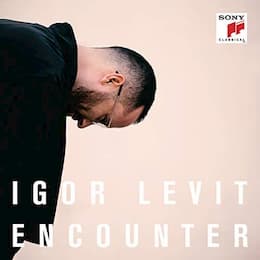 Pianist Igor Levit is one of the heroes of lockdown – a "key worker", if you will (!), who provided comfort and distraction in those anxious, early days of the pandemic. At a time when the concert halls of the world were shuttered and silent, Levit gave hauskonzerts from his home in Berlin, broadcast live on Twitter via his iPhone. Each day he would announce a programme and a time to tune in. He streamed more than 50 concerts, performing on a 1920s Steinway B that had once belonged to the Swiss pianist Edwin Fischer. He dressed casually and gave a brief introduction to each performance in German and English – no need for the formality and etiquette of the Wigmore Hall here. He played Bach and Schubert (a tear-jerkingly wonderful D960), Beethoven and Feldman, and people tuned in from around the world. His daily house concerts provided an anchor in a troubled sea.
"Maybe for the first time do I understand what it means to speak of music as something life-keeping. It really keeps me alive. . . . I don't care if it's wrong or right, whatever B.S. that means…" said Levit in an interview with Alex Ross of The New Yorker. His house concerts challenged our notions of what a concert really is, reminding us that we don't have to sit in stiff, reverential silence in plush red velvet seats to feel the power of the collective shared experience of music. Separated by a global pandemic, confined to our homes, music connected us, delighted, soothed and comforted us.
Levit's new album, Encounter, which comes just two years after the release of 'Life' (my album of the year in 2018), confirms the spirit of his hauskonzerts. Here is music by Bach-Busoni, Brahms-Busoni, Reger and Feldman that seeks to comfort the soul and provide inner strength while expressing a desire for encounters and togetherness in a world fractured by a global pandemic. Like 'Life', it is another very personal album for Levit, the repertoire carefully chosen: these are "works in which all questions about love and death, loneliness and the possibility of real love for others are examined". The pieces on 'Encounter' were those which drew especially positive comments from Levit's online audience.
J.S. Bach: Das Orgelbüchlein, BWV 599-644 (arr. F. Busoni for piano) – Ich ruf' zu dir, Herr Jesu Christ, BWV 639 (Igor Levit, piano)

The entire album has a processional quality, leading the listener to the hushed serenity of Morton Feldman's final work for piano – and the final work on this disc – Palais de Mari, a 28-minute contemplation, meditation, or what you will, of exquisitely-placed notes and piquant chords that fall upon the ears and mind like the softest of summer showers. It works in the same way as Bill Evans' 'Peace Piece' did on 'Life' – the sentiments of the music match the intensity and spirituality of the works that preceded it, yet it also provides a contrast in its delicate minimalist textures and hauntingly spacious pauses.
No one questions the spirituality of J. S. Bach, but Levit thankfully steers away from an overly-reverential approach which colours so many performances of his music. Alert to the contrasting characters of the Chorale Preludes, elegantly and occasionally flamboyantly transcribed for solo piano by Ferruccio Busoni, Levit finds vibrancy and immediacy, authority, solemnity and joy, and draws on the full range of the piano's sound and resonance to highlight the voices and layers of this music.
Brahms' six Chorale Preludes, also transcribed by Busoni, are rarely-heard as a set, and Levit successfully sustains the devotional, introspective nature of these pieces, almost to the point of intimacy. Reger's transcriptions of Brahms's Vier ernste Gesänge (Four Serious Songs) are similarly pensive, and Levit's sensitivity of touch and musical imagination save them from becoming overwhelmed by the richness of their textures.
Johannes Brahms:
4 Ernste Gesänge (4 Serious Songs), Op. 121 (arr. M. Reger for piano) – No. 2. Ich wandte mich … (Igor Levit, piano)

Reger's Nachtlied, a sacred motet for unaccompanied mixed choir, provides the bridge to Feldman in this transcription for piano by Julian Becker. Its textures are more transparent, its mood gentler and more prayer-like, settling the listener in for Feldman's music, which gradually retreats into its own world with a sense of closure and inner calm.
The album was recorded in May at Berlin's Jesus-Christus-Kirche and is best heard in one sitting, as if as a recital – because here Levit manages to create a very palpable, highly concentrated musical presence throughout the recording.
'Encounter' is available on the Sony Classical label and via streaming services.
For more of the best in classical music, sign up to our E-Newsletter