What do you think of when you think of orchids – exotic plants in whites and purples and all the colours in between? What's the sound of an orchid? What is its music? We surveyed several composers' works to see how they imagined the orchid in music.
We'll start with a traditional Chinese track of Orchid Grass. This is beautiful small orchid that appears in tropical and subtropical Asia in many colours, with leaves that look like grass.
Traditional: Orchid Grass (Hong Kong Philharmonic Orchestra; Kenneth Jean, cond.)

Sometimes the orchid tells its own story. In Stephen Wang's evocative work for guitar, The Chinese Garden, he uses flower allegories. His third movement, Lan Hua Hua (Blue Orchid), uses as its basis a Shanbei folksong from Shaanxi province. A beautiful girl is betrothed to a rich landowner but commit suicide because she is unable to be with her true love.
Stephen Goss / Wang: The Chinese Garden: III. Lan Hua Hua (Blue orchid) (Yang Xuefei, guitar)

A work with the same title but with a very different inspiration is Tan Dun's Blue Orchid, created as part of Rudolf Buchbinder's 2020 project on the Diabelli melody, immortalized in Beethoven's Diabelli Variations, Op. 20. Buchbinder invited 11 contemporary composers to write a "new" Diabelli Variation using the same waltz used by Beethoven and Chinese composer Tan Dun took up the challenge.
Tan Dun: Blue Orchid (Rudolf Buchbinder, piano)

Using Argentinian tango composer Astor Piazzolla as his inspiration, accordionist Guy Klucevsek's The Asphalt Orchid (In Memory of Astor Piazzolla) picks up on the fact that Piazzolla's music is written for the city. Dark nights in the tango halls, where the flowers on view spring from the dark city street.
Guy Klucevsek: The Asphalt Orchid (In Memory of Astor Piazzolla) (Todd Reynolds, violin; Guy Klucevsek, accordion)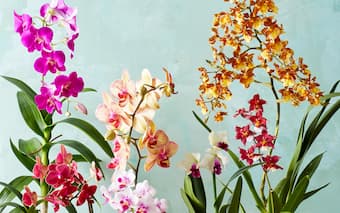 In his piano work Six Orchids written between 1990 and 2002, composer Ed Hughes uses the similarity and difference in orchids as his inspiration. Orchid 3 is a dialogue between lyric patterns and a restless inner energy. You can hear the inner parts of the opening like the interlaced petals of a flower. The work has a simplicity and elegance but an elegance with dignity. The second theme brings more rhythmic syncopations.
Ed Hughes: 6 Orchids – Orchid 3 (Richard Casey, piano)

Japanese composer Celeri Haruhata wrote a set of 18 small piano works to accompany the book Music of Endangered Species. Number 9 is the Nagoran, a small orchid.
Haruhata: Zetsumetsu Kigushu no Oto (Music of Endangered Species): IX. Nagoran (Orchid Nago) (Akira Haito, piano)


In 2006, for composer György Kurtág's 80th birthday, American composer Amos Elkana composed Eight Flowers in his honor. No. 4. Orchid, runs all over the place, settles, clomps around, runs again and out.
Amos Elkana: 8 Flowers: No. 4. Orchid (Amit Dolberg, piano)

German composer Theodor Blumer (1881-1964) worked largely in Dresden and Berlin, and his cycle From the Plant World uses the orchid as the inspiration for his sensuous slow waltz. Imagine it as being worn as a corsage and the dancers slowing winding around the floor.
Theodor Blumer: From the Plant World, Op. 57b: No. 6. The Orchid (John Bailey, flute; Mark Clinton, piano)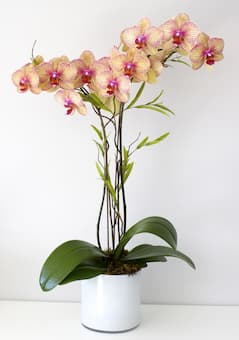 We'll close our survey of orchids with two flowers with character. In Ching-du Hu's The Swash of Water and Red, he summons for us The Orchid of Contemplation. The concept for the work was the power of water and of the color red. Water can be frozen or in active flood (movements 1 and 2). In the middle of it all, sits the orchid, wearing the red color and watching the water go by in contemplation.
Hu Ching-du: The Swash of Water and Red: IV. The Orchid of Contemplation (Stanislav Malyshev, violin; Inna Zilberman, violin; Anna Burchik, viola; Olga Kalinova, cello)


Zhou Long's Secluded Orchid comes from the guqin melody, "You Lan in the Mode of Jie Shi." The melody is the oldest extant music for this ancient Chinese stringed instrument but Zhou makes it so much more than an ancient song.
Guqin music evokes strong moods, from dark anger to melancholy, tranquility, and exhilaration and Zhou picks up on those changes.
Zhou Long: Secluded Orchid (Lin Cho-Liang, violin; Ni Hai Ye, cello; Helen Huang, piano)

Every composer sees a different flower – sometimes they're characters and sometimes they're settings, such as Blumer's ballroom with dancers; sometimes they're just beautiful evocations of the exotic other. They can be contemplative or growing in harsh surroundings. What is your orchid of choice?
For more of the best in classical music, sign up to our E-Newsletter