"Not runs for the sake of runs"


Henry Vieuxtemps (1820-1881) was undoubtedly one of the greatest violinists of his time, combining superb technical command with a deep musical understanding. As a performer he was praised for his "flawless and expressive technique, a marked individuality and great artistry always at the service of the expression of feelings." Born in Verviers, Belgium, 200 years ago, Vieuxtemps went on to rejuvenate the concept of the grand French violin concerto. He enriched the solo part and placed it into a modern symphonic framework while steering clear of Paganini's sorcery. A highly valued educator, he also created an original violinistic vocabulary that remained valid for the entire 19th century. Vieuxtemps studied the violin from the age of four and made his public debut at the age of six. He performed in Liège and Brussels and attracted the attention of Charles Auguste de Bériot, who promptly took him on as a student. In May 1829, teacher and student went to Paris, and upon hearing Vieuxtemps in Rode's 7th Violin Concerto, Fétis proclaimed him "a born musician." Together with his father, Vieuxtemps embarked on a concert tour through Germany, where he made very favorable impressions on Louis Spohr and Robert Schumann, who compared him to Niccolò Paganini. On hearing the 14-year old Vieuxtemps, Schumann wrote, "With Henri one can safely close one's eyes. His playing is like a flower, at once both fragrant and bright."
Henry Vieuxtemps: Violin Concerto No. 2 in F sharp minor, Op. 19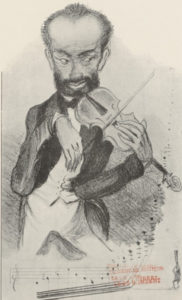 Vieuxtemps gave his début in London at the Philharmonic Society on 2 June 1834. Although it did not arouse much interest, he did meet Paganini. Apparently, Paganini heard Vieuxtemps perform and "predicted a great future for him." The young violinist, however, also had ambitions to become a composer, so he studied with Simon Sechter in Vienna and Anton Reicha in Paris. His first violin concerto, which was later published as Concerto No. 2, dates from this period of compositional apprenticeship. Vieuxtemps set himself the goal of "combining the grand form of the Viotti concerto with the technical demands of modern times." His apprenticeship complete, Vieuxtemps resumed his European travels and he made his first tour of Russia in the spring of 1837. Performing frequently in Saint Petersburg, he immediately enjoyed great success. Vieuxtemps returned to Russia in 1839 with his fellow-countryman, the cellist François Servais. At a concert in St Petersburg on 16 March 1840, he gave the première of two recently composed works, the Fantaisie-caprice op.11 and the First Concerto. The success of the concerto was repeated in Brussels, where his old master Bériot embraced him in public, and in Paris on 12 January 1841, of which occasion Berlioz wrote: "To Vieuxtemps' merits as an eminent virtuoso, he now adds no less a reputation as a composer."
Henry Vieuxtemps: Violin Concerto No. 1, Op. 10 (Vineta Sareika, violin; Liège Philharmonic Orchestra; Patrick Davin, cond.)



With his solo reputation securely established, Vieuxtemps participated in the first season of the Beethoven Quartet Society in London in 1845. He organized chamber music recitals, scheduling works by Mozart, Haydn, Beethoven, Bach and more modern composers. For a good many of his contemporaries, he was the master of the quartet tradition, and he decisively contributed to a broader appreciation of chamber music. Vieuxtemps was much sought after as a soloist, undertaking a total of three American tours. He also spent five years—between 1846 and 1851—in Russia as a court musician to Tsar Nicholas I, and as a soloist in the Imperial Theatre. Vieuxtemps was appointed professor of violin at the Saint Petersburg Conservatory, and he is said to have "guided the formation of a Russian school of violinists.
Henry Vieuxtemps: Élégie for Viola and Piano, Op. 30 (Roberto Díaz, viola; Robert Koenig, piano)


Vieuxtemps owned and played a violin known as the "Vieuxtemps Guarneri del Gesù." Considered one of the finest examples of the craftsmanship of Giuseppe Guarneri, this special instrument was crafted in 1741. Apparently, at his funeral the violin was carried by his student Ysaÿe upon a pillow behind the hearse carrying his body. Violinist Anne Akiko Meyers now exclusively plays this special instrument. After returning from his final concert tour to America in 1871, Vieuxtemps accepted a professorship at the Brussels Conservatory. He devoted all his energies to what he regarded as "a sacred mission," and took great pride in the growing success of the Belgian violin school. He counted Eugène-Auguste Ysaÿe among his most prominent students, but a paralytic stroke severely limited his teaching abilities. Forced to resign in 1879, Vieuxtemps died two years later in a sanatorium in Algeria.
For more of the best in classical music, sign up to our E-Newsletter
Henry Vieuxtemps: Fantaisie-caprice, Op. 11 (Misha Keylin, violin; Slovak Radio Symphony Orchestra; Andrew Mogrelia, cond.)