The Spanish violin virtuoso Pablo de Sarasate (1844-1908) entered the Paris Conservatoire at age 12, won first prize in violin at age 15, first prize for solfège the next year, and won the prize for harmony in 1859. That same year, he started his concert career, first touring through Spain and France and then traveling to North and South America and the rest of Europe to give himself a true international reputation.
Composers of the day, including Saint-Saëns, Bruch, Lalo, Wieniawski and Dvořák, wrote for him. He had his own standards, refusing point-blank to play Brahms' Violin Concerto because, as he said, the 'only proper melody in the work was given to the oboe.' Sarasate wrote a number of works for the violin, many of which were transcriptions of Spanish works that would have been otherwise unavailable, and transcriptions of music for his own concert use.
One of those works was by the German-Swiss composer Joachim Raff (1822-1882). The concert piece La fée d'amour, op 67 (The Fairy of Love), was composed as a work for violin and orchestra in 1854. It became a favourite of Sarasate to the point that he played it at nearly every concert, either with orchestra or only with piano. The work has fallen from the repertoire and seems to be slowly being brought back.
Raff was largely self-taught but caught the attention of Felix Mendelssohn who recommended his music to Breitkopf & Härtel. Once published, they received a favourable review in Robert Schumann's Neue Zeitschrift für Musik, then prompted Raff to give up being a schoolteacher and to take up composition full time. In 1878, he was the first director of the Hoch Conservatory in Frankfort which not only employed female teachers, including Clara Schumann, but established a class specifically for female composers, at a time when women's ability to do composition generally ended with their marriages.
Joachim Raff: La fee d'amour, Op. 67 (arr. P. de Sarasate for violin and piano) Tianwa Yang, violin; Markus Hadulla, piano)

Tianwa Yang (b. 1987) studied at the Central Conservatory of Music in Beijing at age 10 where her quality of playing was already drawing attention. After her performance at the Beijing Music Festival in 1999 at age 12, she was invited to play with Isaac Stern in the US. She made her Europe debut in 2001, and gave recitals in 2004 in Paris, Stockholm, Frankfurt, and Vienna. She made her first CD in 2000, at age 13 with a recording of Paganini's 24 Caprices and has gone on to record the complete works of Pablo de Sarasate.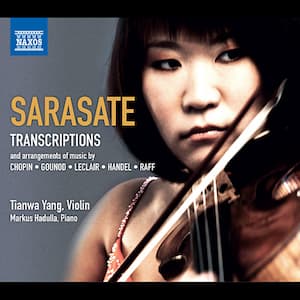 Joachim Raff: La fee d'amour, Op. 67

Performed by
Tianwa Yang
Markus Hadulla

Official Website
For more of the best in classical music, sign up to our E-Newsletter