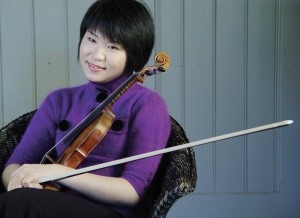 Debut with the Seattle Symphony and Gerard Schwarz: "This young woman could outplay the devil… Yang's splash on our coast was stunning… (she) played with fire… a perfect platform for her talents." – Seattle Times, May 2009
Debut in Frankfurt: " …particularly conspicuous not only due to her controlled, barely fallible technique, her unrestrained desire for expression, and her willingness to take great risks, but also due to the depth of her emotional expression and the rich colours of her sound…" – Frankfurter Allgemeine, January 2009
Debut with the Detroit Symphony under the baton of Günther Herbig: "…the 21-year-old Yang had announced herself as the most important new violinist to come on the scene in many a year…" Detroit News, October 2008
In concerts and recitals, Ms Tianwa Yang is garnering unprecedented international reviews as she takes the stage as one of the most impressive young violinists of today. Born in Beijing, she started studying the violin at the age of four, soon winning six out of the seven violin competitions she entered. At the age of ten she was accepted by Professor Lin Yaoji at the Central Conservatory of Music, Beijing. By the following year, media in Hong Kong had already described her as "A Pride of China". Following her performance at the 1999 Beijing Music Festival, Isaac Stern invited her to study with him in USA. In 2000, at the age of 13, she recorded the 24 Caprices of Paganini, which makes her the youngest interpreter of these virtuosic works worldwide.
In 2001 she debuted in Europe performing the Mendelssohn Violin Concerto with the Czech Broadcasting Symphony Orchestra in Prague. In 2003, she played Prokofiev's Violin Concerto No. 2in the Munich National Theater with the orchestra of the Bayerische Staatsoper, followed by recitals in Paris, Stockholm, Frankfurt and Vienna.  In the same year, Ms Yang was awarded a special two-year scholarship by the German Academic Exchange Service (DAAD) to study chamber music in Germany.
In 2004, she commenced her collaboration with Naxos, recording the first two volumes, Sarasate's music for violin and piano [Naxos 8.557767, 8.570192], of the complete works of the Spanish composer, that will become a 7-CD complete collection. She was awarded the Volkswagen Foundation prize "Star of Tomorrow" by Seiji Ozawa and the "PRIX MONTBLANC 2006". 2006 was also the year of the first of her live concert broadcasts—at the Montpellier Festival by Radio France and at the Schwetzingen Festival by the SWR, Stuttgart. In 2007, Ms Yang was invited to perform at the Naxos 20 Year Anniversary Concert [Naxos 2.110227] at Wigmore Hall in London. Her latest release, Sarasate's Music for Violin and Orchestra Volume 1 [Naxos 8.572191], has received praise as "the best Sarasate disc", since she "clearly understands the music, going beyond a dazzling technique to get at the Spanish soul within".
During her 2008/2009 season, Ms Yang gave concerts with the Detroit Symphony Orchestra, Georgian Chamber Orchestra Ingolstadt, and Cottbus Philharmonic Orchestra. She offered recitals in Germany and the US, and enjoyed a tour in China with Navarre Symphony Orchestra. She had also participated in the Hong Kong International Chamber Music Festival, and International Chamber Music Festival "Kloster Kamp".
Highlights in her current and upcoming season include concerts in Spain with Navarre Symphony Orchestra, at Eastern Music Festival in the US, and tours in Germany and Finland. She will expand her discography with further albums for Naxos, including the Mendelssohn Concertos, with Sinfonia Finlandia.
Ms Yang currently works with esteemed artists Joerg-Wolfgang Jahn and Rainer Kussmaul, and with Anner Bylsma for Baroque music.