"The Pressure Which Liszt Has Put On My Personality Is Insufferable"
In his lifetime the composer and teacher Joachim Raff (1822-1882) was greatly celebrated and admired. His music was valued, with some reservations, by Mendelssohn, Liszt, von Bülow, and Clara Schumann, and his symphonies significantly influenced the development of the symphonic poems in the hands of Bruch and Strauss.
However, his compositional eclecticism, his attempt "to link the old with the new led him to infuse traditional genres and forms with programmatic elements, a compromise that was viewed as an aesthetic lie." Raff emphasized traditional counterpoint and motivic work over harmonic orientation, and "the preference for learned styles led to criticism of his own music as lacking emotion, an opinion expressed by Liszt." Raff considered himself an independent composer, adopting elements of the New German style of List and Wagner but modeling his works on his predecessors Mendelssohn and Schumann. At the time of his death, Raff was perceived as having failed to develop a consistent personal style and his music was quickly forgotten.
Joachim Raff: Piano Trio No. 1, Op. 102 (Trio Opus 8)


Raff was born in Switzerland, the second child of a German refugee who had fled the Napoleonic wars. Christened Joseph Joachim, his father attempted to turn him into a child prodigy. "At six he could read German, at eight translate Latin, and he was taught to play the violin and organ… and he was regularly and severely beaten whenever he made a mistake." At the age of 18, Raff was appointed teacher at a Primary School in Rapperswil, a town close to his birthplace. However, his interest in music soon gained the upper hand, and managed to get his Serenade Op. 1 published. Raff wrote to Mendelssohn and included some of his compositions. Mendelssohn encouraged him to abandon his teaching job and come to Leipzig, while sending Raff's composition to his own publishers Breitkopf & Härtel. Raff quit his teaching job to take up music full time, but soon found himself in a dire financial situation. He met Liszt in the summer of 1845 at a concert in Basel, and the musical statesman took him under his protection and both departed for Germany. Initially, Liszt helped him find employment in Cologne in a music and piano store, where he worked for two years.
Joachim Raff: 6 Poemes, Op. 15 (Tra Nguyen, piano)


Liszt continued to be highly supportive writing "my firm resolve to promote your career, and that with God's help and your excellent talents, you will be on a straight, respectable and brilliant path." Liszt introduced Raff's music to the prominent Viennese publisher Pietro Mechetti, and the publishing firm Schott asked Raff to write for their musical journal. He finally met Mendelssohn who praised Raff's music, "but criticized the young man's slavish following of his and Liszt's models without understanding their artistic basis." Raff worked by day and composed by night, with Liszt warning "Your idea to bombard the public with the quantity of your production, is an inappropriate and useless one… You are weakening your talent and your name." His relationship with Liszt soured, and Raff found employment in Stuttgart and established a lifelong friendship with von Bülow, while subsequently moving to Hamburg to work for the publisher Schuberth as an arranger. His relationship with Liszt was patched up, and Raff was hired as Liszt's assistant, copying, preparing and orchestrating manuscripts. He also translated and wrote articles on behalf of Liszt and other composers associated with the "New German School" in Weimar.
Joachim Raff: Three Piano Solos, Op. 74 (Tra Nguyen, piano)


Raff did continue to compose under Liszt's supervision, and he saw a number of his works performed. In Weimar he met Brahms, Joseph Joachim, and fellow Lisztians Cornelius, Hans Bronsart von Schellendorf and Richard Pohl. However, "Raff felt oppressed by the commanding figure of Liszt, and soon realized that he had little or no career opportunities in Weimar. Without consulting Liszt, Raff published his book "The Wagner Question," essentially a highly critical review of Lohengrin. The reaction from the Liszt circle was fierce, and he was accused of betraying their great idol Wagner. Raff had instigated a "process of distancing himself from the smothering embrace of Liszt's circle and their unquestioning adherence to the music of the future." Raff left Weimar for Wiesbaden, where his future wife Doris Genast was working as a piano teacher. Raff would live in Wiesbaden for twenty years, composing the majority of his numbered compositions and achieving his first broad public recognition. In the 1870s "he was one of the most frequently played German composers, with five new symphonies, including the still-performed Lenore Symphony, and various concertos."
Joachim Raff: Symphony No. 5, Op. 177 "Lenore" (Swiss Romande Orchestra; Neeme Järvi, cond.)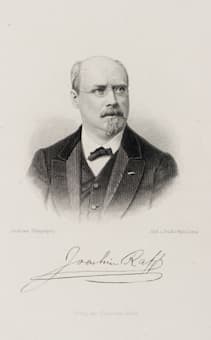 Raff took on the directorship of the new Hoch Conservatory in Frankfurt in 1878, and he recruited Julius Stockhausen and Clara Schumann into its faculty. In fact, he established a class specifically for female composers. His students included Edward MacDowell and Alexander Ritter. Raff continued to compose in his spare time, and his last days were sadly "embittered by differences with the conservatory's board of directors." Raff died on 25 June 1882 from a massive heart attack. Raff's music has a strong sense of direction and drive, and his orchestration is rather effective. His "stylistic eclecticism is particularly evident in his themes, which tend to be diatonic and brilliant in his faster movements, but often adopt a sentimental salon style in slow movements." Raff had always been accused of over-production, causing him to doubt the credibility of his music. A scholar writes, "These perceptions undoubtedly contributed to Raff's failure to achieve long-term success." However, his reputation is gradually being restored in the 21st century, with music lovers and performers newly discovering the beauty and vitality of his music.
For more of the best in classical music, sign up to our E-Newsletter
Joachim Raff: Cavatina for violin and piano, Op. 85, No. 3