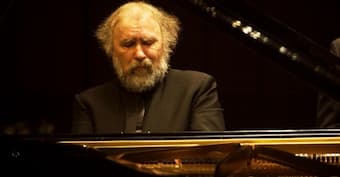 Romanian pianist Radu Lupu, who died in April 2022 at the age of 76, shot to prominence when he won a trio of highly prestigious international piano competitions – the Van Cliburn in Texas in 1966, the George Enescu International Piano Competition in Bucharest in 1967, and the Leeds International Pianoforte Competition in the UK in 1969. This was followed the same year by an acclaimed performance at London's Wigmore Hall; his reputation as "one to watch" was sealed.
With his distinctive hirsute appearance, which in later life took on something of the look of a grizzled Rasputin or aged prophet, he was renowned for his poetic performances. Eschewing the flamboyance or excessive gestures of a younger generation of pianists, he gave the impression of being at one with the instrument, a single entity entirely devoted to the creation of beautiful, communicative sound.
Like Alfred Brendel or Vladimir Ashkenazy, Lupu was a household name when I was growing up in the 1970s. My parents were keen concert-goers who heard all these pianists – and other now-legendary musicians – live in concert and their names were familiar to me from an early age. I don't remember if I ever heard Radu Lupu live as a child, but I certainly heard his recordings. But it was not until 2014 that I was afforded the privilege of hearing him live, performing music by Franz Schubert, a composer with whom Lupu had a longstanding association. Everything I had read or heard about him was confirmed in the opening bars of Schubert's G major Sonata – immense control, subtlety of shading and dynamic nuance, an almost ethereal luminosity of sound, and a myriad range of colours. It was a magical, unforgettable concert.
Franz Schubert: Piano Sonata No. 18 in G Major, Op. 78, D. 894 – I. Molto moderato e cantabile (Radu Lupu, piano)

His core repertoire was the Viennese masters – Haydn, Mozart, Beethoven and Schubert – plus Brahms and Schumann, but he also played the music of Debussy, Janáček, Enescu, Liszt and Bartók, and in 1975 he premiered André Tchaikovsky's Second Piano Concerto, composed for him, at the Royal Festival Hall, London.
Radu Lupu – Live in Amsterdam 1983 – Schumann, Schubert
Although notoriously reclusive (his concerts were considered "collectors' items" because of their scarcity!), he preferred live performance to the recording studio, where he felt the constraints of the microphone and editing process robbed him of the spontaneous creative inspiration of the concert platform where he always played "for the audience", because for him the audience was always the most important element of the concert. For other artists, he was a model of artistic expression and a frequent source of inspiration.
Franz Schubert: Fantasie in F Minor, Op. 103, D. 940 (Murray Perahia, piano; Radu Lupu, piano)


It's hard to express exactly why Radu Lupu was such a great pianist, but there was something about his performances which drew audiences into his own special soundworld and held them captivated: he could create an intensely intimate communion between music and audience. He said that the sounds came not from his fingers but his mind and it is perhaps this ability to "imagine the sound", combined with the sense of someone who had spent years thinking about the music and living with it, which made his playing so compelling. Every note and sound was perfectly placed, yet his playing always sounded natural, spontaneous and without artifice. With his evident deep love for the music he played, and the ability to make time stand still, when Lupu played the audience held its breath.
For more of the best in classical music, sign up to our E-Newsletter
Radu Lupu's farewell encore, February 2019, Royal Festival Hall, London