Cellist Ophélie Gaillard is a marvel. Her many recordings, indicate a versatility that is rare and includes everything from solo Bach on Baroque cello, to Brahms Sonatas, concertos, collaborations with dancers, accordion, bandoneon, and singers, and playing in a tree! Born in Paris, she graduated from the Paris Conservatoire with three first prizes: in cello, Baroque cello, and chamber music. Ophélie releases an album every year for Aparté [PIAS] which top the French charts. I had a chance to catch up with her recently and our conversation was fascinating.
Wolfgang Amadeus Mozart: Die Zauberflöte (The Magic Flute), K. 620, Act II: Ach! Ich fühl's, es ist verschwunden (arr. for cello and orchestra) (Ophélie Gaillard, cello; Morphing Vienna Chamber Orchestra, Frédéric Chaslin, cond.)


Tell us about your newest and unusual album Cellopera.
The idea for this album was actually sparked twenty years ago! During a rehearsal of Mozart's Don Giovanni at the Festival International d'Art Lyrique, the singer didn't appear. Thinking quickly, the solo cellist played the aria of Don Ottavio "Dalla sua pace". It was gorgeous and I had an epiphany. It's the destiny of the cello to express beyond words with its unique capacity to convey the astonishing depth of human emotion—everything from the deep bass line, which often is the basis of the rhythmic vitality of a piece, to soaring coloratura melodies. The arias of Mozart, Puccini, Verdi, Tchaikovsky, Offenbach, are so beautiful, and we reinvented them for cello and orchestra.
Giuseppe Verdi: Rigoletto, Act III: Un di, se ben rammentomi (arr. F. Chaslin for cello and orchestra) (Ophélie Gaillard, cello; Morphing Vienna Chamber Orchestra, Frédéric Chaslin, cond.)

Giacomo Puccini: Tosca, Act III: E lucevan le stelle (arr. for cello and orchestra) (Ophélie Gaillard, cello; Morphing Vienna Chamber Orchestra, Frédéric Chaslin, cond.)

Your discography is quite impressive. And you pair works in such a unique and thoughtful way. Tell us about your album Exiles.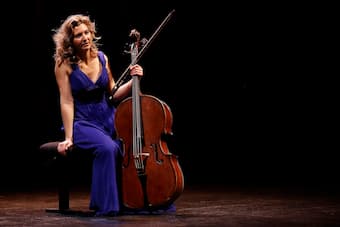 I am fortunate to work with the label Aparté and the production engineer and I work as partners brainstorming about repertoire and the ideal spaces to perform these works. We carefully design the sound as well as the works we present. I like to focus on a theme for each album. For example, Exiles features composers who had to flee Europe, who moved to the US during the Second World War. Exiles includes Ernest Bloch Schelomo, and his three pieces "From Jewish Life". The other major work is Erich Wolfgang Korngold Cello Concerto. I also included the gorgeous aria Tanzlied des Pierrot from Act II of Korngold's opera Die Tote Stadt (The Dead City) written before he fled Europe, a masterpiece.
I'm enamored of Klezmer music so we decided to pair these works with several Klezmer pieces arranged for cello, clarinet, and cimbalom, the traditional Hungarian instrument played with mallets. A lovely Lullaby by Alberstein: Sarah Sings a Lullaby to Little Isaac is also on the album.
Erich Wolfgang Korngold: Cello Concerto in C Major, Op. 37 (Ophélie Gaillard, cello; Monte-Carlo Philharmonic Orchestra; James Judd, cond.)

Erich Wolfgang Korngold: Die tote Stadt, Op. 12 (The Dead City), Act II: Tanzlied des Pierrot (arr. for cello and orchestra) (Ophélie Gaillard, cello; Monte-Carlo Philharmonic Orchestra; James Judd, cond.)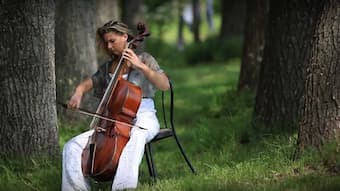 Klezmer music, a style of instrumental folk music dating back centuries, draws upon Jewish and Eastern European traditions, music audiences recognize from the film Fiddler on the Roof, or the Hora, typically danced at Jewish weddings. How did you integrate that style and the style of your Alvorada album, which features Spanish, Latin America, and Brazilian music, composers de Falla, Cassadó, Villa-Lobos, and Astor Piazzolla's Le Grand Tango with bandoneon?
For the last ten years, I've known Klezmer musicians in Paris. I spend a lot of time studying the traditions of whatever music I am playing, living with it, listening to it, collaborating with other musicians who perform that music, and to ensure whatever style I perform is with authority and authentic. I was fortunate to work with the legendary Brazilian singer, guitarist, and composer Toquinho, one of the founders of bossa nova.
Paikov Yeshayahu/Traditional: Freilechs – Sim Shalom – Azoy Tantzmen in Odessa (arr. C. Lehn for cello and chamber ensemble) (Ophélie Gaillard, cello; Sirba Octet)

I love this arrangement of Piazzolla's Tango.
Composers who write for classical musicians are sometimes cautious. I decided instead of the version with piano, to perform Piazzolla's piece in an arrangement with the indigenous instrument bandoneon, and double bass. My goal was to play it with a bit less refinement associated with a "classical" approach, to capture some of the raw, rough qualities of the music. The Brazilian musicians showed me how to produce some unique sounds!
Piazzolla Le Grand Tango With Bandoneon (Live) (Ophélie Gaillard, cello; Juanjo Mosalini, bandoneon; Romain Lecuyer, doublebass; Gabriel Sivak, arrangement)
And what a contrast to your Baroque cello playing which is so beautiful.
I'm fortunate to own a 5-string Baroque cello, which we think is either Flemish or Italian, and I play it without an endpin and with a Baroque bow. Sometimes I will put four gut strings on my 17th century Gofriller cello to play early Beethoven. It's so great that this cello can switch easily. I do own a modern copy of my Gofriller cello, and I have it always strung with gut strings so I am able to practice with these strings.
You've recorded the J.S. Bach Solo Suites on Baroque cello even in a tree. Tell us about that!
As a child, I loved to climb trees and so does my daughter today! I'm very concerned about preserving our trees, and the decimation of our forests. In fact, I'm soon releasing a film entitled, "And the Tree Cried Out" written by the famous author Eric Delmotte.
J.S. Bach: Solo Suite on Baroque Cello – Gavottes Suite No. 6 (out in a tree)
What projects are you working on now?
Concert engagements were cancelled last year, as for everyone. We hope my chamber ensemble Pulcinella and I will be on tour and onstage once again this June and in the summer. As far as recording projects I have two in mind. I'm researching Russian Sonatas—did you know Nikolai Myaskovsky who was an extremely prolific composer wrote two great cello sonatas? —and I'll feature the musicians who worked in London during the 1720s and 1730s. Nicola Porpora, the brilliant Italian composer from Naples, traveled to London to take the position of chief composer to the Opera of the Nobility, a company formed as a rival to Handel's opera company. Porpora wrote five operas there, of 50 that he eventually wrote!
Ms. Gaillard has given master classes in Europe, Asia and in Latin and Central America and teaches at the Haute École de Musique of Geneva. Ophélie exemplifies what a musician of the 21st century needs to be—creative, innovative, collaborative, and original, with the goal we musicians all seek:
"I delve into these masterpieces, attempting to sculpt each word through the inflections of my bow, communing with each movement of the soul to express the inexpressible."
For more of the best in classical music, sign up to our E-Newsletter