Beauford Delaney
was born in Knoxville, Tennessee, in 1901 and showed skill in drawing from an early age. His activities in New York City during the Harlem Renaissance as a pastel portraitist brought him into conjunction with some of the brightest writers and musicians of the era, including
Countee Cullen
,
W.E.B. Dubois
,
Louis Armstrong, Duke Ellington
,
Ethel Waters
, and
James Baldwin
and others. While he lived in New York, writers such as
Henry Miller
became friends. Miller, in his book
The Air-Conditioned Nightmare
, included an essay on him entitled 'The Amazing and Invariable Beauford Delaney.' A pastel portrait of Delaney was done by
Georgia O'Keeffe
, and she wrote, 'I found that he was a painter and posed for others because he had no heat in his studio and needed to keep warm.'
Living in Greenwich Village and spending time in Harlem, Delaney met some of the leading jazz figures of his time. At the encouragement of
W.C. Handy
, in the late 1930s he did a series of charcoal portraits of Ethel Waters, Duke Ellington, and Louis Armstrong.
Ethel Waters (1896-1977) was an American singer and actress, known from the Broadway stage, but who had had her start in the 1920s as a blues singer. Her early life was hard and surviving on the black vaudeville circuit was a matter of performing 'from nine until unconscious,' as she said. By 1919 she was in New York and part of the Harlem Renaissance as a performer. In the early 1920s, she was the highest paid black recording artist in the US.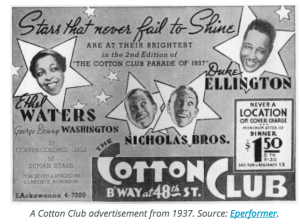 By the 1930s, Waters was on the Broadway stage, singing at the Cotton Club in Harlem, while at the same time also appearing on a national radio programme.

One of her best-selling early recordings was Harold Arlen's 'Stormy Weather,' which went onto become a jazz standard.

In this ad from 1937, we can see just how an evening would include Duke Ellington, the dancing Nicholas Brothers, and Ethel Waters as the headliner.



In 1940, when Delaney made her portrait, Waters was appearing on Broadway in the musical

Cabin in the Sky

, with music by

Vernon Duke

and

George Balanchine

as choreographer and producer. The designer was

Boris Aronson

and stories are told of the puzzlement of the all-black cast in rehearsals as the three Russians (Duke, Balanchine, and Aronson) argued among themselves…in Russian. Ten minutes of Russian and Duke would turn around and say "The answer is Yes!" and the rehearsals would continue. A late addition to the musical was the Act I song that became the showstopper: 'Taking a Chance on Love.'

Duke: Cabin in the Sky: Taking a Chance on Love

IN 1942, the musical moved from Broadway to Hollywood and Waters reprised her role of Petunia, with Eddie 'Rochester' Anderson as her husband, Joe, and the beautiful Lena Horne as the gold-digger George Brown.

After New York, Delaney moved to Paris and began experimenting with more radical drawing styles.

He died in Paris in 1979 and is buried in Thiais cemetery, outside of Paris. Finding that his unmarked grave was about to be exhumed, Les Amis de Beauford Delaney was formed and paid for the lease on his grave and erected a tombstone to mark the site.

The American artist