The release of a new piano syllabus is always met with excitement and interest from piano teachers, and students too, and the latest release from Trinity College London (TCL) will not disappoint.
I have been a fan of TCL's piano exam syllabus and approach to music exams for a long time. When I was teaching, my students enjoyed the range of repertoire on offer which seemed to suit all tastes and ages, across the grades, and the emphasis on performance rather than technical exercises. From a teaching point of view, I always valued the exercises included as part of each grade's syllabus, which assist students in understanding and honing techniques which are directly relevant to the pieces they were studying.
The new release of Piano Pieces Plus Exercises from TCL encompasses a wider range of styles and genres at every grade than ever before, offering an engaging, imaginative, and highly varied selection to satisfy the tastes of any pianist, be they children, teenagers or adult learners. The grade volumes are immediately appealing: the attractive cover has a striking illustration of a grand piano, while inside there is heavyweight cream paper and clear, unfussy engraving. Each volume, colour-coded according to grade (as per previous syllabuses) and available in print and e-book format, includes comprehensive Performance Notes which offer important context to each piece and aspects to consider in learning, interpreting, and performing the music. The major addition for 2023 is the 'Extended Edition' for each grade, offering a handsome volume of 21 appealing pieces from Baroque to present-day, plus exercises scales and arpeggios. These are available in addition to the standard exam repertoire books of 12 pieces. The Extended edition also includes access to broadcast quality downloadable demo tracks (via a download code) so that teachers and students may listen to each piece and the exercises, performed by a cohort of well-respected pianists, including Yulina Chaplina, Greg Drott, and John Paul Ekins.
In addition to the books, TCL has produced accompanying resources – Theory of Music Workbooks, Introducing Theory and Specimen Aural Tests from 2017 to support teachers and students. Detailed information about these e-books can be accessed via QR codes at the back of the repertoire books.
And what of the repertoire itself? Teachers really appreciate the importance of finding pieces that will encourage students to practice, and – more importantly – enjoy their practising, and also foster a love of music. Variety is key here, I think, and a good selection of repertoire will enable teachers to find the right music to suit each individual student. If students are engaged by the music they are learning, practicing can be enjoyable and stimulating. It is particularly important to provide teenage students with repertoire which they feel is relevant to them and their interests (e.g. pop or video game music). Some of course will want to play pieces by composers from the "core canon"; while others will make more leftfield choices.
Ludovico Einaudi: I giorni (version for piano) (Ludovico Einaudi, piano)

And that's fine because ultimately, we want students to enjoy their piano playing – and it doesn't matter if they're playing Bach or Bieber (Justin!), so long as they find pleasure and stimulation in the music.
If the 2021 piano syllabus widened the repertoire boundaries, the 2023 syllabus has extended them even further to include a highly appealing and imaginative range of well-known/popular pieces from: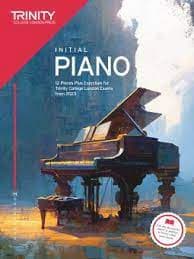 • classical composers ranging from Scarlatti, J. S. Bach, Haydn, Schubert and Chopin to Margaret Murray McLeod, Roxanna Panufnik and Ludovico Einaudi
• jazz and Latin artists such as Duke Ellington, Miles Davis, and Chick Corea
• pop artists such as Ed Sheeran, Bono, Adele, Coldplay, BTS, and Pharrell Williams
• films and TV shows such as Harry Potter, Star Wars, La La Land, Doctor Who, and Pokémon, classic Bollywood films such as Woh Kaun Thi? and Dil Apna Aur Preet Parai, and Studio Ghibli films such as Spirited Away and Princess Mononoke
• video games such as The Legend of Zelda, Final Fantasy, and Super Mario Bros
In addition, as in 2021, TCL has commissioned brand new repertoire for every grade from some of the most exciting international contemporary composers, drawing on diverse musical influences from around the world.
The significant inclusion of music by female composers, including Helene de Montgeroult, Dora Pejačević and Florence Price, and those from historically underrepresented backgrounds ensures as diverse a range of repertoire as possible.
Hélène-Antoinette-Marie de Nervo de Montgeroult: Étude No. 104 in G-Sharp Minor (Clare Hammond, piano)

Drawing on the success and appeal of their ground-breaking 2021 syllabus, TCL will no longer be retiring repertoire and these volumes will be available indefinitely, offering a rich and ever-expanding repertoire collection, which will, hopefully, encourage students to continue performing the music they love for as long as they like. Trinity's 2021 Piano books will also remain valid for use in exams indefinitely and can be used alongside the new 2023 books, resulting in the largest selection of repertoire yet with 42 pieces across the 2021 and 2023 publications for candidates to choose from.
Dora Pejačević: Erinnerung, Op.24
Appreciative of the wishes of students, and teachers, TCL offers a flexible syllabus, allowing candidates to take their exams in person or digitally. They may select three pieces from across the syllabus, allowing them to play the music they want to play and demonstrate their own musical identity. There is also the option to play their own composition. To support students and teachers, TCL offers a range of free online resources, produced with professional musicians and educators, to help students develop their performance skills and musical knowledge.
In conclusion, TCL has produced perhaps the most comprehensive, wide-ranging and appealing piano syllabus yet and one which I am sure both teachers and students will enjoy exploring and playing.
For full details of exam entry requirements, and more, please visit TCL's website.
For more of the best in classical music, sign up for our E-Newsletter