Mezzo-soprano Bernarda Fink has made her mark in the world of classical music by concentrating on concert and recital repertories. One of the most sought-after singers in the baroque repertoire, she has worked with René Jacobs, John Eliot Gardiner, and Nikolaus Harnoncourt in performances noted for her ability to express emotion without falling into sentimentality.
Watch Fink/Fischer Perform Bach's Matthew Passion, "Erbarme dich Gott".
Buenos Aires
Bernarda Fink was born in Buenos Aires, Argentina, on 29 August 1955, the daughter of Slovenian immigrants. Her parents, together with countless Slovenian refugees, had been forced to leave when the communists took over the country after World War II. Fink explained in an interview that her parents got married in a refugee camp and that her younger brother was born there as well.
They decided to make a new life in Argentina, and Bernarda's childhood was dominated by her family's memories of their home country. As Fink re-counts, "Being political immigrants, my parents insisted on giving us all their background from Slovenia: the language of course, but also the music. And the times were hard, for my family, but still worse for the families who had lost their young men. It was a happy, but also a difficult childhood."
Franz Schubert: Auf dem See, Op. 92, No. 2, D. 543 (Bernarda Fink, mezzo-soprano; Gerold Huber, piano)

First Musical Experiences
Music was a vital component in the Fink household, and classical music was part of their lives. "We were all musicians at heart," she explained, "but with six children there was no money for lessons or for buying instruments. We sang together a lot." Her father, by profession a lawyer, sang Schubert and Schumann lieder every Sunday, accompanied by his brother. And three of his sisters, who also fled to Argentina formed a singing trio, even producing a record.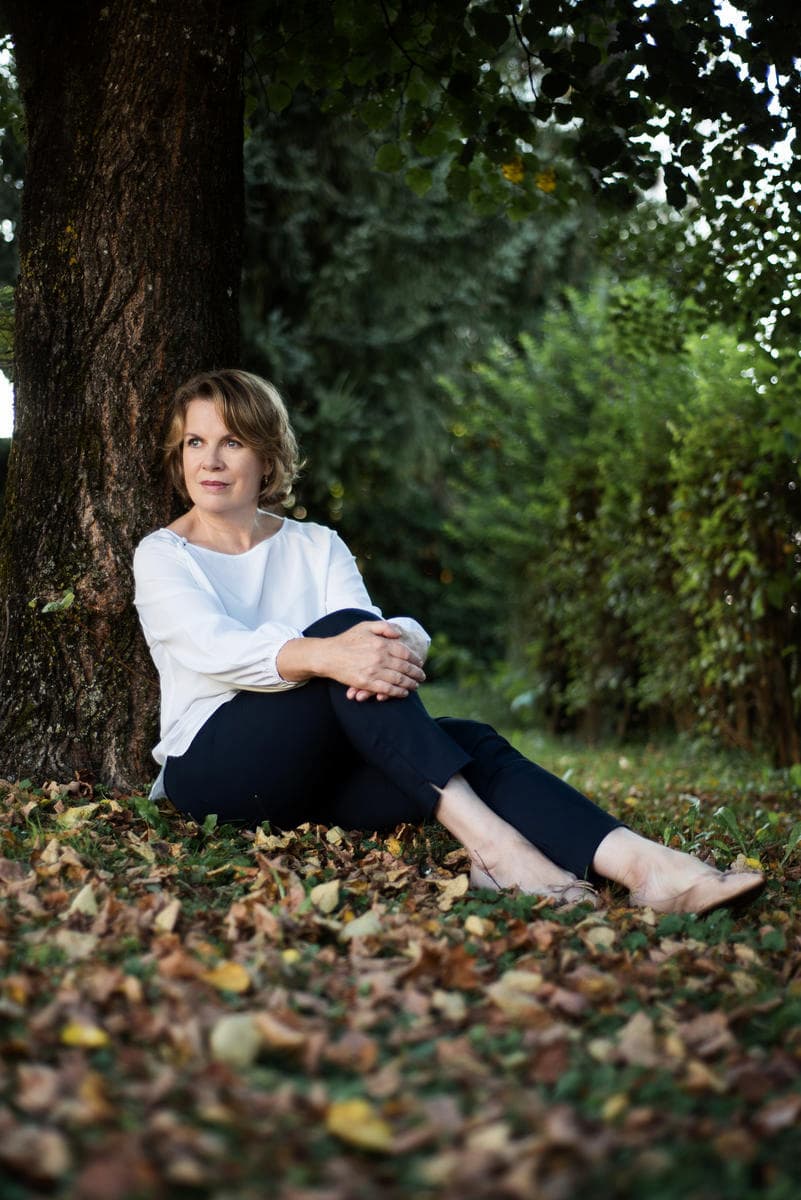 Fink remembers that when she was 10, she was hiding under the table while her father sang Schubert songs, "so that I could cry without being seen. They were so beautiful I couldn't stand it." However, studying music was really not an option, and Fink spent four years studying for a degree in education to become a teacher. In the end, she decided that she was unsuitable for the role of an educator, "as I needed to be educated myself. I was not mature enough for that."
Robert Schumann: Myrthen, Op. 25 (excerpts) (Bernarda Fink, mezzo-soprano; Anthony Spiri, piano)

First Studies at age 22
At the age of 22, Fink began voice studies at the Instituto Superior de Arte del Teatro Colón in Buenos Aires. She had only prepared two arias, "Porgi, amor," and "E Susanna non vien!" from Mozart's Figaro. When she was accepted, it was "like a great blessing, a dream." Initially, it turned out to be a bit of a fight with technique and her voice. Fink explains, "It was three years before I could sing and three years of hell. I had constant throat infections because I handled my voice so badly… Everyone had told me I had a soprano voice, but I couldn't handle that range then. Now I could, and I am doing a much higher repertoire. I'm a late bloomer in everything."
Fink won First Prize at the Nuevas Voces Liricas competition in 1985 but never had plans to become a professional singer. "I am where I am as the result of many years of effort," she explains, "but never with the idea of singing on stage or with a conductor. I never did anything to make a career, it just happened." Fink made the decision to move to Europe, and it took her a while to get started professionally. "There was an insecurity," she explains, "What do I, coming from Buenos Aires, have to teach Europeans about how to sing Wolf and Schubert?"
Johannes Brahms: 5 Gesänge, Op. 72 (excerpts) (Bernarda Fink, mezzo-soprano; Roger Vignoles, piano)

Coming to Europe
After a couple of years in Europe, Fink was introduced to René Jacobs, who hired her for his second production of Handel's Flavio. It was a steep learning curve, as she had never studied early music or historical performance practice. As she relates in an interview, "I learned the whole role with him on the harpsichord. He sat at the instrument like a little Mozart and patiently sang all the cadences, embellishments, and phrasings to me, which I then sang back. So I learned baroque music by pure imitation."
Baroque music, and particularly sacred music holds a special place in Fink's life. She has always felt that music, as articulated by Nickolaus Harnoncourt, is an umbilical cord to God, "where painful experiences are expressed in breathtakingly beautiful ways." However, Fink also feels at home in the French and German Lied repertoire of the Romantic and Modern eras. She is less comfortable, however, on the operatic stage as she is "a bit afraid of directors and their sometimes bizarre ideas."
For more of the best in classical music, sign up for our E-Newsletter
Fink/Gardiner perform Bach: Christmas Oratorio, "Bereite dich Zion"