His music is everywhere – but you've never thought of the composer when you've heard it. He's persuaded you to buy peas or beer or go to Legoland or Harvey Nicks. Highly successful commercial composer Stuart Hancock has written the soundtrack to your life without you ever being aware of him.
Now, however, he's turning a different stage with Raptures, a recording of his concert music. This is music written by someone for whom the music flows. It's tuneful, and something that even the orchestra falls in love with.
Each work on the album has an interesting history. The first piece, Variations on a Heroic Theme, was written for an orchestra that would never play it in a live performance, and never intended to. The Rehearsal Orchestra (RO) commissioned Hancock to write something for their 50th anniversary. Founded in 1957, the orchestra provides a place for new graduates and serious amateurs to make orchestral music together. The players are exposed to an enormous repertoire and Hancock's Variations on a Heroic Theme gave them something new, and modern, but at the same time, in a familiar mode. Since it's a rehearsal orchestra, the RO never give public performances but, instead, concentrate on solely on the rehearsals and the music. This was music written for the players – the perfect audience.
Hancock: Variations on a Heroic Theme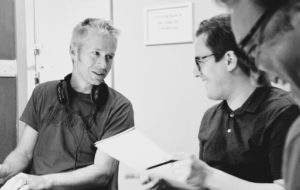 The Violin Concerto was written for violinist Paul Barrett and the Southbank Sinfonia. The Southbank Sinfonia is formed every year with 33 new music graduates. They come together to have a chance to gain orchestral experience and learn the what a 21st century musician needs to survive in a world where the bottom line can be more important than the aesthetic experience. Each player has the opportunity to play as a soloist and, hearing about this from Barrett who was agonizing about what violin concerto to play, Hancock said he'd write him one. Six months later, the Violin Concerto hit the stage. Hancock said that one advantage he had was that the work would be performed on the same program as John Williams' Bassoon Concerto. Williams' work required a large orchestra and Hancock used that to his advantage. The work is full of romantic gestures, big tunes, and he went wild with the orchestration. That was in 2005, and, several rewrites later, and with a smaller orchestra to hand, he said things were a bit toned down now.
Hancock: Violin Concerto – I. Andante Maestoso – Andante Semplice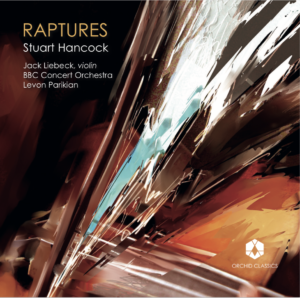 We discussed the traditional ways concertos worked – sometimes it's Violin and Orchestra and other times, Violin versus Orchestra, and he said his Concerto took a middle line between the two. There are some wonderful moments with big brass writing that bring real depth to the work.
The last work on the recording is a 5-part cycle, Raptures. Said to be inspired by the poetry of Sylvia Plath, the work's movements names (Fathom, Rush, Lullaby, Serpent, Rapture) evoke images of great complexity. Rather than being inspired by specific poems, Hancock said it was individual words that sparked him. 'Fathom' is water, is a lake, is a drop, is ripples.
'Serpent' is a sibilant shimmer in the strings, augmented by a splash of cymbals. The melody slithers, the trombones add their thoughts, and we're in a world of careful danger. The expansive gesture at the end is caught by a glimpse, again, of danger and then a strike.
Hancock: Raptures: IV. Serpent
One of his most widely heard works has been the music for the animation of Michael Rosen's children's book, We're Going on a Bear Hunt. This 1989 book, illustrated by Helen Oxenbury, as been a success since its launch, and now, with the animation becoming a Christmas mainstay, it will be on your screens, and in your ears, for years to come. The live orchestra version is touring and Hancock will be in Taiwan in November conducting it on a double-bill with the other famous Christmas animation, The Snowman.
When asked about his music and his audience, Hancock said his first question was always whether his mother would like it. Could he give her something that she liked while she listened to his music? That's his first audience. The orchestra is often his next audience – he frequently hears after rehearsals that the orchestra really liked playing what he's written. The world is the rest of his audience and he writes music we'd like to hear much more of!