Franz Schubert's young life was spent at the imperial-royal municipal seminary as a choir boy, and thought he'd been sent to prison – the day was a cycle of obligatory mass attendance, hours of daily prayer, weekly confession, all in the hands of a director who punished every point of disobedience. On the other hand, that same director was quite unmusical and gave the boys unusual freedom in his 'court' orchestra. Every evening the orchestra of amateurs performed a symphony and an overture. This exposed the young Schubert to an enormous range of music (symphonies by Haydn and Mozart and overtures by Cherubini and Weigl). He entered as a choir boy at age 7 and by age 13 began to compose, writing not at the piano but at his desk. He composed songs, pieces for piano 4-hands, a piano trio, string quartets, orchestral overtures, and sacred works. Unfortunately, after his first symphony was played in 1813, Schubert was out of the academy due to his poor grades, probably exacerbated by his poor eyesight. Now he was back in his father's hands, who saw his future as a teacher like himself and not as a composer.
In 1816, he escaped for a few months to live with the family of a local professor where his first work was a cantata for the name day of the professor. In the fall, he moved to the house of his friend Schober, where he composed his 4th and 5th symphonies.
The 4th Symphony in C minor is Schubert's only completed minor key symphony; his other minor-key symphony is the Unfinished in B minor. He was following Mozart in this, who also only wrote 2 minor-key symphonies amongst the 41 he completed. The name 'Tragic' was given to the work by Schubert himself.
Like many composers after Beethoven, Schubert saw Beethoven as the mountain that shaded everyone that followed – how could they compete with that giant? Yet, even in his 4th Symphony, Schubert was already breaking through on new compositional paths. The first movement starts in gloomy C minor, a dramatic beginning to a movement that will come to a radiant C major. Even in this early work, the often-misunderstood Schubert was putting forth musical ideas that would not see their match until the advent of the symphonies of Anton Bruckner.
Franz Schubert: Symphony No. 4 in C minor, D. 417 "Tragic" – I. Adagio molto – Allegro vivace

Recorded in November 1950 at the Salle Pleyel in Paris, the Orchestre des Concerts Lamoureux is under the direction of Otto Klemperer. Otto Klemperer studied first in Frankfurt and then in Berlin, following his teacher James Kwast to three different institutions. He was friends with Mahler, who recommended him for the position of conductor of the German opera in Prague in 1907. As conductor of the Krollopera in Berlin from 1927-1931, he got the reputation as a champion of new music; his repertoire included new works, including Janáček's From the House of the Dead, Schoenberg's Erwartung, Stravinsky's Oedipus rex, and Hindemith's Cardillac. In 1933, politics in Germany forced his departure from the country, first to Austria then Switzerland. By 1935, he was in California, being appointed music director to the Los Angeles Philharmonic. There, he championed German works, including those by Beethoven, Brahms, and Mahler, and by local resident Arnold Schoenberg. A brain tumour and associated health problems lost him his position at Los Angeles and he became a conductor without a home orchestra, traveling between America, Europe and Asia leading performance. He lost his American citizenship, acquired a German passport and finally, with the support of the record producer Walter Legge, became principal conductor of the Philharmonia Orchestra. He retired from conducting in 1971 and died in 1973.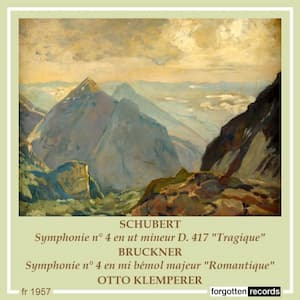 Performed by

Otto Klemperer
Orchestre des Concerts Lamoureux

Recorded in 1950

Official Website
For more of the best in classical music, sign up to our E-Newsletter