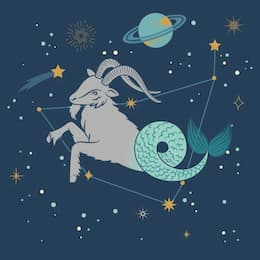 The astrological sign Capricorn is one of the four cardinal signs, and it is ruled by the planet Saturn. The sun transits this constellation from about December 22 to January 20, and people born under this sign are said to exhibit strong and distinctive personality traits. Both my father and my mother were born under the sign of the Zodiac, and I can attest from personal experience that a good many ascribed characteristics are right on the money. Among the strengths, Capricorns are ambitious, determined, hard working and very well organized. Yet, they can be overly critical, insufferable know-it-alls, sarcastic, condescending and always expecting the worst. It is said that at any given point, a Capricorn dislikes almost everything.
The American composer Samuel Barber was not born under the sign of the Capricorn, but that's what he called his home in upstate New York. The name derived from the fantastic light it received during the winter, and the "Capricorn Concert" supposedly depicts the members of the Capricorn household.
Samuel Barber: Capricorn Concerto, Op. 21 – I. Allegro ma non troppo (János Bálint, flute; Lajos Lencsés, oboe; Reinhold Friedrich, trumplet; Budapest Strings; Béla Bánfalvi, cond.)

Mily Balakirev
Born on 2 January 1837, Mily Balakirev grew up in the provincial city of Nizhny Novgorod but he quickly made his way to St. Petersburg. Highly ambitious, he determinedly rose to prominence in Russia's cultural capital and became part of the group know as "The Five." Hard working and highly organized, just as one would expect from a person born under the tropic of Capricorn, Balakirev rallied his troops against the bourgeois musical establishment. In fact, he became the self-appointed leader of the group and ruled them with a dictatorial fist. Since he was the only professional musician of the group, he outright rejected any musical opinion that differed from his own. While encouraging the compositional efforts of the gang—particularly in their valuation of Russia's rich folk culture— their compositions sounded increasingly similar and more like his own. People born under the sign of Capricorn are supposed to be prone to personal insecurities, and such was certainly the case with Balakirev. He suffered from intense bouts of depression, and eventually had a massive nervous breakdown. But not before he had composed his oriental fantasy Islamey, long reputed as "the most difficult work ever written for piano."
Mily Balakirev: Islamey (Etsuko Hirose, piano)

Giovanni Battista Pergolesi
Giovanni Battista Pergolesi was born on 4 January 1710 in Jesi, currently located in the province of Ancona, Italy. He showed remarkable musical talent at an early age, but sadly, he was also plagued by ill health. He had a deformed left leg, probably due to polio, and he lived with Tuberculosis most of his life. Owning to his tremendous musical talent, Pergolesi excelled in his studies and by the age of 22 he was appointed Maestro di Cappella to a Neapolitan nobleman. He scored a resounding success with his two-act intermezzo "La Serva Padrona," but other opera projects failed to excite the public. In the manner of a true condescending Capricorn, he dryly remarked, "it was too advanced for the average person in that time period and above their intelligence." The inspiration for his famous Stabat Mater supposedly originated in an unhappy love episode. He fell in love with a woman of noble birth, and she with him. However, her family steadfastly refused to consent to the marriage. The circumstances of the girl's sudden death are still unclear, but we know that Pergolesi died of Tuberculosis only a year later, at the age of 26.
Francis Poulenc
Capricorn has been described as the zodiac sign of energy in motion and action. Blessed with a strong sense of purpose and direction, people born under the tropic of Capricorn tend to be ambitious and somewhat materialistic. They often celebrate traditions, and in extreme cases tend to live entirely in the past. Seeking protection and reassurance, it is said that a good many relationship partners have nothing to offer in return.
Francis Poulenc, born on 7 January 1899, might well be the relationship poster child for the zodiac of Capricorn. A devout Catholic, Poulenc "associated gay sex with impurity and could therefore never truly accept his relationships." His first great love was the painter Richard Chanlair, but he soon turned his attention towards Raymond Destouches, a bisexual chauffeur. Demonstrating his sexual versatility, Poulenc fathered a daughter with a woman known only as Frédérique. A chance meeting on a train in 1950 marked the start of a troubled five-year relationship with Lucien Robert, a traveling salesman from Marseilles, and later in life Poulenc found solace and comfort in the arms of the young soldier Louis Gautier. Poulenc worked hard and he certainly played hard, always paying a rather heavy emotional prize.
Francis Poulenc: Les biches Suite, FP 36 (Ireland RTÉ National Symphony Orchestra, Jean-Luc Tingaud, cond.)

Alexander Scriabin
Regardless of whether you follow the dates of the new or old style calendar, Alexander Scriabin was squarely born under the tropic of Capricorn. And some might say, that his personality clearly reflected that fact. Described as a bizarre blend of the pragmatic and the preposterous, Scriabin has even been declared mentally ill. He did have affectionate family ties and a pedantic way of organizing his schedule and travels, yet at the same time he declared "I have come to tell you the secret of life, the secret of death, the secret of heaven and earth…The whole world is inundated with the waves of my being." Scriabin suffered from hallucinations—otherwise called visions—and he was certainly narcissistic. Convinced of his personal power and self-importance he "envisaged something apocalyptic, whereby the whole of humanity, intoxicated by his music and mesmerized by his God-like magnetism and omnipotence, would join him in the "Mysterium," an act of ecstatic transcendence to a higher plane of existence." I am not entirely sure that this would accurately describe the average person born under the tropic of Capricorn, but they do generally set rather high standards for themselves.
For more of the best in classical music, sign up to our E-Newsletter