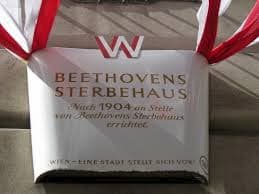 In October 1825 Ludwig van Beethoven moved into his final lodgings at the Schwarzspanierhaus, the old monastery of the "Black Spaniards," where he remained until his death in 1827. His apartment was located on the upper floor of the building near the church façade. The former monastery had been secularized and was the property of Count Somsich during Beethoven's stay. The building was razed in 1904, with a Beethoven memorial plaque designating its original location. 1826 was marked by a shattering event for Beethoven. His nephew Karl bought two new pistols and drove to his uncle's favorite spot in Baden. There he discharged both weapons at his temple, but neither bullet penetrated the skull. The young man survived, but Beethoven was devastated. Once Karl was discharged from hospital on 25 September 1826, Beethoven took his nephew to his country property at Gneixendorf near the town of Krems. Beethoven had been ill when he left Vienna, and seemed depressed and withdrawn.
Ludwig van Beethoven: String Quartet No. 16, Op. 135 – IV. Der schwer gefasste Entschluss: Grave, ma non troppo tratto – Allegro (Eroica Quartet)


Yet, Beethoven did manage to occupy himself with the new and "easier" finale for his String Quartet Op. 135. However, he developed swollen feet in the country, and once he returned to the Schwarzspanierhaus, he developed jaundice and dropsy. His doctors quickly perceived that his liver was affected, but there was little that could be done beyond relieving his swollen abdomen by draining the fluid. This was done on
20 December, and again on 8 January, 2 February and 27 February 1827. When it became clear that the end was near, Stephan von Breuning drafted a simple will bequeathing Beethoven's estate to Karl. Beethoven copied and signed the document on 23 March with great difficulty. He died at about 5.45 p.m. on 26 March 1827. His funeral was held on 29 March, and roughly 10,000 people attended. The actor Heinrich Anschütz delivered Franz Grillparzer's famous funeral oration at the graveside in the cemetery at Währing. Beethoven's remains, together with Schubert's were moved to the Central Cemetery in 1888.
For more of the best in classical music, sign up to our E-Newsletter