For audience members, it's difficult to imagine musicians anywhere other than on the stage wearing their tails or long gowns, looking serious, playing music with utmost concentration. I remember walking to my car after an evening concert, in my lumpy, old down coat, carrying the cello, when I overheard loud whispers, "Janet, the cellist, parks here!"
It's even more difficult to imagine the maestro or the soloist-superstars doing normal things.
Surely the formal photos we see don't give us the full picture. Look at this youthful photo of Leonard Bernstein who was a life-long dog lover. He owned several dachshunds, all of them named Henry. Once he even booked a flight to Paris for his companion Henry Bernstein. Lenny supported the American Society for the Prevention of Cruelty of Animals (ASPCA) and on October 23, 1952, he wrote in his diary to call them. The number Tr-6-7700, is the same telephone number as today, 70 years later.
Leonard Bernstein Conducts Candide Overture
Just like us, many artists love animals and own pets. Both Rachmaninoff and Saint-Saëns loved to pose with their dogs.
And just like us, artists have a fascination with koala bears and kangaroos!
Musicians do love to eat. Who doesn't? Several composers had notorious habits when it came to eating. Delectable dishes named after Gioachino Rossini, include Tournedos Rossini. His girth affirmed his predilection for rich, heavy treats. Erik Satie would only eat white foods, definitely taking the cake with weird eating predilections.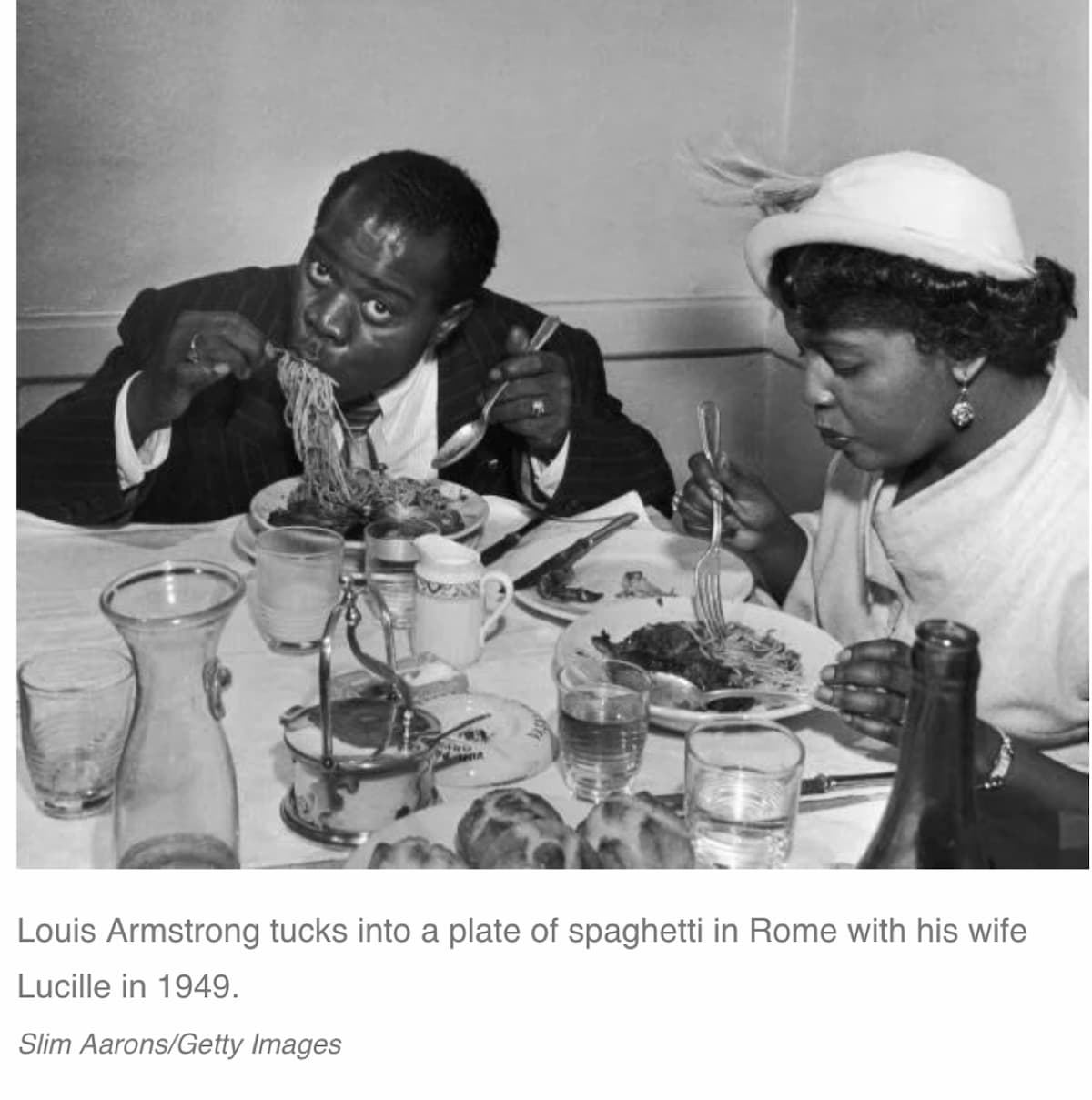 Some foods can be messy affairs. Pasta is a case in point. Louis Armstrong seems to be struggling a bit here but it sure looks yummy.
Soba noodles can be equally challenging as Tokyo-born composer Tōru Takemitsu and Greek-born composer Iannis Xenakis can attest. Takemitsu, regarded as one of the great Japanese composers, wrote with flair for the guitar.
Tōru Takemitsu: Folios (Shin-ichi Fukuda, guitar)

It's sometimes difficult for us to imagine our favorite composers relaxing, but many composers enjoy their tea or coffee like we mortals do.
Dapper and elegant, Jean Sibelius, looking quite well-behaved, takes a break for his tea in this photo, but we know he was a hard-drinking, cigar-smoking, champagne and oysters-eating individual. His music, such as the dreamy opening to his Lemminkäinen Suite Op. 22 includes the gorgeous Swan of Tuonela and hardly reflects that he could be reckless with hard-living habits.
Jean Sibelius: Lemminkainen Suite, Op. 22 – I. Lemminkainen and the Maidens of the Island (Iceland Symphony Orchestra; Petri Sakari, cond.)

Jean Sibelius: Lemminkainen Suite, Op. 22 – III. The Swan of Tuonela (Iceland Symphony Orchestra; Petri Sakari, cond.)


A splendid location always helps. Composer Mel Bonis here is pictured lounging with friends in a lush forest enjoying tea and a picnic. Her exquisite piano piece Phoebe from 1909 seems perfect for relaxing outdoors.
An outing on choppy seas with a vista in the distance, and doing something entirely normal, composer Benjamin Britten, tenor Peter Pears, and composer Imogen Holst relish coffee on the deck of a boat.
Mel Bonis: Phoebé for solo piano
Breakfast in bed or at least in one's bathrobe seems to be universally enjoyed. Here are two legendary artists— the jazz great Nina Simone and the immortal composer Igor Stravinsky— doing just that!
Nina Simone: Ain't Got No, I Got Life
Pavarotti frequently alluded to his girth and he loved to eat. In this photo, obviously poking fun at himself, he weighs a piece of a favorite summer fruit.
The best conversations and solidifying of relationships often occur over a repast. We can see evidence that this is the case, especially during after-concert gatherings. Irving Fine, Aaron Copland, Nadia Boulanger, and even Toscanini, would partake.
Sports and outdoor activities are just as relaxing and popular with maestros and stars. Here's a fabulous candid photo from 1919. Famed violinist Jascha Heifetz is swimming with fellow violinists Efrem Zimbalist and Fritz Kreisler, at the home of Alma Gluck (also pictured) and Zimbalist.
Rare as laughter figured in Dmitri Shostakovich's life, here is a carefree, untroubled moment while playing football with his son Maxim, in Komarovo in 1947.
Photos of Sergei Rachmaninoff seem imposing and serious but hidden behind the austere countenance thrived a man with a terrific sense of humor. He would sing, dance, and laugh with friends and family. This rare video shows Rachmaninoff's charming side, and although he is wearing a suit and tie, he is smiling as he takes a boat ride with his two daughters.
Rachmaninoff's rare video of him speaking and with his family
Sergei Rachmaninoff: Polka (Sequeira Costa, piano)
I hope these photos help you see these famous artists as real people who enjoy life's pleasures like we all do. A Twitter page dedicated to featuring composers in ordinary settings, which is now archived at The Library of Congress as part of their permanent web archive, was an inspiration and a source for some of these images. Many thanks to the site @NormalComposers or "Composers doing normal shit".
For more of the best in classical music, sign up to our E-Newsletter