Carnival, the festive season that occurs in the Christian calendar before Lent, was used by Robert Schumann (1810-1856) as the inspiration for his work Carnaval, Op. 9, written in 1834 and 1835. In 21 short pieces, Schumann created a world of masked revelers. Behind the masks were his friends, his colleagues, himself, and various commedia dell'arte characters.
The subtitle of the work is Scènes mignonnes sur quatre notes (Little Scenes on Four Notes). The notes are the pitch equivalents of little mysteries contained in musical cryptograms on the notes A (and A flat), E flat, C, and B. When made into words in German, we get A = A; A flat = As; E flat = Es; C = C and B = H. These are combined to make different codes:
• A, E♭, C, B – signified in German as A-Es-C-H
• A♭, C, B – signified in German as As-C-H
• E♭, C, B, A – signified in German as Es-C-H-A.
The first two pitch combinations refer to the town of Asch, where Schumann's fiancée at the time, Ernestine von Fricken, was born. The German word for carnival, Fasching, also contains those letters. The second pitch combination can refer to Ash Wednesday, the first day of Lent, and can also refer to Robert Alexander Schumann. The last pitch set is another version of Schumann. Schumann wasn't the only composer to code his name in music, Bach's name (convertible into B flat-A-C-H) figured in his own music as well.
The sections of Carnaval switch between inside jokes (Eusebius / Florestan are two different sides of Schumann's personality: Eusebius – calm and deliberate; Florestan – fiery and impetuous), coded references to friends: Estrella (=Ernestine, his fiancée); Chiarina (= Clara Wieck, his future wife), other composers: Chopin (= the Polish composer Frédéric Chopin), various commedia dell'arte characters (Pierrot, Arlequin, Pantalon, Columbine), and, as the finale, the progressive (Davidsbündler) versus the old-fashioned (Philistines).
The 10th piece, entitle ASCH – SCHA (Lettres Dansantes), despite its title, only uses the ASCH pitches, but the title makes clear that this is about Ernstine and Robert. Ernestine had to be represented by her home town (Asch) because her name only contains the pitches E-E-E. Robert is represented by the other half of the title: SCHA.
Robert Schumann: Carnaval: 10. ASCH – SCHA
This recording by Béla Síki was made in London in 1952. Béla Síki (1923-2020) was a Hungarian pianist who studied with Ernest von Dohnányi at the Franz Liszt Music Academy. In 1945, he moved to Switzerland to study with Dinu Lipatti and won the 1948 Geneva Piano Competition. He then went on to tour internationally. In 1965, he moved to the US and taught at the University of Washington and then at the University of Cincinnati College-Conservatory of Music until 1985. He returned to Seattle and taught until his retirement in 2001.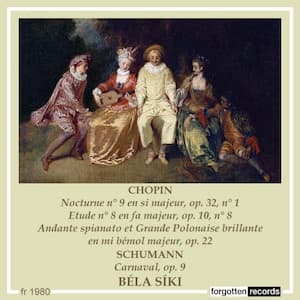 Performed by

Béla Síki

Recorded in 1952

Official Website
For more of the best in classical music, sign up to our E-Newsletter