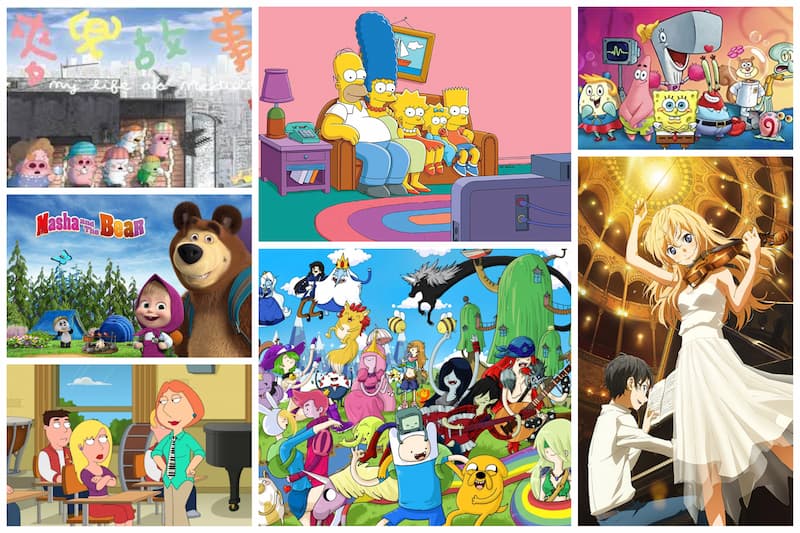 For years, film and television producers and writers have been using classical music to make their work more memorable. It should come as no surprise that some of our earliest memories of classical music might be from the cartoons we watched as children. From Beethoven to Wagner, cartoons have used this music not only as a charming background, but also as a point of focus, almost like another character.
In this article I've collected a few of my favorite musical cartoon collaborations. Let us know your favorite appearance of classical music in cartoons!
SpongeBob SquarePants
Classical music is so popular that it is frequently used in cartoons, including this award-winning cartoon, SpongeBob SquarePants (SpongeBob)! Premiered in 1999, Spongebob is one of the longest-running animated series in the United States. It is currently in its thirteenth season.
Created by former marine biologist and animator Stephen Hillenburg, the story follows the adventures of an accident-prone sea sponge named SpongeBob SquarePants. He and his pet snail Gary live together in a pineapple underwater.
The show has tapped into classical music repertoire often, from old to present, including Johann Strauss' The Blue Danube:
The show also commissioned Emmy nominated composer Gary Stockdale to write a piece for an episode called Suction Cup Symphony in season six. That episode features Squidward, an octopus, as well as an arrogant musician, who writes music for his symphony:
Marsha and the Bear
Originally from Russia, Marsha and the Bear is a famous cartoon all over the world. It has been translated to over twenty languages. Created by Oleg Kuzovkov, the story loosely follows a folk story of the same title. Marsha, a bright, mischievous little girl, is the main character of the story. She lives in the forest with her bear, who protects her and keeps her from getting into trouble. This sweet and funny cartoon has been on the air since 2009. Classical music has been used in many ways in the show, such as this electronic version of Chopin's Grand Waltz Brillante, Op.18, No. 1:
My Life as Mcdull
My Life as McDull is one of my favorite cartoon movies. Made in Hong Kong and created by Alice Mak and Brian Tse, McDull the piglet has become hugely popular ever since the movie was shown in 2001. The story of this piglet reflects the many lives of Hong Kong people. It also documents McDull's childhood life, his dreams, and his positive attitude towards the future.
This theme song is adapted from Franz Schubert's Moment Musicaux No.3 in F minor. A series of McDull movies were released after the success of My Life as McDull. The McDull series adapted much classical music, including this gem, the Sabre Dance, by Aram Khachaturian in McDull: The Pork of Music (2012).
The Simpsons
This famous American TV show, The Simpsons, regularly features classical music in a satirical way. In the episode "The Seven-beer Snitch" in season 16, the writers of the show aim their satire at the contemporary concert audience. This scene shows the audience leaving after hearing the first few measures of Beethoven's Fifth Symphony (because that's part of the piece everyone knows), and then running out of the concert hall when they learn an "atonal masterpiece" is on the program. The cultural commentary, as always, is sharp and funny!
Not only featuring classical music but a music history lesson about Mozart and Salieri is also taught in the episode "The Magical Musical Tour" in season 15. Mozart was played by Bart who performed the Sonata in A major, K.311. Some of Mozart's compositions were replaced with different titles such as The Musical Fruit (The Magic Flute) and Beans, Beans, the Musical Fruit (Eine Kleine Nachtmusik). You can also hear a fragment of Mozart's Requiem in addition to Beethoven's Ode To Joy and a snippet of the Fifth Symphony in that episode.
Your Lie In April
This Japanese anime television series was adapted from the manga with the same title created by Naoshi Arakawa. Your Lie In April is about Kōsei Arima, a child prodigy and became famous after winning major piano competitions. However, he lost his ability to play following his mother's passing. The story focuses on his friendship and romantic relationship with Kaori Miyazono, who encourages Kōsei to return to the musical world. The tv series was released in 2014-2015. It included many classical works, including Saint-Saëns' Introduction and Rondo Capriccioso, Op.28, and Mozart's Twinkle, Twinkle Little Star.
Adventure Time
Adventure Time is another popular animated show in the 2000s. It has 283 episodes which have lasted for ten seasons since 2007. Produced by Pendleton Ward, Adam Muto, and Fred Seibert. About the adventures of a boy named Finn and his best friend Jake the Dog. This animated show is full of humor and entertaining to watch! Classical music is often played in the show. In season 2, Food Chain, when a magician transforms Finn and Jake into birds, and an electronic version of Mozart's Queen of the Night's Aria from the opera The Magic Flute is played:
In the show, Jake the dog is a magical dog who is already 28 years old. He is also a good fighter and a skilled musician. In this excerpt, he plays some Moonlight Sonata, the theme of Beethoven's Fifth Symphony, and Mozart's Eine Kleine Nachtmusik.
Family Guy
As a pianist and a piano teacher, I am always curious about the lives of other piano teachers. In the Family Guy, Lois (Peter's wife) is a piano teacher. Her playing and teaching are featured occasionally throughout the show. In one episode, Lois made Peter drunk during a student recital as he could play better. I wish it could be that easy!
In fact, Peter is portrayed as a very musical person who can play several other instruments pretty well. In this clip, Peter plays the violin in a quartet for a wedding gig, and you can hear his spectacular technique on Mendelssohn's Wedding March:
Well, growing up in such musical family, the show also features Stevie the son and his musical talent. You cannot miss this episode that Stevie mimics "Mozart" in the movie Amadeus. Funny enough, you will hear some works written by Beethoven in addition to some of Mozart's works.
For more of the best in classical music, sign up to our E-Newsletter