Top 10 lists are hard, especially when your limitations are 'the last four hundred or so years of classical music in any form'. But then again, they're also quite fun and require a bit of thought, so here goes – in mild order of preference, with some honourable mentions:
1. Maurice Ravel: La Valse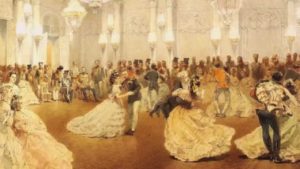 I remember quite clearly hearing about this work in one of the very rare occasions I attended and paid attention to a music history lecture in undergrad studies. The lecturer described it in its historical context (written post-WWI, a French composer writing a Viennese Waltz), and how the climax at the end resembles a catastrophic, pure, and devastating violence.
Whatever the true intentions of the work (and there are some fun anecdotes surrounding it, such as Ravel challenging Sergei Diaghilev to a duel when Diaghilev, who commissioned the work for a ballet responded "My dear man, it is wonderful music – but it is not ballet." Oh to care about things so much…), my personal understanding of the work is an extremely anguished farewell to civility and beauty; a statement of the pointlessness of the previously un-imagined nihilistic violence that was WWI; and in musical terms, a celebration of orchestration at its finest.
2. Richard Wagner: Prelude and Liebestod from Tristan and Isolde
Which version? As a pianist the Liszt transcription is something I can never get enough of; as a music lover, the actual final aria of the opera is heart-breaking every time one hears it; but as a complete work, one can't go past the concert piece version.
Where to begin? My love affair with Wagner was slow starting – as hinted at above, my attention span in undergraduate classes (incl. theory) wasn't the best, so my theoretical worship of Richard's work is limited at best – though the Tristan chord is pretty fantastic, and its resolution five hours later purely orgasmic. I became acquainted with Wagner through a composer roommate during postgrad studies, who would come home late at night, in various stages of inebriation, and try and sight-read his way through the orchestral score of Tristan on my piano on a semi-regular occasion. I ended up learning the Liszt transcription for him so I wouldn't have to put up with him butchering the piece – and very quickly became obsessed with the work. The libretto – seen by some as kitsch and over the top – gets me every single time. It's just so tragic!! It's hard to choose a specific moment – every note is really perfection.
3. Franz Schubert: "Wanderer" Fantasy, Op. 15
For the past 12 months I have basically been addicted to Schubert's piano works and truly believe that nothing in the world is as pure, perfect, and worth playing. I'd say this mindset is a bad thing, but then I'd be lying.
Schubert is another composer that I've come to appreciate more recently – coinciding with my move to Germany. For years I struggled to understand the personality behind the music, but being around Germans (yes, Schubert was Austrian, but still) seemed to fill in one of the huge question marks. My realisation (confirmed by several German friends) is that German sensibility and personality tends to be 'feel a lot, but express very little.' The Wanderer Fantasy, marked 'Allegro con fuoco, ma non troppo' is exactly this – 'Lively and passionate, with fire!! (but not too much, we're civilised after all).' Which Schubert makes this list? Gosh all of it, just search Imogen Cooper on Spotify and go through it all. Start with the Wanderer though.
Special mention to C Minor Impromptu D.899 No 1, Eb Major Trio 2nd movement, Bb Major Sonata D. 959
Schubert: Fantasy in C Major, Op. 15, D. 760, "Wandererfantasie" (Sviatoslav Richter, piano)

4. Johannes Brahms: Piano Trio in B Major, Op 8, 1st movt
I've tried on multiple occasions to like his symphonic works, and failed. His solo piano works have never really interested me either, though perhaps because I'm haunted by substandard renditions of the
Rhapsodies
in repertoire class in undergrad, or being assaulted by the overly-long Variations or Sonatas. But the chamber music is nothing short of perfection – something about his trios, quartets, quintets just breathe perfection of melody, harmony and development.
I first came across the Op. 8 trio on a plane ride where it was playing on the radio station. I must have been in a rather fragile state for some reason, because I remember sitting there in tears from the moment the main theme was played in duo between violin and cello, and staying that way for the remainder of the work. It's such perfect thematic writing, leaving you wanting more every time. I also discovered Jimi Hendrix's underrated 'Hear My Train A-Coming' on that flight, so overall, ripper flight.
Brahms: Piano Trio No. 1 in B Major, Op. 8 – I. Allegro con brio (Isaac Stern, violin; Pablo Casals, cello; Myra Hess, piano)

5. Nils Frahm and Anne Muller: 7Fingers
A little bit antagonistic to include on a top-10 classical list perhaps, but if you've read any of my previous articles, you'll see that antagonist is a favourite character of mine. This is a phenomenal album, which pairs the 'post-classical' styles of Frahm and in particular, Mueller, perfectly. The instrumental balance of Frahms' keyboard and electronic compositions blend so satisfyingly well with Mueller's cello lines to create a remarkable overall work. I remember the first time listening to it, being blown away when the second track kicks in after the meditative opening number.
6. Bernd Alois Zimmermann: Requiem fuer einen Jungen Dichter
I first listened to this work on a train to Paris from London, having read about it in Alex Ross' The Rest is Noise. Not knowing exactly what to expect, I pressed play on my laptop, listening through headphones whilst working on something or other, and was amazed at the intensity of Zimmermann's musical landscape: the work on a whole seems to justify the concept of 'genius' in my mind, as technically, nothing should be easier than the collage effect he uses in the work – however only a genius could put something so structurally significant, which builds to the final choral screech that seems to herald the end of the world.
A comical recollection of the work also involves me listening to it on repeat whilst driving from Berlin to London one time, just after going through a rather traumatic break-up. Highly recommended listen for anyone going through an existential crisis or two.
7. Steve Reich: Come Out (1966)
Another discovery courtesy of The Rest is Noise (thanks, Alex) – I've since used this work on multiple occasions for performative meditations with perfume accompaniment. Why? The first time I listened to it was with a perfumer friend: both of us had had a fairly hard day, so we put it on over some large speakers, turned the lights off and lay on the floor and listened to it in its entirety. The feeling afterwards was akin to either extreme meditation or the comedown after ingesting fun recreational chemicals; add perfume and it's the perfect way to travel to new dimensions in just over 13 minutes – and that's before we even discuss the landmark technological usage of tapes and the ramifications for popular culture and sampling.
8. Olivier Messiaen: Theme et variations
I had a strange journey to becoming a pianist: essentially, I didn't practice through the first two years of undergraduate, promptly was threatened with being kicked out of school, and had to fast figure out how to grow up. Unfortunately, those first two years were when one got through the canon of traditional developmental piano works – Beethoven, Bach, Mozart, Brahms, Schubert, etc. My teacher, a veritable saint, realised that I connected with modern and contemporary music more, and encouraged me to develop through music that I wanted to learn – and Mr. Messiaen was at the top of that list. I credit this strange formative experience to why Messiaen's tonal language just seems to fit nicely under my fingers, whilst Beethoven I still struggle to understand at times.
This early work of Olivier's is often put down as immature, but for me it serves the link between the composition school of late-Ravel et. al. that he emerged from, to the more sophisticated works of his later years. The final movement, when played properly (and to my knowledge, only the recording of Yvonne Loriod – his second wife – takes it at the bold tempo marked on the score), is an exercise in feeling time stretched out into impossibly thin layers.
Messiaen: Theme and Variations (Christoph Poppen, violin; Yvonne Loriod, piano)

9. Igor Stravinsky: The Rite of Spring
Almost predictable, but when it's a banger, it's a banger. Everything about this work – from the zeitgeist it came out of, to the mythical premiere events, to the all-star production team, and of course the music itself – just excites me, and it still stands out as a truly unique work 107 years after its composition. A performance a couple of years ago at the Berliner Philharmonie with Sir Simon Rattle conducting literally had me at the edge of my seat for the entire work – whilst later choreographers such as Pina Bausch have shown that the work can be continuously renewed, whilst keeping its original vivacity and raw power.
Honourable mention: L'Histoire du Soldat (trio for clarinet, violin, and piano arr.)
10. Alban Berg: Piano Sonata, Op. 1
A work that is still relatively unappreciated, by the most romantic of the Second Viennese School composers. Whilst Schoenberg was close to selection in this list (see the honourable mentions below), Berg's Piano Sonata for me stands out as one of the quintessential works of their collective efforts. It's hardly the most earth-shattering of his works (Wozzeck and Lulu obviously take the cake there), but the fact it acts again as a bridge from Wagnerian composition styles to the century of atonality that follows, gives it the place of importance in the collective oeuvre. The only criticism from a playing perspective, is how damned difficult it is to fit in the expressionistic structure: every second page is another climax, bigger than the last, as if one human being could suffer so much in such a short period of time.
HONOURABLE MENTIONS
1. Robert Schumann: Carnaval
If Schubert is who I aspire to be from a pseudo-personality-spiritual point of view, Schumann is definitely who I currently connect with. Carnaval, Op. 9, is such a unique and incredibly innovative work – a series of vignettes that depict a Venetian Carnival party, smattered with Commedia dell'arte characters and a few of his friends making an appearance (Chopin and Paganini), with some love triangles to boot. My only wish is that other pianists would release the shackles when playing Schumann and capture his well-documented turbulent personality more.
Schumann: Carnaval, Op. 9 (Arthur Rubinstein, piano)

2. Arnold Schoenberg: Pierrot Lunaire
IT'S JUST SO DAMNED GOOD. The height of expressionist composition, macabre, dark, scary, and utterly breath-taking when a top-notch sprechtstimme performer is working on it.
Schoenberg: Pierrot Lunaire, Op. 21 (Christine Schäfer, narrator; Ensemble InterContemporain; Pierre Boulez, cond.)

3. Erwin Schulhoff: Sonata Erotica for Female Voice Solo (1919)
I mean, just listen to it. And then realise it was composed over 100 years ago, and really, nothing should be shocking anymore. Also, it's completely notated.
4. Richard Strauss: 'Gib mir den kopf des Jochanaan'
Staying on theme with late-German romantic opera, nothing is more extravagant and ridiculous and bad-ass than Salome dead-panned demanding the head of St John the Baptist from her father Herod, who just had the realisation that his daughter is a sex-addicted psychopath.