Pietro Mascagni, who single-handedly established the prototype of verismo opera with his 1890 masterpiece Cavalleria Rusticana, was born on 7 December 1863. His father was a baker, and he was determined that Pietro should follow in his footsteps. Pietro's precocious musical talent was quickly identified by his first teacher Alfredo Soffredini, and he encouraged him to take up a career in music.
Pietro was determined to become a composer, and at the age of thirteen, he found a libretto by Felice Romani on an imagined episode in the life of Christopher Columbus. Pietro made some musical sketches, but when his father found the libretto and his son's musical notation, he quickly burned the lot. Pietro studied music in secret and took a couple of piano lessons with Soffredini. He presented his teacher with a number of compositions, and together with Pietro's uncle Stefano, convinced his father to allow him to study music. In fact, his father bought him an old piano and young Pietro "played the instrument from morning till night."
Pietro Mascagni: "Novellina" (Marco Sollini, piano)

Mascagni attended the "Instituto Musicale Luigi Cherubini" and he initially composed a Symphony in F and a couple of songs. For a religious festival, however, he composed a four-part mass that was actually performed at the local church. Apparently, the clergy was rather indignant when people started to spontaneously clap their hands.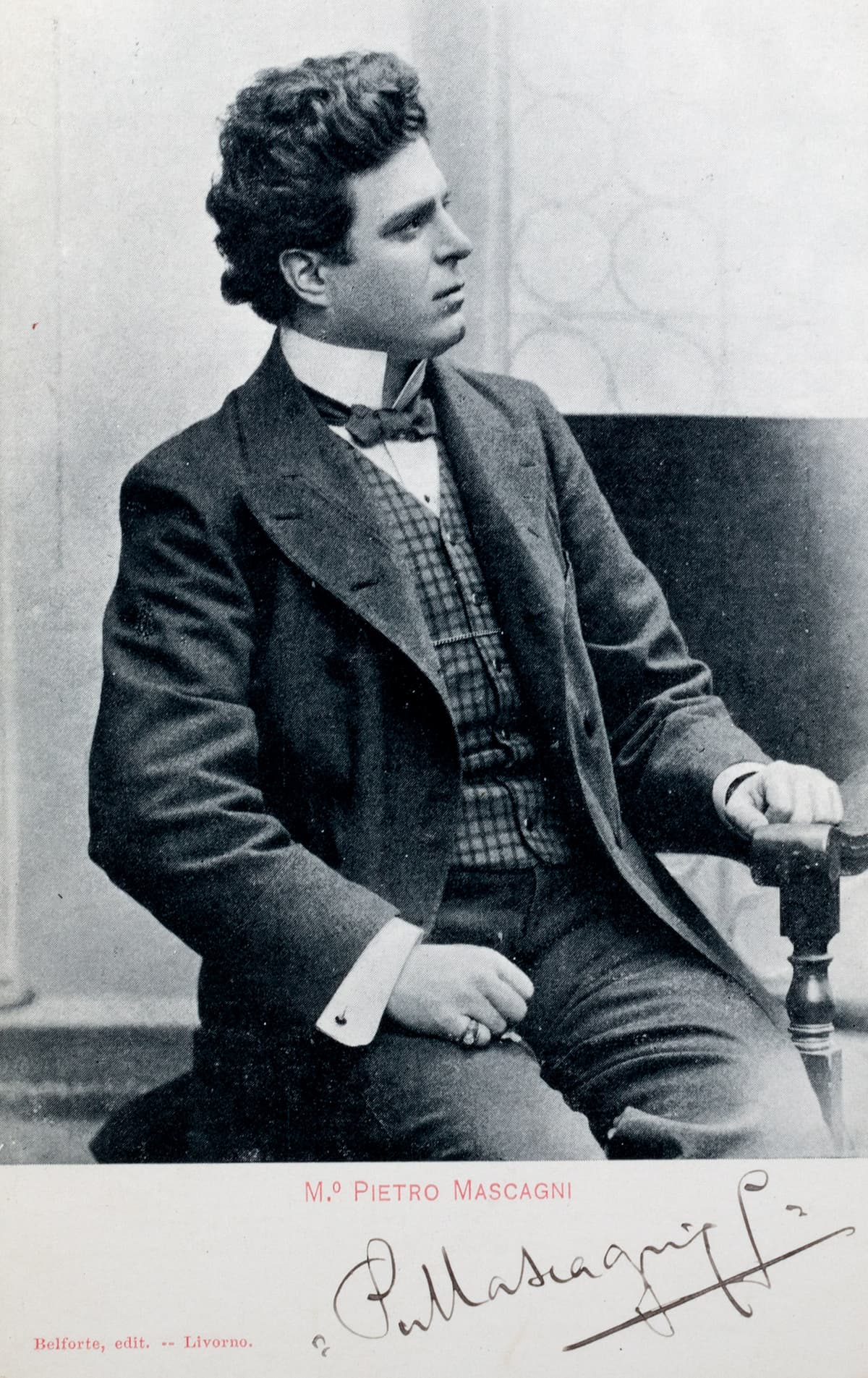 Empowered by its success, Mascagni decided to compose a cantata for soli, chorus, and orchestra. Soffredini wrote the text and In filanda (In the silk spinnery) was a resounding success when it was given on 9 February 1881. The work was dedicated to Amilcare Ponchielli, who was teaching at the Milan Conservatory. He suggested that Mascagni compete in the Exposition at Milan, and the "Ave Maria" received an honorable mention. Saddened by the passing of his uncle, Mascagni was summoned to Count Florestano de Larderel, who provided financial support that enabled him to attend the Milan Conservatory.
Pietro Mascagni: "Ave Maria" (Fausto Tenzi, tenor; Roberto Negri, piano)

Mascagni entered the Milan Conservatory in 1882, and he easily passed the entrance examination. He studied with Ponchielli and Saladino, and he shared a room with Giacomo Puccini. He also made good friends with Vittorio Gianfranceschi, an engineer and passionate connoisseur of music. Mascagni was looking to take up his cantata In filanda and attempted to transform it into an opera in two acts. The ambitious project did produce the dramatic idyll Pinotta in 1883, and it was proposed for the musical contest of the Conservatorio, but as his registration was late, it was not accepted.
In a small pamphlet in translation, Mascagni came across Guglielmo Ratcliff by Heinrich Heine. He immediately started to compose three pieces of what would be his very first opera. As he later explained, "Ratcliff was really my first opera, my first child, truly a love child." However, Mascagni found the academic discipline unacceptable and he discontinued the Ratcliff project. In addition, after a heated conversation with the director of the Conservatory, Mascagni was asked to discontinue his studies.
Pietro Mascagni: In filanda (Rossella Redoglia, soprano; Massimiliano Fichera, baritone; Antonio De Palma, tenor; I Solisti di Napoli Chorus; I Solisti di Napoli Orchestra; Susanna Pescetti, cond.)

Since returning to Livorno was not really an option, Mascagni joined the traveling operetta companies of Vittorio Forli, Alfonso and Ciro Scognamiglio, and in Genoa, the company of Luigi Arnaldo Vassallo. He met the impresario Luigi Maresca in 1886, and arrived in Cerignola, a town and commune of Apulia, in the company of his future wife Argenide Marcellina Carbognani. Mascagni was soon in the running for an appointment as the master of music and singing at the newly established philharmonia, but since he had never finished his studies, he lacked the proper qualifications.
Mascagni finally found the courage to write to his father. "I have delayed for a long time in writing you because I wanted to give you a good piece of news, a piece of news which will give you immense pleasure. I am finally abandoning this art of the nomad, and I am remaining in Cerignola as a music teacher. Tomorrow the City Council is gathering to name me municipal musician; for now, I will give piano and voice lessons, later on I will conduct my opera at the Municipal Theater…You must beg Maestro Luigi Pratesi to write me a declaration, saying I am qualified to teach music and piano. In addition, to this, I ask all of them to write also at the bottom of the certificate all their titles, qualifications, civil orders… I beg you to do all I have asked. My life may depend on this chance." Mascagni did secure the appointment and he began work on a Messa di Gloria. In July 1888, Casa Sonzogna announced its second competition for a one-act opera. Mascagni completed his Cavalleria rusticana on 27 May 1889, and sent the manuscript to Milan. The rest, as they say, is history.
For more of the best in classical music, sign up to our E-Newsletter
Pietro Mascagni: Messa di Gloria, "Laudamus"