James Galway, who eventually became known as the "Man with the Golden Flute," basically grew up with a flute in his crib. His grandfather James Galway was a highly regarded flute player in Belfast. He taught his son, another James Galway, to play the flute. Young James remembers, "our grandfather came to live with us during the last years of his life. In the evenings, after we had been sent to bed, he often played softly for a while, a few tunes he was especially fond of. My father, meanwhile, was devoted to Mozart. By the time I was eight, I could recognize many Mozart themes because he played them for me over and over."
Galway grew up in industrial Belfast during the years of WWII, and he was constantly trying to play his father's flute. He finally got his own instrument, "just a simple six-key instrument used in military bands, and one day the household was visited by a gypsy woman. The woman looked at me and asked to see my hand. After she had studied my palm she said, 'one day you're going to be a great musician.'"
James Galway Plays Bolling's Irlandaise
Galway started to take violin lessons at the age of nine, but afflicted by poor eyesight that made it difficult to see the music, he abandoned the violin and went back to playing the flute full time. "My father believed that if you were going to learn to play the flute properly, you had to practice your scales. I just wanted to play tunes, and once I heard a tune I could immediately play it." When Galway was nine, his father decided that he should take lessons from Uncle Joe. "He wasn't really my uncle but a second cousin, but he was the bandmaster of the Onward Flute Band. He had a clean, crisp way of attacking the notes that appealed to me very much, and he was very good at teaching the basics."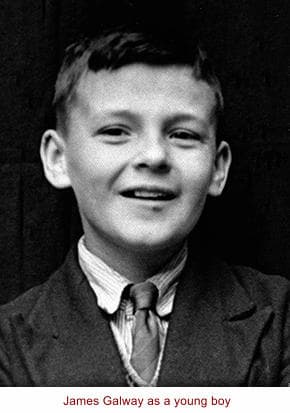 Not soon thereafter, James joined his Uncle's band, and they entered in the annual Flute Band League competition at the Ulster Hall. The Onward Flute Band won the day, and Galway loved marching the streets on special occasions in his uniform. Uncle Joe continued to instruct him in the rudiments of playing the flute, but "he yearned for bigger things and at the age of eleven joined the Belfast Military Band.
J.S. Bach: Overture (Suite) No. 2 in B Minor, BWV 1067 (excerpts) (James Galway, flute/cond.; I Solisti di Zagreb)

Galway decided to enter the Irish Flute Band Championship in the soloist division. He recalls, "there were three classes for soloists: one for ages ten to thirteen, the junior class for ages thirteen to sixteen, and the open class. Well, having a pretty good opinion of my playing after the previous competition, I entered all three classes. The competition had three set pieces. An arrangement of an aria by Donizetti, Anton Rubinstein's "Melody in F," and "Schön Rosmarin," written by Fritz Kreisler for the violin… The judge could hear but not see the players, and we were given numbers. When all was set and done, the judge formally announced that all three classes had been won by James Galway."
It was quickly decided that Galway would study with Muriel Dawn, a flutist with the BBC orchestra in Belfast. "The first lesson was quite a comedown for this lad," he writes, "who had never lost a competition, even against grown men who were far more experienced players. She asked me to play a piece, and when I was finished, instead of complimenting me she said, 'Now Jimmy, you've got to learn the basic method of blowing the flute.' So for the next month, I did not play the flute at all, merely the headpiece."
Fritz Kreisler: Schon Rosmarin (arr. C. Gerhardt for flute and orchestra) (James Galway, flute; National Philharmonic Orchestra; Charles Gerhardt, cond.)

Muriel Dawn and her husband Douglas made a point of taking young Galway to concerts, especially those by the British Music Society. One evening they took him to a performance by the Wigmore Ensemble, with Muriel's former teacher Geoffrey Gilbert. "Gilbert was my favorite flutist," Galway recalls, "and hearing him live was simply amazing… All players were excellent, but Gilbert was something else. I was especially struck by how beautifully and softly he played the high notes. The entire evening was simply exalting."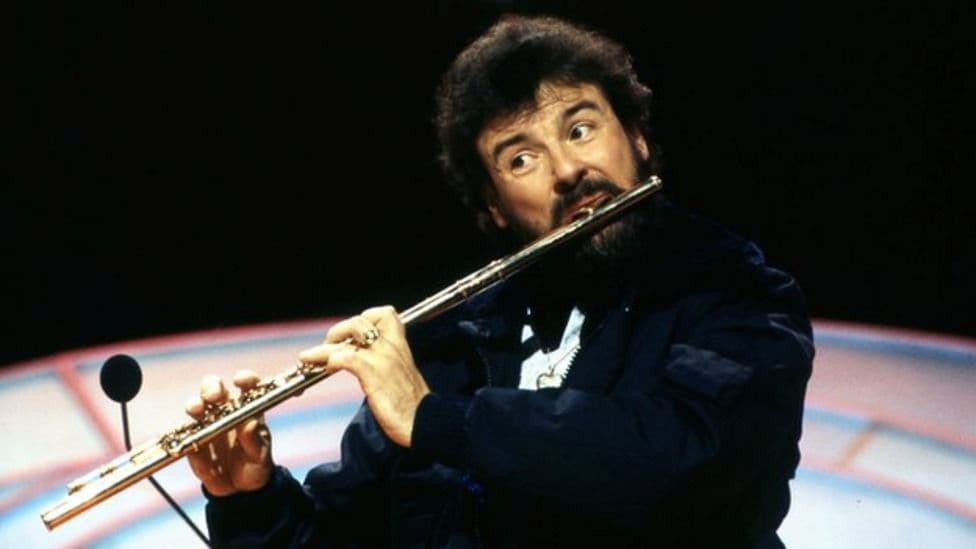 Muriel and Gilbert had stayed in touch, and Galway was invited to play for Gilbert the next day. Galway played a Mozart concerto, and when he had finished he turned to Muriel and asked, "How did you teach that lad to phrase like that?" Muriel confessed that she didn't teach him, "but that after hearing you play last night, he always picks up the best out of everything he hears." Geoffrey Gilbert immediately wanted to teach him, and the Guildhall School of Music, where he taught, accepted Galway without audition.
For more of the best in classical music, sign up to our E-Newsletter
James Galway Plays Mozart's Flute Concerto in D Major, K. 314