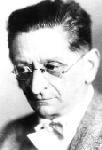 Alexander von Zemlinsky (1871-1942) was an Austrian composer and conductor whose career was essentially in opera. He had composed a total of eight operas, in addition to songs, chamber music and four symphonies. The last of these, the Lyric Symphony (1923), was among one of his best-known compositions and was quoted by Alban Berg in his own Lyric Suite, as a sign of respect and affection. Zemlinsky's works are recognized as authentic testimonies of the turbulent developments in music between 1890 and 1940.

Zemlinsky: Lyric Symphony
Born in Vienna in 1871, Zemlinsky grew up in the Leopoldstadt district. He showed evident musical talent at an early age and began his study as a composition pupil of Johann Nepomuk Fuchs at the Vienna Conservatory when he was 13. Zemlinsky met Schoenberg in the amateur orchestra Polyhymnia in 1895 and for a brief period instructed him in counterpoint and on his early works. In 1906, Schoenberg married Zemlinsky's sister, Mathilde. Their close relationship brought early collaboration in the opera Sarema, for which Schoenberg assisted with the libretto. They became most important friends and artistic partners afterwards.
Zemlinsky also taught Alma Schindler (later the wife of Mahler) during the same period. They had an intensive and unhappy love affair which only came to an end when Schindler met Mahler.
After completing his studies, Zemlinsky soon succeeded in obtaining a position in the pulsating musical life of Vienna through personal contacts and a strong commitment in working for a number of institutions and societies. From 1900 to 1904, he was Kapellmeister at the Carltheater and at the Theater an der Wien. In 1904, he was appointed Kapellmeister at the Volksoper and from 1907-1908 at the Hofoper, where he conducted major works. In 1911, he went to Prague and held the post of opera conductor of the Deutsches Landestheater until 1927. This was where he celebrated his greatest successes as a conductor. Not only his readings of the music of Mozart and Wagner received recognition, his performances of works by Mahler and Schoenberg also aroused interest.
Though occupied by his work as a conductor, Zemlinsky still focused on his compositions all the time. Until 1910, he had written four operas which show his infallible affinity for the genre in a varied manner. He also composed songs, chamber music and symphonies. Works such as String Quartet No. 2, Lyric Symphony and the two one-act operas based on Oscar Wilde's writings Eine Florentinische Tragödie, and Der Zwerg are some of the highlights at that time.
Zemlinsky moved to Berlin in 1927 and became Kapellmeister at the Kroll Opera. Later in 1931, he took on a teaching appointment at the Music Academy until the seizure of power by the Nazis in 1933. He made his escape to Vienna, Prague and then to the United States, where he died in 1942 after suffering from several strokes.
For several decades after his death, the music of Zemlinsky was more or less disregarded. However, since 1970s onwards, his compositions re-appeared in the music scene again. His central works were performed and recorded. In 1996, there was the world premiere of Der König Kandaules at the Hamburg State Opera. The re-discovery of his music allowed the public to enjoy again one of the most fascinating epochs of art in Europe.