In the autumn of 1817, Ludwig van Beethoven accepted an offer from the Philharmonic Society of London. He was commissioned to write two symphonies, and invited to appear in London during the winter season of 1817/18. However, Beethoven had not even started on a symphony nor made plans for a journey to London, explaining afterwards that his health had not allowed it. At that time, Beethoven was living in the Landstraße district, a suburb to the south of the inner city. His apartment at No. 26 was just a few blocks away from the regular meeting place of the "Nonsense Society," an organization frequented by Franz Schubert. The Society regularly met at the "Red Rooster Inn." According to eyewitnesses, it was at the "Red Rooster" that Beethoven is said to have thrown eggs that had been too hard-cooked at the head of the waiter. The Nonsense Society also met at Wallner's Coffee Shop—Landstraßer Hauptstraße No. 32, and at the "Golden Pear Inn," two locations Beethoven is known to have frequented.
Ludwig van Beethoven: Piano Sonata No. 29 in B-Flat Major, Op. 106, "Hammerklavier" – I. Allegro (Murray Perahia, piano)

Ludwig van Beethoven: Piano Sonata No. 29 in B-Flat Major, Op. 106, "Hammerklavier" – II. Scherzo: Assai vivace (Murray Perahia, piano)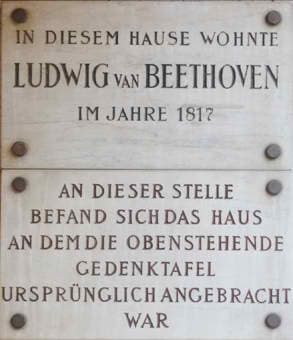 Beethoven's lair at Landstraßer Hauptstraße 26 contained a special object sent to him by the London piano maker John Broadwood on 27 December 1817. This piano had to be transported through the Mediterranean port of Trieste and then carted for almost two hundred miles. The piano reached Beethoven by July 1818, and the composer profusely thanked Broadwood for the instrument. He also indicated that, "it would inspire him to write something especially for it." The instrument was state-of-the-art. It had a mahogany case reinforced with metal strips, copper strings, triple stringing, two foot-pedals, and a range of six octaves. The damper pedal was split, so that its effect could be applied to upper and lower strings separately. And it was in his apartment at Landstraßer Hauptstraße 26 that Beethoven set to work on a gigantic four-movement piano sonata in B-flat, known today as the "Hammerklavier Sonata" Opus 106. Its first two movements were probably ready by April 1818, just before Beethoven once again moved domicile to the Gärtnergasse 5.
For more of the best in classical music, sign up to our E-Newsletter