"Great teacher of musical truth"


On 17 January 2019 we commemorate the 150th anniversary of the death of Russian composer Aleksandr Sergeyevich Dargomïzhsky (1813-1869). Born in the Tula district on 14 February 1813, Dargomïzhsky was a popular and highly skilled composer of Russian opera preceding
Tchaikovsky
and "
The Five
." Scholars have rightfully suggested, "His musical influence and historical importance, is out of all proportion to the frequency with which his music was ever performed." His father was the son of a nobleman and wealthy landowner, who eloped with the poetess Princess Kozlovskaya. Although his father disliked music, Aleksandr showed remarkable early promise as a pianist and composer. He took piano, violin and singing lessons, and without training in the theory of music, composed a number of early songs and piano pieces. He was already known as a talented musical amateur when he met
Mikhail Glinka
in 1833.
Aleksandr Sergeyevich Dargomïzhsky: "I am in love, my maiden, my beauty,"
"The fire of desire burns in my blood"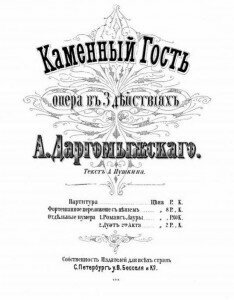 Glinka took his young charge under his compositional wing and instructed him in thoroughbass and counterpoint. They analyzed
Beethoven
symphonies and
Mendelssohn
overtures, and under the influence of rehearsals for his tutor's
A Life for the Tsar
, Dargomïzhsky set his mind on writing a full-length opera. By 1841 he had completed the music for his first opera
Esmeralda
, but he failed to secure a performance at the Imperial Theatres. He made his living giving singing lessons, and in 1844 Dargomïzhsky traveled to Berlin, Brussels, Paris and Vienna and stayed for almost six months. Since absence makes the heart grow fonder, Dargomïzhsky found appreciation for the culture of his native land while spending time abroad. He wrote to a friend in May 1845, "There is no nation in the world better than the Russian, and, if the elements of poetry exist in Europe, they exist in Russia." He quickly set to work on the imitation of characteristic melodic patterns of folk music and the intonation of Russian speech resulting in his opera
Rusalka
.
Aleksandr Sergeyevich Dargomïzhsky: Rusalka, Act III "Some unknown power"
Working on
Rusalka
, based on an unfinished verse tragedy by Pushkin, Dargomïzhsky communicated his task at hand. "The more I study the components of our national music, the more varied the aspects I discern in them. Glinka, who alone up to now has given Russian music a grand scale, in my opinion, has as yet touched only one of its sides – the lyrical side. His dramaturgy is too plaintive, the comic aspect loses its national character … To the extent that I am able I am working, in my
Rusalka
, to develop our dramatic components."
Rusalka
premiered in 1856 and
Aleksandr Serov
, Russia's most influential critic, suggested that Dargomïzhsky had realized the "greatest of all of music's potential by combining with words to produce a dramatic truth." At the height of his compositional powers, Dargomïzhsky also wrote a series of orchestral works that formed the basis of the Russian symphonic tradition.
Aleksandr Sergeyevich Dargomïzhsky: Finnish Fantasy
In 1859, Dargomïzhsky was elected to the newly founded Russian Musical Society and formed an uneasy relationship with the group of young composers which had grown up around
Balakirev
. Unable to come to terms with the artistic aims of "The Five," Dargomïzhsky visited Warsaw, Leipzig, Paris, and Brussels in 1864/65 and was cordially received by
Liszt
. Once he returned to Russia, he embarked on his most famous work, the opera
The Stone Guest
. The opera proved to be his swan song, as Dargomïzhsky died in January 1869 leaving the work incomplete. At his personal request,
Cui
wrote the Prelude and the end of the first scene, and
Rimsky-Korsakov
finished the orchestration by the end of 1870. "This strange work," as the composer called it, met with a cool public reception. However, its pioneering employment of continuous melodic recitative supported by chordal accompaniment was seen by "The Five" as a "progressive approach to operatic expression."
Mussorgsky
, for one, paid tribute to Dargomïzhsky in a pair of dedication exclaiming him the "great teacher of musical truth."
Aleksandr Sergeyevich Dargomïzhsky: The Stone Guest, Act I: "Odelas tumanom Grenada"