Celebrating her 20th season at the helm of the Buffalo Philharmonic Orchestra this year, JoAnn Falletta is the first woman conductor to be appointed music director of a major American orchestra. At a time when women conductors had to overcome formidable obstacles, her achievements are extraordinary.
Fuchs: Poems of Life – I. Gary Died; Just Like That; Watching for Death; Face (Aryeh Nussbaum Cohen, counter-tenor; London Symphony Orchestra; JoAnn Falletta, cond.)

Fuchs: Glacier – I. Glacier (D.J. Sparr, electric guitar; London Symphony Orchestra; JoAnn Falletta, cond.)

Ms. Falletta has recorded more than 115 works on the Naxos label, her discs receiving 10 Grammy nominations and winning two Grammy awards—in 2019 for Best Classical Compendium of Kenneth Fuchs Piano Concerto Spiritualist; Poems of Life; Glacier; Rush with the London Symphony, and in 2009 for Mr. Tambourine Man: Seven Poems of Bob Dylan, by John Corigliano.
Corigliano: Mr. Tambourine Man (version with orchestra) – No. 1. Prelude: Mr. Tambourine Man (Hila Plitmann, soprano; Buffalo Philharmonic Orchestra; JoAnn Falletta, cond.)

Due to her efforts, the BPO is one of the most recorded orchestras in the country. A recent Strauss album includes a new version of the Suite of Ariadne auf Naxos and includes one of my favorites Le Bourgeois Gentilhomme—a work which is for a chamber-sized ensemble and features individual musicians in glorious solos.
Strauss: Ariadne auf Naxos Symphony-Suite – I. Prologue (Overture to the Prologue) (Buffalo Philharmonic Orchestra; JoAnn Falletta, cond.)

Strauss: Le Bourgeois Gentilhomme Suite, Op. 60, TrV 228c – VIII. Act II: Prelude (Intermezzo) (Buffalo Philharmonic Orchestra; JoAnn Falletta, cond.)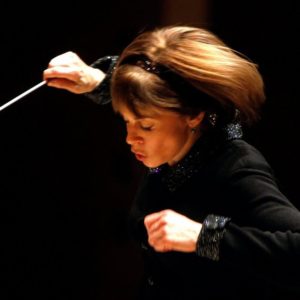 Born in New York in 1954, Ms. Falletta vividly remembers the small box she received for her seventh birthday. Inside was a classical guitar. Immediately smitten, she began her musical journey as a guitar and mandolin player. At the age of eleven she had her first opportunity to hear a full orchestra. The extraordinary sounds of Leopold Stokowski conducting Beethoven Symphony No. 6 in Carnegie Hall, and the efforts of 100 people working so closely together to make magic, convinced her that music would be her path in life.
Ms. Falleta majored in guitar at New York's Mannes College, but once there, after conducting the student orchestra, she was hooked. She wanted to become a conductor. Despite resistance from the school, which at the time was convinced a woman could never make a career as a conductor, the directors allowed her to switch her major.
Pursuing graduate studies at the Juilliard School gave Ms. Falletta the opportunity to work with well-known maestros, but even there she was dissuaded from pursuing this path. One of her mentors, a "guiding star" in her artistic life, none other than Leonard Bernstein, insisted on total immersion in each composition, always with the goal to capture the music's emotion, passion, and humanity.
Ms. Falletta continued performing on guitar, recording chamber music for the Virginia Arts Festival, and appearing as guitarist, lutenist, and mandolinist with the Metropolitan Opera, New York Philharmonic, New Jersey Symphony, and ABT among others. But being in the thick of the music-making simply couldn't be equaled. Nothing would impede her aspirations.
The Jamaica Symphony Orchestra hired her first and from 1977 to 1989 she conducted there. Several music directorships followed: the Denver Chamber Orchestra from 1983 to 1992, a position as the associate conductor of the Milwaukee Symphony, and finally her appointment as the conductor of the Virginia Symphony, an extraordinary appointment in 1989, a position which she currently holds through the 2020-21 season (more than thirty seasons), in addition to the Buffalo Philharmonic.
Danielpour: The Passion of Yeshua – Part I Scene 1: Prologue: Mi he'emin lishmuatenu (Who has believed what we have heard?) (Buffalo Philharmonic Chorus; University of California, Los Angeles Chamber Singers; Buffalo Philharmonic Orchestra; JoAnn Falletta, cond.)


I wonder why Ms. Falletta's name is not more widely known, as she has conducted over 100 orchestras in this country and many of the prominent orchestras across the globe. Internationally she has guest conducted in the UK, Europe, Asia, Iceland, South America, and Africa.
The first woman and the first American to hold the position of Principal Conductor of the Ulster Orchestra, Belfast, Northern Ireland, from 2011-2014, Ms. Falletta recorded six albums with the orchestra and made her PROMS debut.
Ms. Falletta believes the struggle for recognition of women conductors is due to the fact that the image of the Maestro has in the past been of an autocrat—a demanding, irascible tyrant in the image of Arturo Toscanini or George Szell. Women tend to work in a more collegial fashion. Ms. Falletta has found that when the music-making is the highest level, criticism becomes rarer. Making a unique connection with the musicians is her goal.
Marcel: Symphony No. 2 in F Minor – I. Allegro appassionato (Buffalo Philharmonic Orchestra; JoAnn Falletta, cond.)

Falletta is dedicated to the music of our time. She's presented over 100 world premieres and has introduced more than 500 pieces by American composers. Winning some of the world's most prestigious awards, she was named Performance Today's Woman of the Year in 2019, and her work has garnered several ASCAP awards for adventurous programming. Always looking for unusual music, JoAnn was intrigued when one day an elderly gentleman came to her with an entreaty. Someone must bring to life the handwritten compositions of a man, Marcel Tyberg, who had entrusted the gentleman with a bagful of his scores when Tyberg was rounded up by the Nazis during World War II. Tyberg perished in Auschwitz. Ms. Falletta agreed to embark on a project of transcribing the almost illegible sheet music and recording the works. His symphony sounds quite Bruckner-like to me.
In collaboration with WNED, she founded the JoAnn Falletta International Guitar Concerto Competition. Frequently on radio and television, the BPO concerts have been broadcast on NPR's Performance Today, SymphonyCast, the European Broadcasting Union, and PBS specials including as conductor and host of Bernstein's Ode to Freedom.
An impassioned advocate for music education, Falletta has worked with young people for two decades at Interlochen Center for the Arts Summer Camp. Falletta finds it exciting, as she remembers how she felt as a 9-year-old hearing Tchaikovsky for the first time. Often the musicians studying at Interlochen are performing large symphonic works as novices, after rehearsing together for just a few days. She has been guest conductor of many college orchestras, including the Cleveland Institute of Music, and Brevard Music Center Summer Institute and Festival.
A member of The American Academy of the Arts and Sciences, which celebrates the excellence of its members, Ms. Falletta explains that her greatest mission is to communicate the importance, vibrancy, and wonder of great music to people of every background.
For JoAnn Falletta, standing in the middle of an orchestra, in the center of a confluence of talent solely devoted to excellence, team playing, and dwelling in beauty, is a dream come true. It's all about the deeply satisfying, beautiful mosaic of art enriching life.