When we think of the pairing of 'Prelude and Fugue' our mind first casts itself back to the early 18th century and Bach's Well-Tempered Clavier. What if it's 200 years later? It's the Post-Romantic early 20th century and you can't exactly follow in Bach's footsteps.
Sergei Taneyev (1856-1915) was another of those Russians who was not only a virtuoso pianist but also an outstanding composer of his day. Largely forgotten today, but at his time, as a graduate of the Moscow Conservatory, he became known as one of the best performers of his generation. He brought some of the greatest piano works to Russian audiences, giving the Russian première of Brahms' Piano Concerto in D minor. Before that, he gave the Moscow première of Tchaikovsky's First Piano Concerto, which the head of the Moscow Conservatory, Nikolai Rubinstein, had declared 'unplayable.'
Taneyev entered the Conservatory at age 9, graduating at age 15, having studied composition with Tchaikovsky and piano with Nikolai Rubinstein. After conquering Tchaikovsky's Piano Concerto No. 1, the composer asked him to give the Russian première's of his Piano Concerto No. 2 and his Piano Trio in A minor. After Tchaikovsky's death, he also gave the première of his Piano Concerto No. 3.
Following Tchaikovsky's departure from the Moscow Conservatory in 1878, Taneyev started to teach there, remaining until 1905. His students included Alexander Scriabin, Sergei Rachmaninoff, Reinhold Glière, and Nikolai Medtner and he was a great influence on late 19th century Russian composers.
The 1905 Revolution caused Taneyev to leave the Conservatory and resume his concert career and his composing career more intensely. His Prelude and Fugue in G sharp minor, Op. 29, was the only piano work that he gave an opus number. Written in 1910, the work combines his own long-standing research into early music and, at the same time, is a combination of chromaticism and polyphony that would have been unknown to Bach. The work was written in memory of his nurse, Pelageya Vasil'yevna Chizhova, who had been with the composer his entire life. He put his emotions into the melancholic Prelude and then contrasted it with a fiery Fugue. This work was one of the inspirations for Dmitri Shostakovich's prelude and fugue compositions.
Taneyev: Prelude and Fugue, Op. 29
The pianist on this recording, Xenia Prochorowa (1915-1991), was another graduate of the Moscow Conservatory. In Moscow, she was the student of Carl Kipp. Kipp had been a student of Pavel Pabst, and Pabst's performances were admired by Liszt, and so she was often described in the press as the "pianistic granddaughter of Franz Liszt." She was the winner of the International Franz Liszt Competition in 1933 before starting an extensive tour of North and South America, giving concerts and masterclasses. As a side note, she was a soloist in the 1945 movie Crepúsculo (Twilight), one of the outstanding movies of the post-war Mexico's golden age of cinema.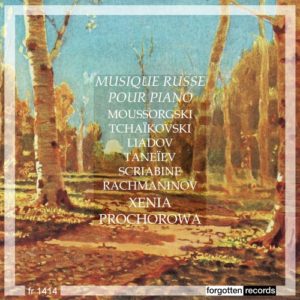 Performed by
Xenia Prochorowa

Recorded in 1957

Official Website