Written immediately after the enormous success of Der Rosenkavalier, Ariadne auf Naxos was the third collaboration between Richard Strauss and Hugo von Hofmannsthal. The hilarious plot looks closely at the tension between high and popular culture, by presenting an opera within an opera with a rather stressful preamble.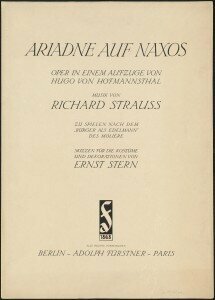 Originally, the opera was to be performed at the end of Hofmannsthal's adaptation of Molière's play Le Bourgeois gentilhomme. The first performance in Stuttgart on 25 October 1912 was a flop, as those wanting to hear the opera resented having to wait until the play finished. In fact, critics regarded the rather unusual and lengthy combination of spoken theater and opera as a "first-rate funeral." Strauss probably explained it best when he wrote in later years, "the play-going public had no wish to listen to opera and vice versa. The proper cultural soil for this pretty hybrid was lacking."
In 1913, Hofmannsthal proposed to Strauss to replace the play with a prologue, explaining why the opera combines a serious classical story with a comedy. Strauss was initially reluctant, but ended up composing the prologue and modified some aspects of the opera. The hilarious story features a young composer being nervous about the premiere of his new opera "Ariadne auf Naxos," scheduled for performance at the estate of Vienna's richest man. But he becomes hysterical when he is informed that his opera is to be followed by a bawdy operetta-style entertainment featuring the saucy Zerbinetta. Things get even worse for the young artist when he learns that his opera and the following comedy are to be intertwined as the evening's single musical amusement as it all needs to finish prior to a scheduled fireworks display!
The second version, first performed on 4 October 1916, quickly became one of Strauss' most popular works. Strauss always had faith in "Ariadne," suggesting "it is so attractive in form and content that I cannot believe that a more cultured public than exists today will not sometime appreciate its value more fully." Strauss was clearly not prophetic, but we cannot but marvel at this extraordinary creative and artistic synergy that in one form or another was to greatly influence the emerging motion picture genre.
Richard Strauss: Ariadne auf Naxos, Op. 60