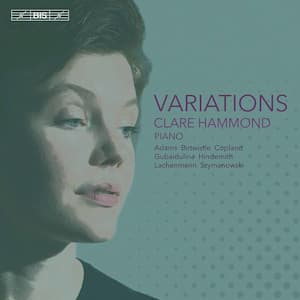 It's a simple concept – a theme, or melody, initially stated in its original form, is put through a series of transformations, often quite complex and including textural, dynamic and key changes, to take player and listener on a fascinating musical journey. The Theme and Variations remains a popular genre amongst composers, and despite the limitations of the genre – it's a form based on repetition, after all – composers have responded to its simplicity to create some of the most inventive, intriguing and daring music in the piano's repertoire.
For her new release for BIS, British pianist Clare Hammond has chosen to focus on themes and variations from the 20th and 21st centuries which demonstrate a wide range of emotions and expression, and which really highlight the paradox of variations – that in repeating material we view/hear it from different perspectives and gain new insights on it.
From Szymanowski's heartfelt and atmospheric Variations on a Polish Theme, replete with Chopinesque filigree decoration and a tender, introspective lyricism, to Sofia Gubaidulina's imposing and dramatic Chaconne, these works bookend variations by Lachenmann, Birtwistle (his own tribute to Bach's Goldberg Variations), Adams, Copland and Hindemith. Throughout, one has the sense of composers revelling in the Theme and Variations genre: the angular, abstract modernism of Aaron Copland's Piano Variations, perhaps the most "unpianistic" work on the disc with its extreme contrasts, for which Hammond makes a convincing case for it, is offset by the expressive poignancy of Hindemith's Variations (1936), here given a haunting reading by Hammond. John Adams' I Still Play (2017) is an attractive, melodic miniature, written with the accomplished amateur player in mind, whose winding waltz moves through a variety of stylistic allusions, including nods to Erik Satie and Bill Evans. The music never fully settles and Hammond is ever alert to its shifts and switches. It's refreshing listening after the spiky atonality and dynamic outburst of Harrison Birtwistle's Variations from the Golden Mountain. Helmut Lachenmann's Five Variations on a Theme of Franz Schubert start out in familiar territory – the theme is taken from Schubert's Ecossaise D 643 – and the variations which follow refer back to the warmth of Schubert's original interspersed with moments of playful wit, almost camp theatrical drama or turbulent frenzy. Again, Hammond's account demonstrates how adept she is at handling music which switches between styles, textures and moods.
This interesting compilation of music offers a new angle on a well-known genre, eloquently and vividly portrayed by Clare Hammond, who shows an impressive fearlessness in tackling and recording some of the more complex or obtuse corners of the modern piano repertoire. It also serves as an excellent companion piece to her earlier recording Étude (also on the BIS label), exploring piano etudes by Lyapunov, Unsuk Chin, Szymanowski and Kapustin.
Recommended.
For more of the best in classical music, sign up to our E-Newsletter
Aaron Copland: Piano Variations (Clare Hammond, piano)